Why should I choose a Splacer clone?
Splacer clone can digitize the way you organize gatherings and celebrations. Imagine having the power to manage event registrations, ticketing, and guest coordination with a few clicks. With the script, you can effortlessly handle things that take your breath. Our event booking script equips you to make data-driven decisions.
With our interactive Splacer clone, you can track market trends and graphics to navigate the ever-changing landscape. Explore exhaustive trends that empower you with knowledge about space rental values, the market, and neighborhood dynamics. With Splacer clone stay ahead of the curve and make informed choices for your dream business.
Our Benefits
Meet The Benefits Of Our Splacer Clone
Gain More Visibility and Grow Space Bookings With Our Beneficiary Features
Multiple Login & Signup
It's easy to create an account and login to Makent Space using various social media login options like Facebook, Google, Apple ID & Email.
Hourly Booking
Using hourly booking, the event organizers are free to book the space for their preferred timings. Also the connected space providers can allocate space for the user based on the timings locked.
Multiple Day Booking
Multiple spaces can be booked for multiple days. This rejoices the users, as it liberates them from booking and listing a space again and again.
Advance Filter
More listings! With advanced search filters, the event organisers can easily pick out their preferred space among a heap of space listings. It helps to search and quickly book the space without any hassle.
Setup Price For Each Activity
While listing event organisers list their space along with events and activity. They can set a price for each and every activity on the given gap.
Multiple Booking Option
Event organisers can book the unused space instantly or request for a booking, based on the options available. So users are free to set and book a space with multiple booking options.
Favorite Listing Option
Users can add their favourite listing in a bucket list. Later those bookmarked listings can be booked based on the requirements.
Availability Calendar
A calendar feature is integrated with Makent Space, which clearly depicts the booking of space along with hourly booking, single day booking, and multiple day booking.
Admin Approval For Listing
As soon as a new space gets listed by the space providers, the admin verifies the space and approves it. By the way, Makent Space safeguards the event organisers from false listing.
User Account Settings
The connected users can portrait their profile by setting it by their own. The users can add, delete or edit the details that are necessary to be shown.
Filter Listing Details Mark On Google Map
The listed spaces are pinned on the map. While event organisers search for a preferred one, the map view of listing is distinct to their view.
Multiple Currency
To stretch the business branches multiple languages and multiple currencies are significant also it simplifies the work.
Arabic Language Integration
Take your business to Arabian countries as we have integrated Arabic language to Makent Space. We do not stop with this, with multiple language integrations, you can take your business reach to many regions.
Google Translate Option In Users Chat Page
The space providers and event organisers can communicate with each other regardless of the country they belong to. Widespread and ease of communication is possible.
Secure App Option
Users can lock their app by enabling the secure app option. This special feature enhances the user's security and messing of information is blocked with this option.
Multiple Payment Option
Secured and reliable transactions are possible with varied payment options. Our Makent Space has integrated Paypal and Stripe payment methods in it. Also Stripe offers Strong Customer Authentication
Updated Stripe Payout Preference
We offer an updated Stripe payout preference for the users with an effortless and secured payout process in this rental system.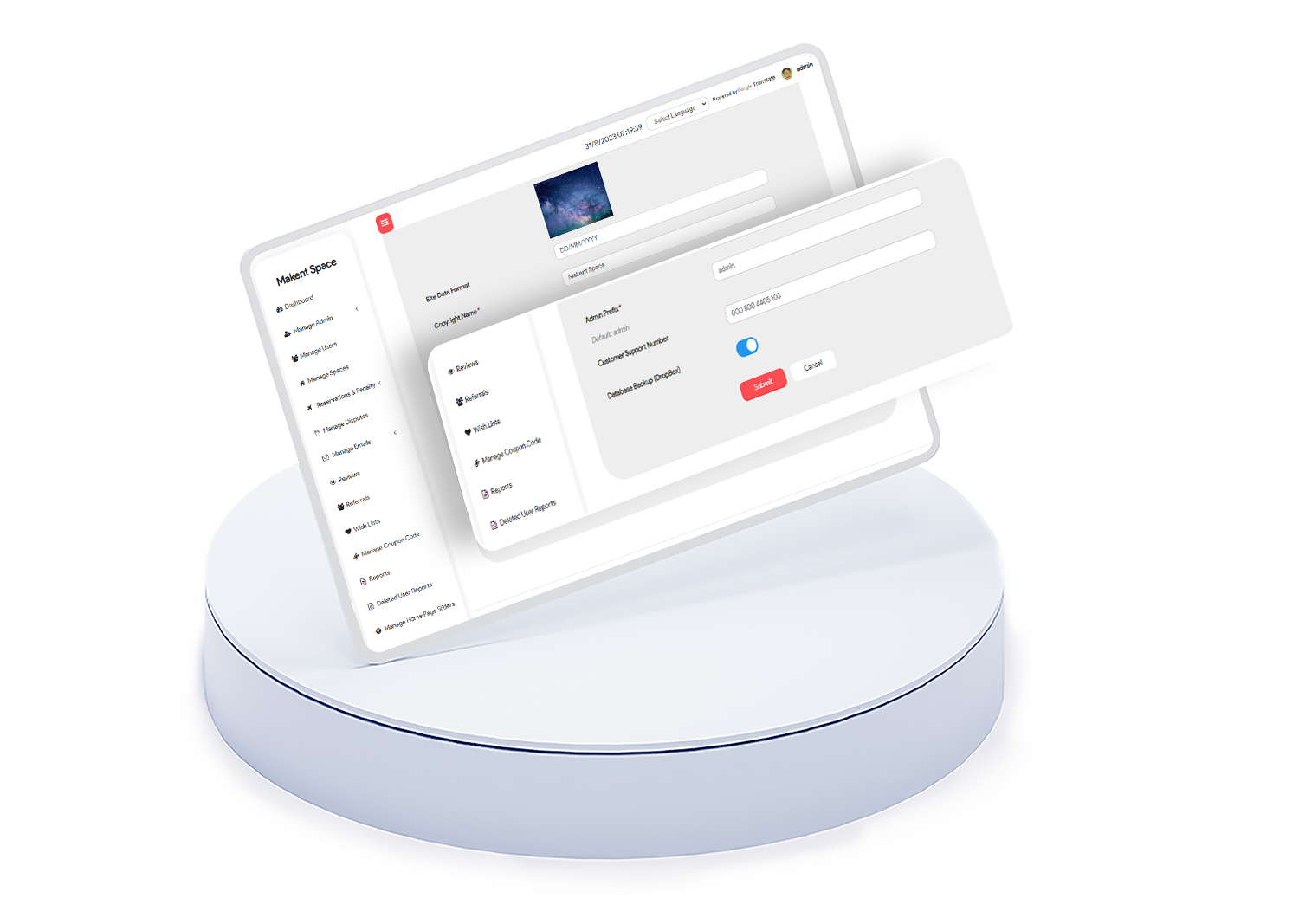 Dropbox Integration
Dropbox integration aids you in seamlessly syncing and managing your files with our app. Your data is safe in the cloud. Download, access, and share documents effortlessly.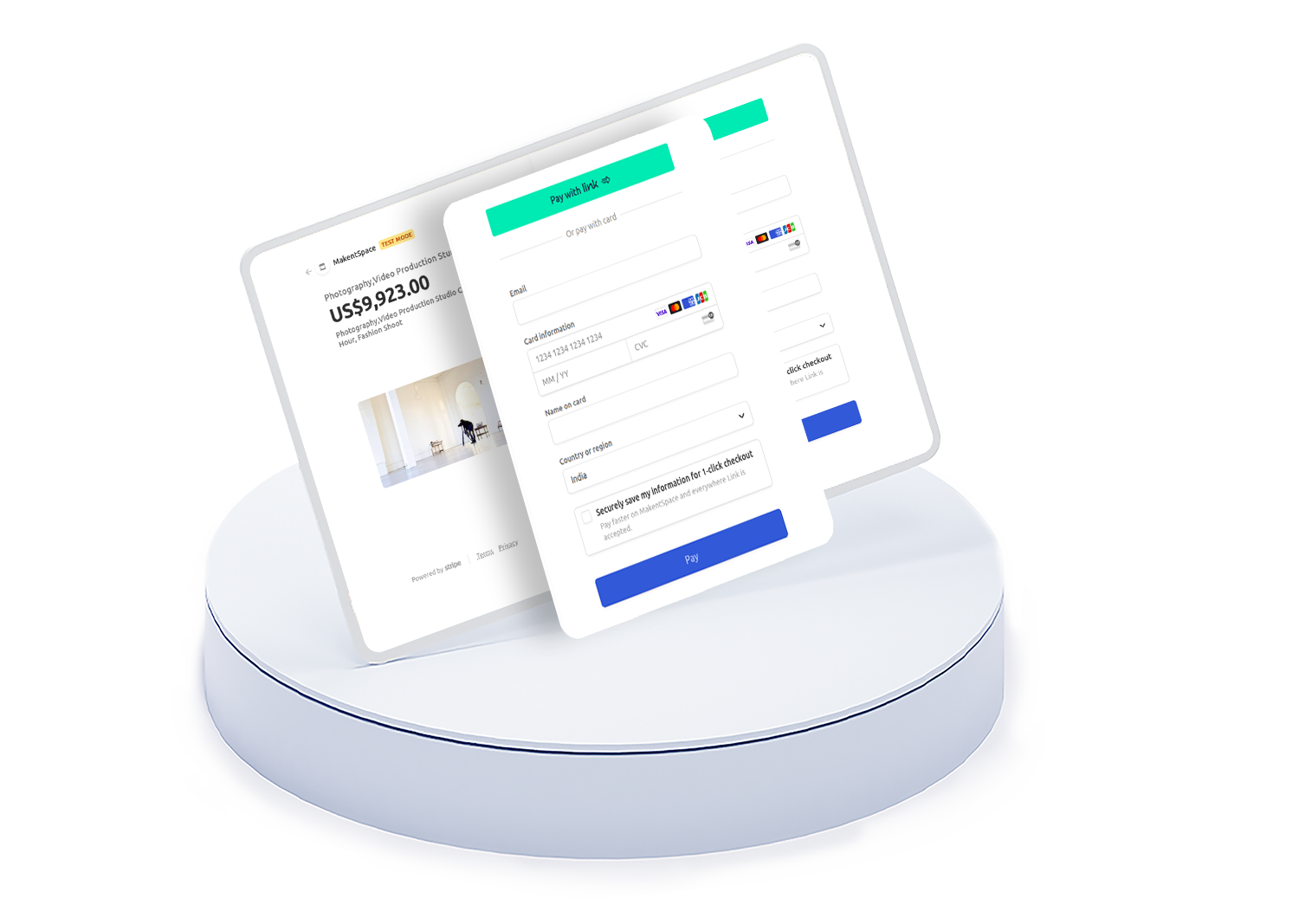 Stripe Redirection
Stripe Redirection enhances transaction experiences. It's lighter and makes the payment process smooth. Customize payment routes easily, ensuring a seamless and secure payment journey.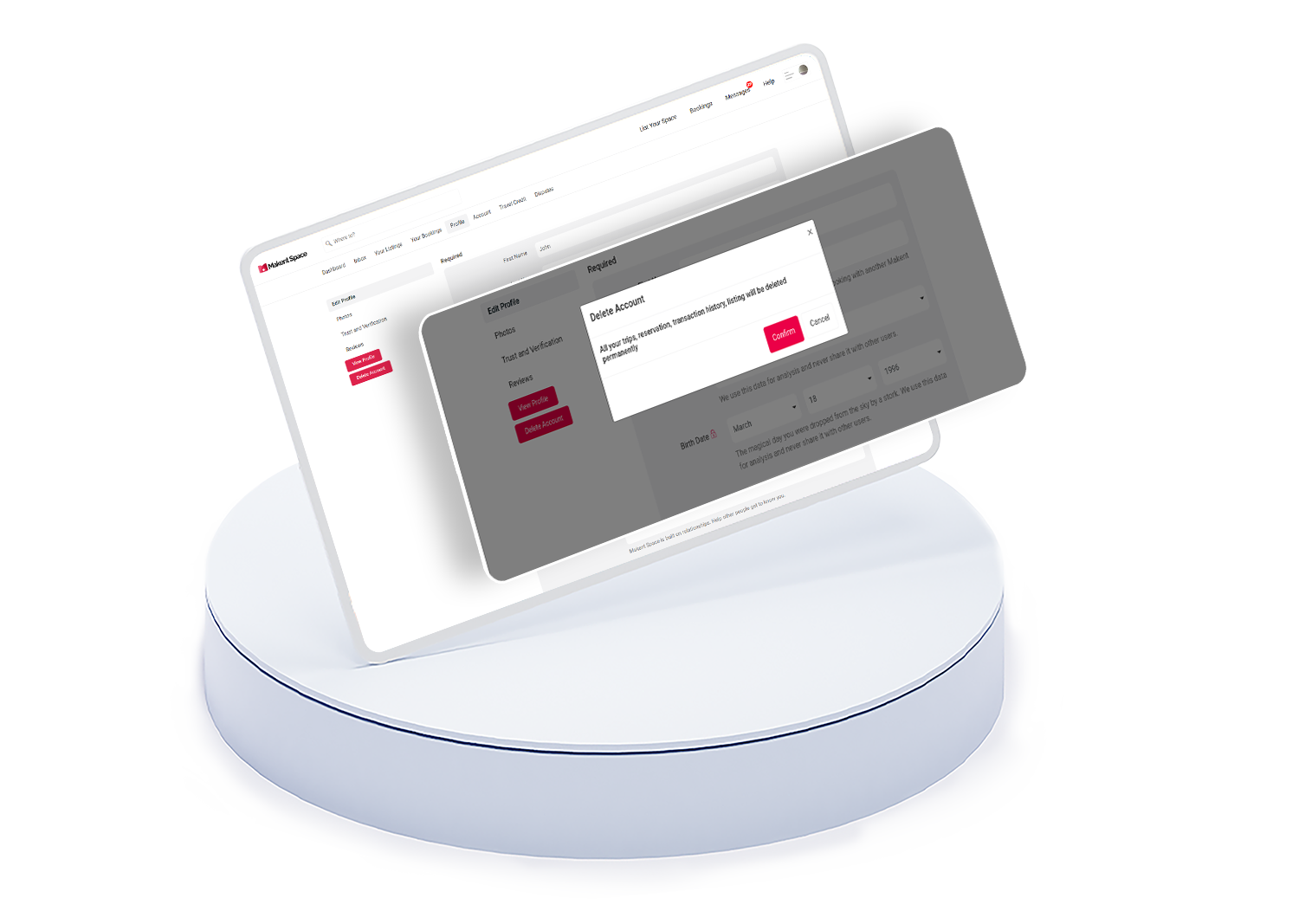 Delete Account Feature
Guests and host can close their user accounts with this Delete Account option. With a few clicks, they can start the deletion process. The app takes 30 days to erase the data completely.
How We Unique?
Why Choose Us ?
Stellar Features That Make Us Be A Right Partner for Space Rental Startup Solutions
Web Hosting
Shared Web Hosting
Exclusive Support for Shared Web Hosting for Any Business
Smart Decision Where to Host!
Shared hosting is an ideal choice for any website owners who are looking beginner-friendly and cost-effective option. Dedicated hosting defines the hosting of the website in a single server and it is specially dedicated to your website only.
We, Trioangle have skilled professionals in two hosting modes. But, hosting via shared web-hosting mode from us makes you feel risk-free without any technical requirements.
Note: Shared web hosting supports source which is run in every min cron
Our Offerings
What We Offer ?
Digital Interfaces That Aid the Participants in Space Rental Business for Smooth Workflow
Our Integral Payment Wallets
Crypto-Wallet Integration
Secure Your Transactions in Online Mode Via Our Crypto-Wallet Interface
Crypto-Wallet Integration
In Makent Space, We provide additional payment integration to send and receive the money through crypto wallet. Adding crypto-wallet is done with extra cost.
All-In-One Feature List of Makent Space(Space Rental Script)
Standard Features Of Splacer Clone
Diverse Features to Make You Stay Competitive in the Space Rental Industry
Similar Listings
Multiple Admin
Report Export Option
Cloud Storage
Social Media Integration
Bulk Email Option
Google Map Integration
Static Page Management
Dispute Management
Site Info Settings
Responsive Website
Our Pricing Plans
Pricing Plan For Splacer Clone
Select Your Pricing Plans With Respect to Space Rental Business Needs
Our Specifications
Specifications To Scale Up You Business
Take A Quick Look at Product Specification for Seamless Launch
Specifications
Professional
Enterprise
Professional Plus
Enterprise Plus

i

OS App
Android App
Free App Submission
One Time Fee
100% Source Code
Free Installation
Free Support
30 Days
1 Year
1 Year
1 Year
Skype Support
Team Viewer Support
Specifications
Professional
Enterprise
Professional Plus
Enterprise Plus
Pre-Integrated Payment Gateways:

Stripe Payment Gateway

(Supports 34 Countries)

Paypal Payment Gateway

(Worldwide)
| specifications | Startup Plan | professional | professional plus | enterprise |
| --- | --- | --- | --- | --- |
| | | | | |
| Responsive Design | | | | |
| Unlimited Guests | | | | |
| Unlimited Hosts | | | | |
| Unlimited Property Listing | | | | |
| SEO Friendly URLs | | | | |
| Export Data | | | | |
| List Your Space | | | | |
| Commission Fees | | | | |
| Alert For Hosts And Guests | | | | |
| Chat For Hosts And Guests | | | | |
| Sub Admin Management | | | | |
| Refund System | | | | |
| Cancellation Policy | | | | |
| Cloud Storage (CDN) | | | | |
| Mailgun Integration | | | | |
| Multiple Login & Signup | | | | |
| Hourly Booking | | | | |
| Multiple Day Booking | | | | |
| Advance Filter | | | | |
| Setup Price For Each Activity | | | | |
| Multiple Booking Option | | | | |
| Favorite Listing Option | | | | |
| Availability Calendar | | | | |
| Admin Approval For Listing | | | | |
| User Account Settings | | | | |
| Filter Listing Details Mark On Google Map | | | | |
| Arabic Language Integration | | | | |
| Google Translate Option In Users Chat Page | | | | |
| Secure App Option | | | | |
| Updated Stripe Payout Preference | | | | |
Trendy Insights to Know About The Rental Industry
Technologies Used
Technologies Used In Our Splacer Clone
Mastering in Design With the Latest Cutting-Edge Technologies
php
Angular JS
Java
Swift
CSS3
html
Sass
Laravel
Our Products
Rental Startup Products
Go Beyond Rental Industry Expectations With Our Extended Products
Frequently Asked Questions
FAQ - Splacer Clone
Get Perfect Solutions From Us to All Your Curious Questionnaires
A Splace clone is a sophisticated software designed to streamline the process of planning, organizing, and managing events. It automates event registration, reservation, guest management, and party scheduling. This script empowers event organizers and attendees by providing a seamless way to handle various aspects of the event.
A Splacer clone offers countless benefits. It simplifies event management and automates registration and ticketing processes. So it can enhance the attendee's knowledge and guest coordination. The product also provides real-time insights into event attendance and trends. It eases complex tasks and makes event execution seamless.
Operating System - Linux
Web Server - Apache
Database - MySQL
PHP - 7.3
Ability to Setup Cron Jobs
Facebook App Credential
Google App Credential
Apple Login Credential
By Default PayPal And Stripe Come Free With All Packages. Apart From That We Can Integrate Any Payment Method As Per Our Client Needs.
Depending On The Package You Choose, Our Technical Team Will Do A Free Installation On Your Recommended Linux Server With A Free Of Cost Hosting. This Does Not Cover Any Support Set Or Installation In Your Local Machine Or Local Host.
Normal Turnaround Time To Complete The Free Installation Of Files Into Client Server Will Take From 12 Hours To 24 Hours Which Depends Upon The Hosting Companies.
Of Course, Our Coding Structure Is Easy To Understand And You Can Start Modifications Immediately.
We Are There To Fix Up The Bug If Any. You Can Always Email To
[email protected]
To Address The Issue.
This Is To The Attention Of Our Clients, We Would Like To Inform You That Any Mails To Our Support Team, Will Be Replied Within 24-48 Hours On Weekdays. Weekend Mails Will Be Replied On Monday On Priority Basis Due To Huge Flow Of Business Sales. Please Be Patient While We Provide You With The Best Service.
You Can Reach Us At [email protected]
The 1 Year Of Technical Support Will Only Be Valid For The Source Code Which We Provide You, The Tech Support Will Be Terminated If The Source Code Is Edited Or Tampered.
Yes, Both Renter And Owner Can Claim For Dispute If Any.
No. Any Ready-Made And Custom Products You Buy From Trioangle.Com Are Strictly Adhered To Commercial Use. The Script Codes Are Not Meant For Re-Sell Or Re-Distribution. Infringement To Which Shall Make You Liable To Legal Actions.
Yes, You Can Completely Claim The Ownership Of Your Website.
Yes, It Will Be ONE TIME Payment Only. No Hidden Costs / Monthly Costs Are Charged Extra.
New Release Details
Release Detail For Splacer Clone
List of Our New Releases Waiting to Bring Wonders in Space Rental Industry
Stable 1.3
Jan 12, 2022
Dropbox integration
stripe redirection
Delete account feature
Jan 12, 2022
New Design Updated For Website.
Bug fixing.
May 22, 2020
Hourly Booking
Multiple Day Booking
Advance Filter
Setup Price For Each Activity
Multiple Booking Option
Favorite Listing Option
Availability Calendar
Admin Approval For Listing
User Account Settings
Filter Listing Details Mark On Google Map
Multiple Currency
Arabic Language Integration
Google Translate Option In Users Chat Page
Secure App Option

Multiple Payment Option
Paypal
Stripe (Strong Customer Authentication)

Updated Stripe Payout Preference
Apple Login Integrated
Oct 23, 2019
User & Host Web
Hourly Booking
Multiple Day Booking
Advance Filter
Setup Price For Each Activity
Multiple Booking Option
Favorite Listing Option
Listing Duplicate
Availability Calendar
Admin Approval For Listing
Id Verification

Multiple Payment Option
Paypal
Stripe (Strong Customer Authentication)

Dispute Option
Invite Friends
Host Earning Details
User Account Settings
Payouts Details
Filter Listing Details Mark On Google Map
Multiple Currency
Multiple Language
Special Offer Option
Web Admin Panel
Manage Roles & Permission
Manage Admins
User Management & Verifications
Reservation Management
Activity Mangement
Manage Hosting Details
Manage API Credentials
Manage Reports
Coupon Code Management
Manage Dispute
Manage Static Pages
Manage Help Details
Global Recognition Drives Us
Won High-Ratings
Achieve High-Rating & Good Recognition Responding to Our Timely Efforts