In a pandemic, buyers order and receive all their needed grocery items at their doorsteps. After the pandemic situation demand for the grocery delivery business rises day-to-day, users adapt themselves to this trend. The Grocery delivery industry currently shows greater demand in the online platforms. Instacart, Rappi, Bigbasket are the iconic players in the grocery delivery industry.
Grocery delivery business is trending, Entrepreneurs wish to join the community for starting similar businesses that are an instant solution. Online grocery delivery script providing solutions to start a grocery delivery business.

Concept
Grocery delivery script is used to order grocery items online and receive them at their doorsteps with just a click. To reduce the user's time & energy, increase the store sales, the job for the drivers and main thing that is a profitable business idea for the entrepreneurs.
Who can start?
Entrepreneurs who want to start an innovative business
Store owners want to develop their business and increase revenue
Can afford the grocery delivery script and start your business instantly. They have the responsibility to manage the overall function.
Scope of the Grocery business in the U.S.
Similar to the food delivery business, grocery delivery has a wider scope of the potential market.
In the US, 10% of consumers regularly do their grocery shopping online
The size of the overall grocery market was $632 billion in 2018
In 2020-21 Online grocery sales expected to grow 40%
In 2025, Online grocery sales  estimated to be 21.5%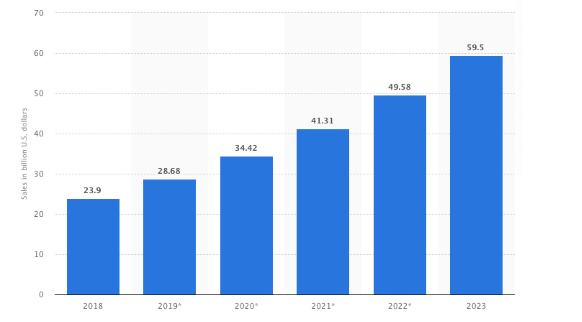 According to Statista, shows the level of opportunity for the online grocery delivery script in the US.
Online Grocery Shopping Sales in the United States from 2018 to 2023(in billion U.S. dollars)
If you start a delivery business, you may not face loss. Because you are the bridge/middle-man between the shoppers and the stores, the commission is generated from the store for each and every delivery. The role of the admin is just to promote the script and make it popular. Users choose a store product and order according to their demand.
Who offers?
Trioangle Technology offers grocery delivery app scripts with a flat 50% offer valid till Mar 1, 2021 for entrepreneurs to start their business instantly. Once you bought the script we provide free server installation, free bug support, free technical support, 100% source code, and etc. If you want to start a grocery delivery business contact us Whatsapp: +91 637 963 0152 or Email us: [email protected] or visit site: https://www.trioangle.com/grocery-delivery-script/