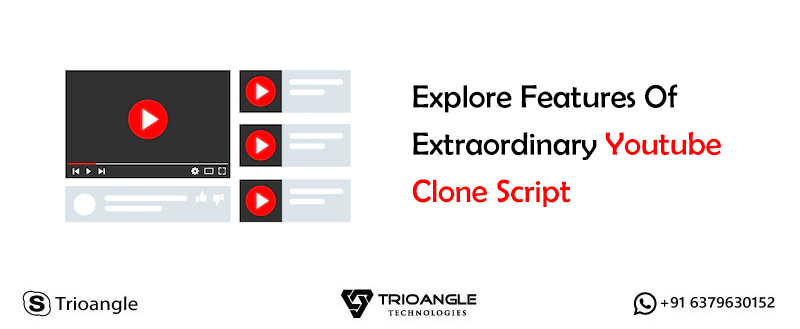 In recent days, the social media world has grown enormously. The usage of video streaming applications in this world serves only the entertainment purpose of people.
Youtube is one of the best video streaming apps where many people spent their time with activities. This creates a great opportunity for a lot of entrepreneurs to launch their own video streaming platforms.
So Youtube Clone Script offers to create an app like youtube easily. The features that turn your YouTube into a familiar one with a lot of options.
Do you know that?
If not, This blog provides a necessary detail about Youtube Clone Script And its features,
What is WatchIt:
Watchit is a youtube Script that helps to develop an Application like Youtube. This video-sharing application enables you to launch your own video-sharing website instantly.
It comes with an additional feature and you can also customize based on your demand. Now, it is so easy to develop an application like youtube with the help of a clone script. Keep going to know more about the features of using this clone script.
Latest Features :
Watchit Provides the latest features in the clone script, the best option based on the User's expectations, and also the best Users' customized options like video sharing, suggestions, and search options.
Easy Multiple Login Options:
This app should provide an easy registration process for the providers. The user can log in and sign in through an email account with multiple in Youtube Clone. Users can have a single or multiple admins to manage channels.
Update their profile :
After that sign in users can update their profile name and images simply and conventionally. This makes you attract more viewers to your platform.
Home page settings:
Under this feature, you can see the updated videos, suggestions, channel section, effective search option, and recent videos in your profile.
Advanced Search Options:
The users have the advanced search option to search for their favorite videos. The users get instant suggestions related to the searched contents.
Save their favorite videos :
The user can save their favorite videos in the wish list option can also watch them later.
Subscribe to the channel:
In our Youtube Clone Script, By clicking the subscribe button they can able to subscribe the different channels. They will notify when the new video is shared on the relevant channel.
People Playlist Option:
In this feature, the user can save any type of favorite video and watch them in their preferred order.
Share with social media:
User can share their liked videos on social media like Facebook, Instagram, Twitter with a few simple processes.
Managing Channels:
The app should be easy to create multiple channels and manage the channel based on the user options. And they can post their videos on that channel.
Video Response Options:
In this option, the user can express their response to the Other user's videos through like, dislike, and comment options.
Sharing Feature:
Sharing Option allows the user to share their favorite videos and content with others.
Categorized Videos and Channels:
Under this Youtube Clone script feature, they display the videos and Channels based on the categorized option. Hence the user can easily filter their favorite videos.
Ad Management:
Like Youtube, the user can publish their ads Based on their customized settings.
Uploading Systems:
In this option, you can upload your videos with unlimited size and various formats in a way of a normal and simple uploading process.
History section:
This feature is used to manage the user's video watched history It also creates a personalized experience for the users.
Concluding Note
Come to an end. You might have knowledge regarding Watchit-YouTube Clone and its attractive features from this blog. Our developers extend their ideas to help you to build an extraordinary youtube application with a lot of advanced features to grow in your business.
Wish to launch your own platform? Let's Get In Touch:
WhatsApp: +91 6379630152
E-mail: [email protected]