Are you someone who enjoys working with your hands? Has a talent for fixing things? And is looking for a way to start your own business? Then then you should know about how to start a handyman business!
Handyman services typically cater to homeowners and businesses who need help with various repairs and maintenance tasks around the property. There is a high demand for handymen, as many lack the time, skills, or tools to tackle repairs and upkeep tasks independently.
In this blog, I'll cover topics on how to start a handyman business. From assessing your skills to the importance of building a handyman app like Uber, the blog discusses in detail to start a successful business. Because, this business is not only high in demand, but starting a handyman business also offers the blessings of low startup costs, flexible hours, and the ability to work independently.
So, let's set it in motion!
Before getting started, take a look at the infography. It will provide you with the whole content interestingly.

Assess Your Skills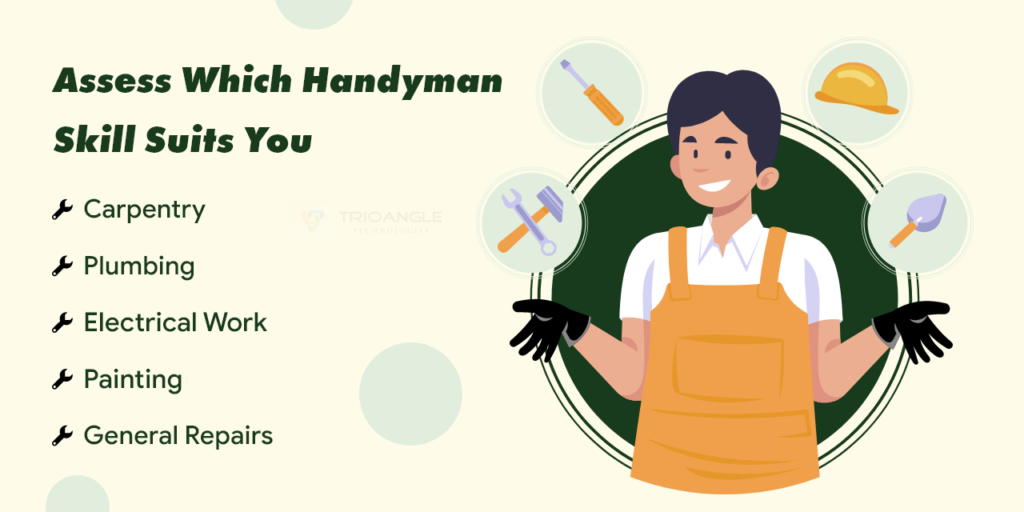 The first step to starting a handyman business is to identify the skills valuable for your business. For that, I list some skills for you here. Check them to identify what works for you!
Carpentry: If you're skilled in woodworking, you can offer services such as making decks, installing cabinets, and fixing furniture. Carpentry is profitable as the demand for furniture assembly is growing in individuals' lives.
Plumbing: Do you know to plumb? Then you can proffer services such as fixing leaks, unclogging drains, and installing new fixtures. You can save clients from hiring plumbing contractors by assisting them with your plumbing knowledge.
Electrical Work: Are you skilled in performing electrical work? Start to provide services such as installing new outlets, replacing light fixtures, and troubleshooting electrical problems.
Painting: If you know painting, you can offer services such as interior and exterior painting, staining, and refinishing works. The demand for painting services is always there in the locality. You can use the opportunity by serving a broader scope of clients.
General Repairs: Do you have general repair skills? Then you can provide services such as fixing drywall, repairing roofs, and fixing broken appliances.
It's also important to keep up with industry trends and new technologies while you accurately assess your skills and skill level. So that you can meet the needs of your clients and create a fulfilling career for you.
Decide Your Business Structure
It's necessary to decide on the business structure for your handyman business during the startup process. The business structure you choose will determine your legal and financial responsibilities, as well as the tariffs you'll need to pay. There are several business structures to set upon. Below, I enlisted some of them. Study them out.
Sole Proprietorship:
In a sole proprietorship structure, you are the only owner and are responsible for all aspects of your handyman business. This structure offers you to start a handyman business most flexibly and requires the least amount of paperwork and startup costs. At the same time, you are personally liable for any debts or legal issues that arise in the course of your business.
Partnership:
If you plan to start your handyman business with one or more partners, a partnership structure is to be viewed. You have to think about managing disagreements between you and your partners as it can put each partner's personal assets at risk.
Limited Liability Company (LLC):
An LLC is a favored business structure of small business owners as it provides the benefits of both a sole proprietorship and a corporation. Simply say, you are the owner of the LLC and are not personally liable for any debts or liabilities incurred by the handyman business.
Corporation:
A corporation is a more complex business structure. But it provides the highest level of protection for your personal assets. While it's not so easy to set up and maintain because it is more expensive and time-consuming than other business structures.
You need to be more careful in determining the suitable business structure while starting a handyman business. With the right determination, you can designate your business for long-term success. You can protect your personal assets from legal and financial issues too.
Construct a Business Plan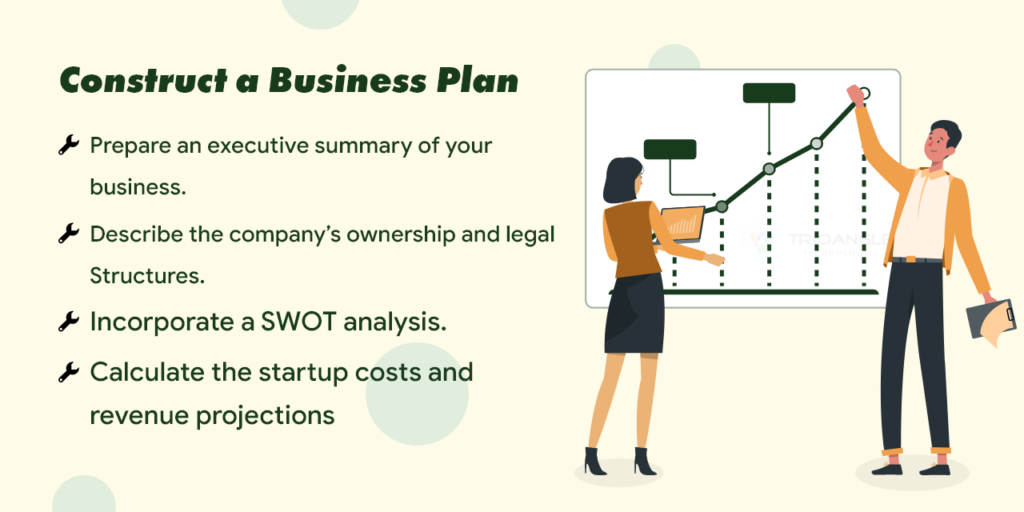 Creating a business plan helps you determine the viability of your business. It is like a roadmap that outlines your goals, strategies, and financial projections before you start a handyman business.
I documented areas you need to consider while making the business plan here. Reap those benefits without being late.
Prepare an executive summary of your business. That should include the mission, business structure, services to provide, target market, and economic forecasts.
Describe your company's ownership structure, location, and legal structures. Sketch the current market for handyman services in your area.
Incorporate a SWOT analysis, that helps you pinpoint the strengths, weaknesses, opportunities, and threats of your business.
Silhouette strategies for elevating your business and attracting customers.
Calculate the startup costs and revenue projections. Do a cash flow analysis. These will help you have a better idea of the investment requirements to initiate the handyman business.
Do a break-even analysis, to recognize the point at which your business will become profitable.
Reevaluate and rework your business plan systematically as your handyman business evolves. A thorough business plan will help you define your goals and strategies. As well as it aids you to identify probable challenges and opportunities that arise out of the business. It can also act as a testimonial while seeking a budget from investors or taking loans.
Obtain Required Licenses and Permits
To start a handyman business, licenses and permits are mandatory to run legally. It's very important for this business. Failure to obtain them can land your business in hefty fines or legal action.
Some of the licenses and permits you need to start a handyman business are:
Business License:
You'll need to get a business license from your state or local government to operate your handyman business.
Contractor's License:
Some states require contractors, or handymen, to obtain a contractor's license before providing services. You have to pass an exam and meet specific requirements to get it.
Trade-specific Licenses:
Depending on the types of services you'll provide, you may need to obtain trade-specific licenses, such as an electrical or plumbing license.
Insurance:
You have to acquire liability insurance to protect your business from any damages or injuries that may occur anytime in handyman services. Plumbing, electrical works, and carpentry are highly inclined to damage and injuries. Those businesses are mandatorily insured. But it's better to obtain insurance in common. Some states may demand specific types of insurance, so be sure to check with your local government.
Tax Identity Document:
To report your handyman business's income and pay taxes, you have to obtain a tax ID from the Internal Revenue Service (IRS).
Know the specific requirements of licenses and permits for your location and industry. Fetch mandatorily all the necessary documents before starting your handyman business.
Establish Your Business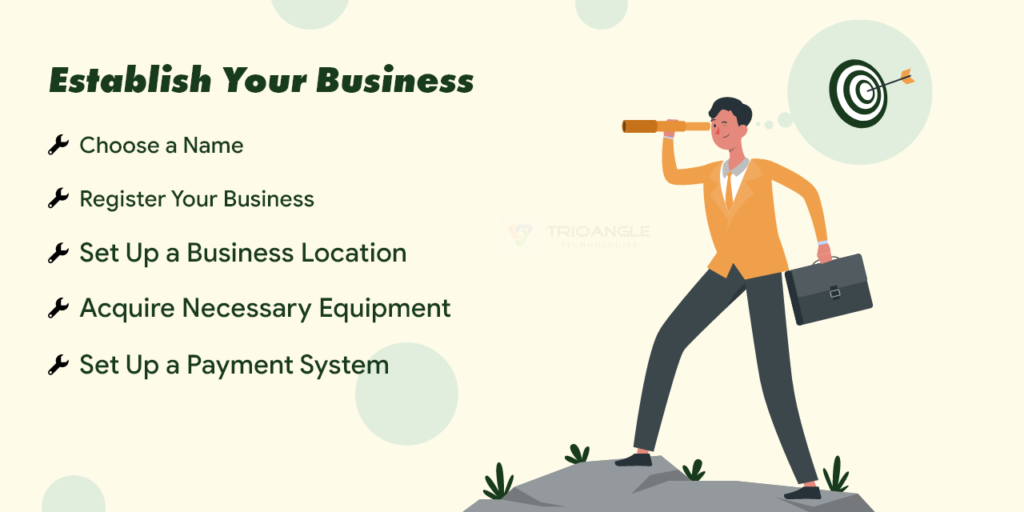 After completing the basic processes to start a handyman business, it's time for you to establish your business. Unfortunately, it's not as easy as a cakewalk. You need to break down the operations of launching your new business step by step to make it easier. Let's see the steps involved: 
Choose a Name:
Choose a name that accurately represents your handyman business and is easy to remember. Ensure the name is not already in use by another business in your area.
Register Your Business:
Register your business with your state Government to obtain a legal recognition certificate. Thereby, you can provide certified services endorsed by the Government.
Set Up a Business Location:
Determine your handyman business location. Consider setting up a home office or renting a commercial space. Make sure it is located at the center of the target location. By doing that, you can provide punctual services to the clients.
Acquire Necessary Equipment:
Decide on the equipment you'll need to perform your handyman services. This may include tools, transportation, and safety equipment. Ponder over purchasing used equipment to save on costs.
Set Up a Payment System:
Set up payment systems to accept payments from your customers. Better set up online payment options or provide credit and debit card payments to make hassle-free transactions.
Consult with a handyman business advisor or attorney to ensure you're complying with all legal requirements and driving your business toward success.
Build Your Brand
Building a strong brand is indispensable for a handyman business. A strong brand can be built by designing an online platform like Uber for handyman app. It can help you stand out from your competition, improves customer attraction, and establish trust with your clients.
Effective steps to build your handyman business are:
Develop a Logo:
Creating a logo on the theme of your handyman business is an essential part of your branding. It deeply tells about your business at a glance. Look for a proficient graphical designer to create a logo that precisely portrays your business. 
Build a Digital Platform:
Building a digital platform similar to a handyman app like Uber is vital for your business. It's part of your online presence which is essential in today's digitized world. Hire a mobile app development services company today to show your digital presence.  
Utilize Social Media:
Social media platforms, like Facebook, help you to interact with your followers. These are excellent tools for building your brand and engaging with your audience.
Consistency:
Consistency is key to building a strong handyman brand. Assure that all of your branding materials, including your logo, website, and social media profiles, are consistent in their design, quality, and messaging.
Building a brand takes time, and it's the core of your business. It's better to hire a branding expert or marketing consultant who helps develop your brand that aligns with your goals.
Market Your Services
Nowadays marketizing businesses is important to attract new customers, specify your brand, and enrich revenue. Handyman business is not an exception from the list of businesses. it can be done smoothly if having the assistance of an on-demand service app.
It's crucial to develop a virtual platform with a better marketing strategy. 
In this tech world, it's easy to advertise a handyman business. And it consists of two effective tactics to improve business.
Online Marketing
Offline Marketing
Online marketing has many benefits over offline marketing. It's trackable, cost-effective, and potent. It's not that offline marketing is outdated. 
In today's trend, online marketing comes up with a variety of options. It comprises social media, email marketing, and direct mail. On the other, offline marketing has minimal options alone. 
Whatever means of marketing you do, ensure that all of your marketing efforts, including your logo, online platforms, and social media profiles, accurately represent your business and appeal to your handyman target market.
If not, you can't enjoy the many benefits you can get from marketing. It's adequate to evaluate the effectiveness of your marketing efforts oftentimes. Think about tracking your marketing activities and examining the results to determine what's working and what can be improved.
Manage Your Finances
Managing your finances is essential to keep track of your income and expenses, create a budget, and plan for the future.
Even at the beginning of the business, hire an accountant or bookkeeper to help you manage your finances and ensure that your records are accurate and up to date. Finance in accounting software simplifies your monetary administration processes and makes it easier to follow your income and expenses.
Form financial goals for your handyman business and create a plan to accomplish them.
Regularly check your finances and modify your strategies as needed to ensure that your business stays profitable and endurable. By managing your finances effectively, you can position your handyman business for victory.
Conclusion
From the blog, we come to know that starting a handyman business can be a rewarding and promising venture. It mandates meticulous planning and practice. With the steps outlined in this blog post, you can establish a solid foundation for your business.  
Assess your skills, choose your business structure, create a business plan, obtain the necessary licenses and permits, establish your business, build your brand, manage your finances, and market your services effectively.
Today's handyman business demands Uber for handyman app along with hard work, and perseverance. In the journey, you remember that the rewards can be significant. As a handyman, you have the opportunity to assist others, work independently, and grow a successful business. Stay focused on your goals, remain adaptable to change, and continually evaluate and alter your strategies. 
Have the proper mindset and approach. That's how to start your own handyman business. You can build a flourishing and fulfilling handyman business over time. You'll serve your customers and achieve your professional goals.
{ "@context": "https://schema.org/", "@type": "HowTo", "name": "How To Start A Handyman Business: Must Read!", "description": "A time for you to launch own handyman business in a new way arrives. A guide for you to launch handyman business is on your hands now.", "image": "https://www.trioangle.com/blog/wp-content/uploads/2023/05/How-To-Start-A-Handyman-Business-Must-Read.png", "totalTime": "PT43200M", "estimatedCost": { "@type": "MonetaryAmount", "currency": "0", "value": "0" }, "supply": [ { "@type": "HowToSupply", "name": "8" } ], "tool": [ { "@type": "HowToTool", "name": "Online" } ], "step": [ { "@type": "HowToStep", "text": "Identify your skills valuable for your business\nOffer to make decks, and install cabinets if you know carpentry\nFix leaks, and unclog drains, if you know to plumb\nIf interested in electrical works, do install new outlets, and replace lights \nFix drywalls, roofs, and broken appliances if you know general repairs \nKeep up with industry trends and technologies while you assess your skills", "image": "https://www.trioangle.com/blog/wp-content/uploads/2023/05/How-To-Start-A-Handyman-Business-Must-Read.png", "name": "Assess Your Skills", "url": "https://www.trioangle.com/blog/how-to-start-a-handyman-business-must-read/#Assess_Your_Skills" }, { "@type": "HowToStep", "text": "Sole Proprietorship\nPartnership\nLimited Liability Company (LLC)\nCorporation:", "image": "https://www.trioangle.com/blog/wp-content/uploads/2023/05/How-To-Start-A-Handyman-Business-Must-Read.png", "name": "Decide Your Business Structure", "url": "https://www.trioangle.com/blog/how-to-start-a-handyman-business-must-read/#Decide_Your_Business_Structure" }, { "@type": "HowToStep", "text": "Prepare an executive summary of your business\nDescribe your company's ownership structure, location, and legal structures\nIncorporate a SWOT analysis\nSilhouette strategies for elevating your business and attracting customers\nCalculate the startup costs and revenue projections. Do a cash flow analysis\nDo a break-even analysis, to recognize at which point your business becomes profitable", "image": "https://www.trioangle.com/blog/wp-content/uploads/2023/05/How-To-Start-A-Handyman-Business-Must-Read.png", "name": "Construct a Business Plan", "url": "https://www.trioangle.com/blog/how-to-start-a-handyman-business-must-read/#Construct_a_Business_Plan" }, { "@type": "HowToStep", "text": "Business License\nContractor's License\nTrade-specific Licenses\nInsurance\nTax Identity Document", "image": "https://www.trioangle.com/blog/wp-content/uploads/2023/05/How-To-Start-A-Handyman-Business-Must-Read.png", "name": "Obtain Required Licenses and Permits", "url": "https://www.trioangle.com/blog/how-to-start-a-handyman-business-must-read/#Obtain_Required_Licenses_and_Permits" }, { "@type": "HowToStep", "text": "Choose a Name\nRegister Your Business\nSet Up a Business Location\nAcquire Necessary Equipment\nSet Up a Payment System", "image": "https://www.trioangle.com/blog/wp-content/uploads/2023/05/How-To-Start-A-Handyman-Business-Must-Read.png", "name": "Establish Your Business", "url": "https://www.trioangle.com/blog/how-to-start-a-handyman-business-must-read/#Establish_Your_Business" }, { "@type": "HowToStep", "text": "Develop a Logo\nBuild a Digital Platform\nUtilize Social Media\nConsistency", "image": "https://www.trioangle.com/blog/wp-content/uploads/2023/05/How-To-Start-A-Handyman-Business-Must-Read.png", "name": "Build Your Brand", "url": "https://www.trioangle.com/blog/how-to-start-a-handyman-business-must-read/#Build_Your_Brand" }, { "@type": "HowToStep", "text": "Marketizing businesses is vital to enriching customers, brands, and revenue\nIn this tech world, it's easy to advertise a handyman business\nOnline marketing has many benefits \nIt has alternatives such as social media, email marketing, and direct mail\nEnsure your marketing efforts represent your business and appeal to your target market", "image": "https://www.trioangle.com/blog/wp-content/uploads/2023/05/How-To-Start-A-Handyman-Business-Must-Read.png", "name": "Market Your Services", "url": "https://www.trioangle.com/blog/how-to-start-a-handyman-business-must-read/#Market_Your_Services" }, { "@type": "HowToStep", "text": "Managing your finances is essential to keep track of income and expenses\nWith that, you can create a budget, and plan for the future accordingly \nHire an accountant to help you manage your finances \nThey ensure that your records are accurate and up to date\nForm financial goals and create a plan to accomplish them", "image": "https://www.trioangle.com/blog/wp-content/uploads/2023/05/How-To-Start-A-Handyman-Business-Must-Read.png", "name": "Manage Your Finances", "url": "https://www.trioangle.com/blog/how-to-start-a-handyman-business-must-read/#Manage_Your_Finances" } ] } { "@context": "https://schema.org/", "@type": "FAQPage", "mainEntity": [ { "@type": "Question", "name": "Do I Need A License to Start A Handyman Business?", "acceptedAnswer": { "@type": "Answer", "text": "Yes. Definitely, You need the license to launch the new handyman business as per the regulatory compliance requirements on targeting regions." } }, { "@type": "Question", "name": "How to Start A Handyman Business With No Experience?", "acceptedAnswer": { "@type": "Answer", "text": "Without experience, you can launch the handyman business in a proper way. By simply bringing all the handyman in a single window, starting a handyman business is a simple strategy. Also, you can provide seamless options to find the right handyman in the nearby location quickly." } }, { "@type": "Question", "name": "What is Handyman Business Startup Checklist?", "acceptedAnswer": { "@type": "Answer", "text": "The Checklist to start a handyman business is illustrated as follows Business Plan Should Be Ready Registration Grow Your New Handyman Business" } }, { "@type": "Question", "name": "How to Make A Business Plan for Handyman?", "acceptedAnswer": { "@type": "Answer", "text": "Making the business plan for handyman comprises the following steps: Brief Overview Type of Handyman Business Operation Give An Overview of Target Market and Competitors Frame the Marketing Strategies Financial Plan Overview" } }, { "@type": "Question", "name": "How Big is the Handyman Industry?", "acceptedAnswer": { "@type": "Answer", "text": "The Handyman industry is booming in the United States. With over 7bn USD revenue volume and more than 162000 businesses running across the country. The average annual salary of the handyman is around 42930 USD with a growth rate of 3% in 2025." } } ] }