The world is getting too busy increasingly day by day. And we people have practiced the app culture and the door delivery services within a few taps. Hence the delivery services like meal delivery businesses are generating considerable revenue in the food delivery business market.
Following the on-demand food delivery services, meal-kit delivery businesses are getting a huge market in today's era. This is by the arrival of cloud kitchens, instead of taking food from restaurants.
Here is the blog for entrepreneurs who are curious about starting a delivery business with fewer investments.
Let's get into the business insights of meal delivery.
The Market For Meal Delivery Business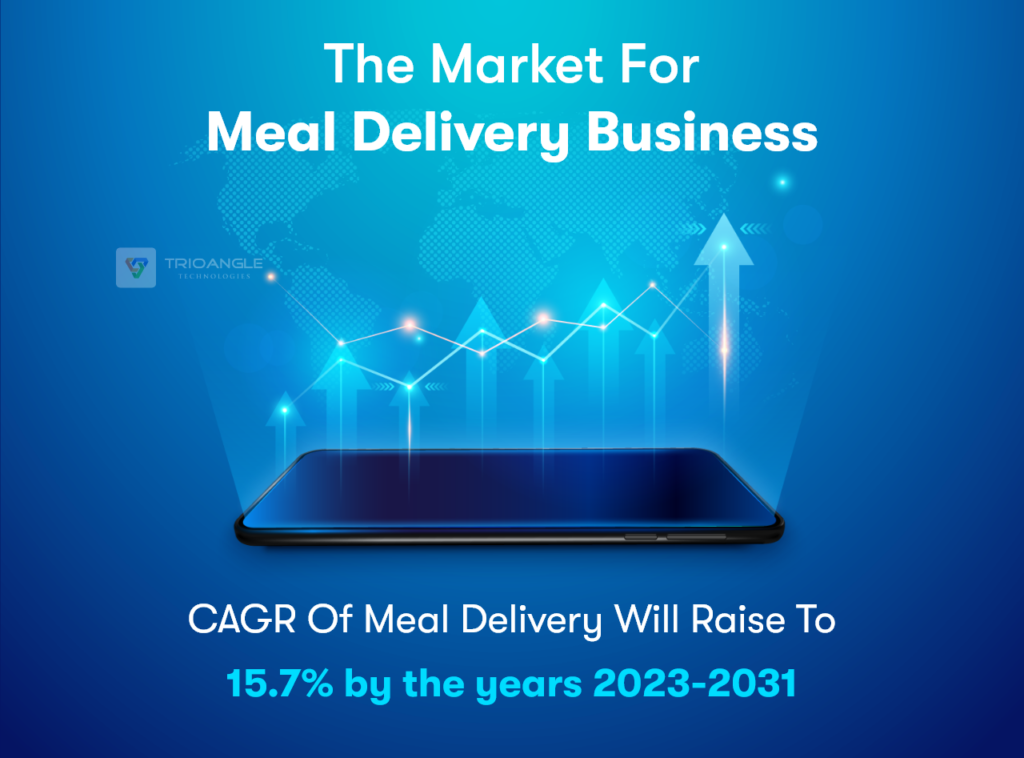 With the rise of many cloud kitchens, many foodies or people who are unable to take on their household chores are fetching food delivery apps. Due to hygiene from the cloud kitchens or the ingredients of the nutrient in the meal kit, many people are going with meal delivery.
The major key driving factors while starting meal delivery services,
Increasing consumer preferences to get a customized simple meal.
A high number of cloud kitchens arrived.
Migration of the people from the rural to urban regions.
And this creates, a rising demand in the market, rather than choosing unhealthy menus from the restaurants. A report from the TMR also states that the meal delivery service market is projected to reach a CAGR of 15.7% by the years between 2023-2031.
Because this niche delivery service and the meal delivery app solution help vegans and non-vegans to get fully supplemented nutrients in a customized manner, depending on their dietary plans.
So, launching new meal delivery services with distinct options will be a leading business in your entrepreneurship journey, which will help to give you a big revenue share in the market.
Step 1: Select Your Meal Preparation Concept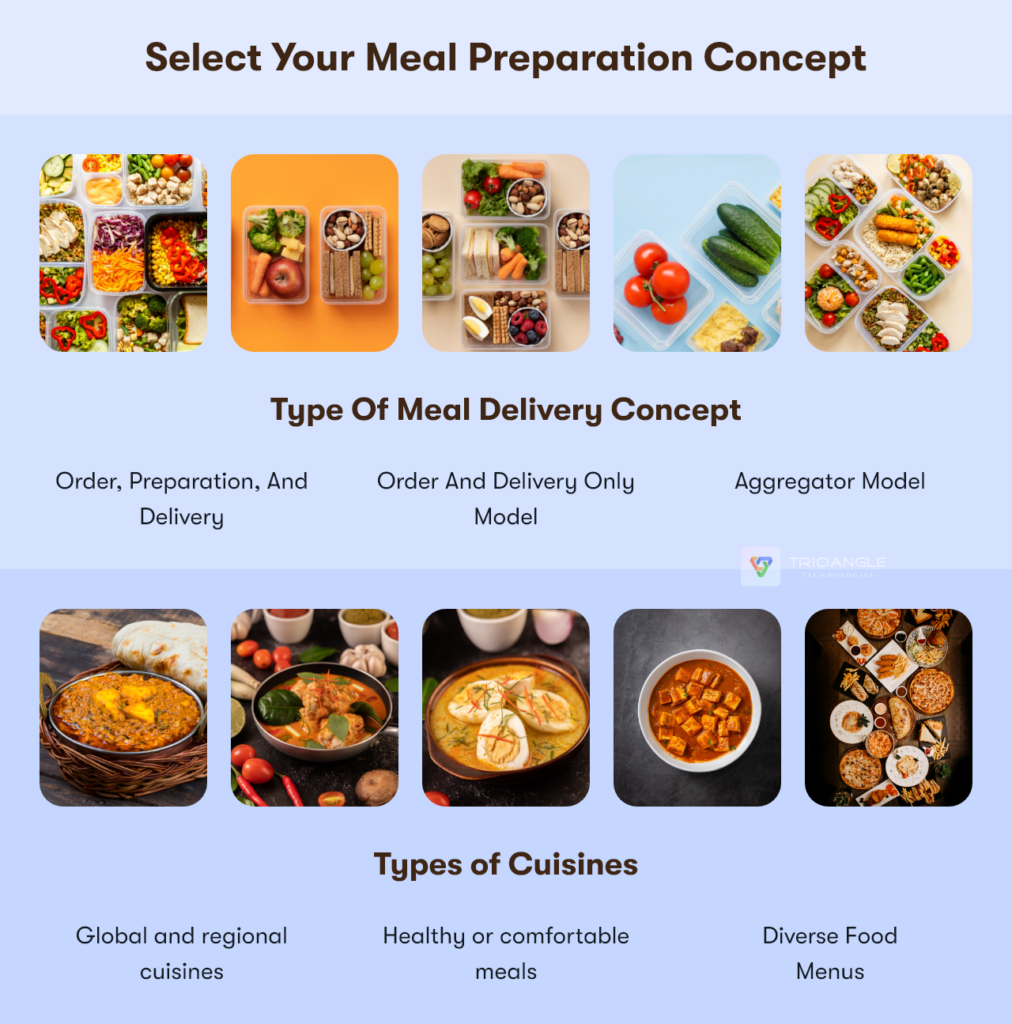 So, you are interested in starting the meal delivery business idea. This is a great plan to enhance your business path.
Before going into business development, it is significant to hold a clear outline for your meal delivery business. Here are some pinpoints to notify initially,
Types Of Meal Delivery Business Models
Similar to the food delivery business, there are many types of business concepts involved according to your investment. So, have a plan on which model you are fetching with, it can be
Order, Preparation, And Delivery
Order And Delivery Only Model
Aggregator Model-connecting different ghost kitchens or restaurants in a single platform.
Initially, choose your business concept, and in what mode you are going to serve the consumers.
Look On The Types of Cuisines Going To Provide
If you have a business model of order, preparation, and delivery, then you have to look at the types of cuisines. Below are some of the questions for you to go on,
Are you a specialist in giving global (international recipes) and regional cuisines?
Or trying to serve healthy or comfortable meals for the customers?
Other, trying to give food on different foods like blending recipes to a new one and want to make it a famous one?
Let's give answers to yourself, and fix what types of meal-kit menus you are going to list for the consumers.
Step 2 Target Your Market
Reaching the potential consumers in a business is a daunting task. Effectively, focusing on the targeting of customers will increase your revenue soon. Based on your meal preparation concept, you can divide the customer segments and process to reach them. Focus on the niche to reach the right people and make them get to revert back to your service automatically.
The major customer segments will be on the demographics,
Your customizable diet menu would help many adults and senior citizens.
Busy families or busy people who don't have enough time to cook a full meal in a day and just want to heat with some ingredients will get a fresh meal quickly. So, concentrate on which type of kits will satisfy the major number of consumers.
Focus on the people who have to follow the dietary restriction meal. Targeting these people will hold constant retention to your app or meal delivery business.
So, make your niche that should possess the tactics of getting high marketing points.
Step 3: Write Your Meal Delivery Business Plan
Having a detailed business plan will make you move on the right path without any confusion. Based on your model, you need to write a business plan for the clear next move and also lays a strong foundation for your meal delivery startup.
If you are going with the complete meal delivery business idea from order receiving, and preparing to delivery.
You need to write the business plan with the following pinpoints:
Region analysis
Meal Delivery Menu Concept- Diet plans, Customizable orders, important menus sticking with all the orders, etc.
Value propositions, stakeholders, etc.
Targeted consumers
Technical needs and development part
Business Name and domain
Legalization-getting permits and license
Staffing requirements
Analysing Market And competitors
Funding Requirement
Let you fetch all the necessaries on these parts, and work step by step with each part to get a complete business model.
Step 4: Prepare Your Investments
Decide your meal delivery business model and fix the operation setup cost first. Obtain your investments for that or based on your budget select your business operation type. Look at the factors, that make your costs, and reduce the unwanteds for the less investments.
Some of the significant lists that will consume your funds are,
Technical website or app development for the online platform
Official office setup location
Meal preparation center or specialized kitchen space (if choosing the entire completion model)
Delivery people recruitment
Investments for Employees for maintaining the platform and the entire meal delivery business.
Legalization of the delivery business, registering for seller's permit, food handler's license, health department permits, etc.
Apart from these meteors, you should look at other importance of what your meal delivery business needs.
Step 5: Create A Mobile App Or Website For Your Meal Delivery Business
The world is going smart with the technology. Any business couldn't move up without a digital presence. So, it is highly essential to run a business in a tech-savvy way, where people stick with mobile phones and apps.
Create a user-friendly mobile app or website to ease your consumers in purchasing their daily meal kit without any struggles. An engaging website or app can be an efficient reason that drives your meal delivery business to the top position in that region. It will help you in bringing a high number of constant sales even from the non-targeting regions.
Before starting work on developing the website, look at the matters like template, think about the layout on which your website should look, and the simple inner process too.
A conceptualized website or app development solely helps you to outreach people with an excellent online platform.
Ask your app developers to implement easy tabs that should give extra notifying sense to the users by prioritizing them with an eye-catching interface. Integrate the gifting and add coupons to attract the customers in buying their meals with much satisfaction.
Look at the below points that should integrate into your website or app development process,
Site speed and performance in loading the searched contents
User-friendly designs and graphics to entice customers at first sight itself.
Smart app work nature
Implementation of advanced features with easy quirky designs.
Integrate a personalization algorithm to track and out-list the searches based on their behavior.
Work on giving customer service with the incorporation of chatbots to avoid delays in manual servicing.
Let's be ready to build a smart meal delivery business platform online with all extraordinary quality.
Step 6: Stock The Necessities For Your Meal Preparation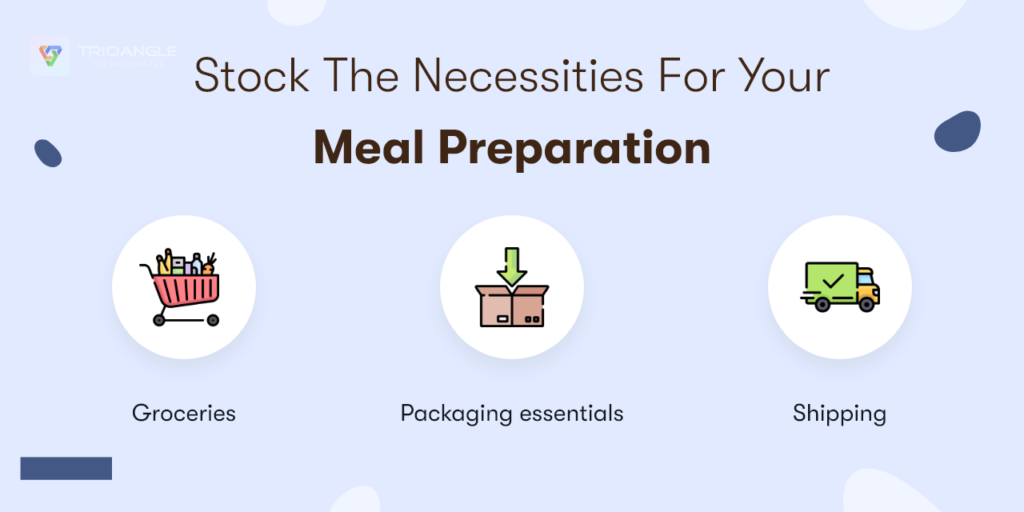 If you are going to grow your meal delivery business along with the preparation, you should stock the groceries, kitchen equipment, and packaging necessities like boxes, bags, etc.
Groceries
Prepare a meal plan and show it to the customer listings. According to your meal plan listings stock the groceries before a day or have regular raw and fresh grocery stockists. Because buying fresh groceries in an extra manner will make you sometimes in throwing them in the garbage, which could waste your money and time a lot.
Packaging essentials
Many of the customers might be attracted by the images that you show on the mobile app or website. So, try to give the meal kit exactly as what you deliver, it will increase the user's retention.
Note: Constantly focus on the delivery and packaging, that's equal to the part of focusing on the taste.
Shipping
It is another important part, take time to give specialized shipping like putting it in the designated boxes. It could need an ice box to keep the frozen products or a hot delivery box to store the hot meal packs.
Build your meal delivery business name highly distinct by giving customers enticing packaging and delivery.
Step 7: Get Permits And Licenses For Meal Delivery Startup
When it comes to the food delivery business, it is important to take the necessary permits and licenses from the government. This is to ensure certifying that you are following the right guidelines and rules of governance.
Every state would have separate food delivery license requirements. So, based on your region analyze the license and permits that you should get before launching the meal delivery business.
Moreover, here I have listed some of the basics that maximum states are requiring,
Seller's Permit
Employee Identification Number
Catering license
Sanitary permits
Other than these, it is also important to have general liability insurance and commercial insurance coverage, to protect your business in the case of any damages.
Let you check out the regional jurisdiction and clear all the legal requirements that your meal delivery business. Thus, increasing your food delivery business qualification.
Step 8: Market Your Meal Delivery Business
Marketing strategy is vital to reach potential consumers. A conceived marketing business plan would increase your business traffic and sales point.
Here are some of the effective promotions for your meal delivery business,
Social Media Marketing
Nowadays, catching people online is quite easy compared to traditional marketing methods. Utilize social media platforms like Facebook, and Instagram for your meal delivery business promotions. It will reach the targeted consumers quickly using the customer demographics. And also update your business market with the current trend.
Give Offers For New Customers
Free or Offer deals will always keep customers with an eye on your business. For the new users, give enticing deals on their first purchase, like giving coupons with the code "WELCOME". Merging with this gives offers like refer and earn system. These offers can given to all consumers based on the seasons or celebrations such as Christmas or Valentine's special deals.
Provide Loyalty Program
Giving customer loyalty programs will encourage them to buy more or in a regular manner on your platform. Provide exciting offers or gift them a new menu as a complement to their previous orders based on their platform spending. Like, give tag lines, "Try it for free!
And furnish combo offers for a limited time, which will engage your meal delivery business platform with more traffic.
These promotions will heighten your business growth in a short span, and simultaneously it increase the influence via word of mouth.
Summing Up
In conclusion, starting a meal kit delivery business can be a lucrative venture if done right. The key to success lies in identifying your target audience, creating a unique and customizable meal plan, sourcing high-quality ingredients, and ensuring timely and efficient delivery.
When starting out, it's important to conduct thorough market research to understand the needs and preferences of your potential customers. This will help you create a menu that caters to their dietary requirements and tastes.
Additionally, you must ensure that your meal kit is affordable and provides value for money. It's also essential to establish a strong brand identity and promote your business through various marketing channels.
Though starting a meal kit delivery business can be challenging, but also be a fulfilling experience that allows you to make a positive impact on people's lives.