As the tourism sector grew over the past few years, room rental businesses are booming worldwide. The concern about where to find a stay is rising dramatically. People have plenty of spots to visit. The matter is they find it hard while searching for a suitable room for rent. 
The rising rental crises pushed industries to digitize services. Airbnb pioneered this sector of business. So the apps like Airbnb penetrated the tourism sector to help users find the best spaces.  
By helping users find the best rental spaces, these app owners get better results from their businesses.
You're not alone if you are probing for developing such an app. This blog is exactly meant for you. This blog exactly helps you to find the best solution to develop a better app. It's going to be the answer to all your questions that are rolling in your mind.    
Just read! You can find more!!!
Let's know the working process of the rental script
The below-given chart is created to make a gist in your mind. Also, a brief description is given for every process. Let's check them out!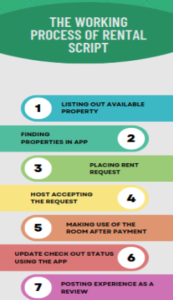 1. Listing out available property: 
The app's process begins with the host. He/she is the one who posts the available room in the app. They can use creativity in describing, and picturing the rooms they have for rental business. There is no limit to uploading rooms for this rental business. Hosts can upload any number of rooms they have vacant to occupy. 
2. Finding properties in the app:
The second process takes place with the actions of guests. They are the ones who search for the availability of rooms. They get instant results once the app is filled with rooms for rentals. They can search for rooms with specifications in size, decorations, bed count, etc., Price for every spec will change accordingly. 
3. Placing rental request:
Guests can place a request with a few taps. They will receive notification of the response from the host immediately if they are online. They can place countless requests according to the dates they need room. They can pre book or cancel requests to their needs.  
4. Host accepting the request:
The host has the right to accept or decline requests placed by guests in the vacation rental script. They get requests once placed by guests instantly. 
5. Making use of the room after payment:
Guests are allowed to make use of the room as their own. They have to pay for the service before they occupy the rooms. They can pay later if they choose cash payments while placing a request. 
6. Update check-out status using the app:
Guests can let know the hosts about their checking out via property rental software. Digital services make everything possible in lesser time.    
7. Posting experiences as a review:
Guests and hosts can review each other about the rental services experience. If they make good reviews, they will appear top of the list. If they got negative remarks, placed below the mark.  
Steps to complete rental app development
Step 1: Choose servicing style:
Rental app development is a big project. You have to make plans precisely. Firstly, choose the servicing style for your business. You can service particular types of people, particular regions, and even particular accommodations that you think are suitable for your business.  
Step 2: Know your competitor:
Knowing your competitors in the industry is a must for this rental business. Without probing their tactics, and the services they offer to attract users, you can't stand out. This helps you tackle the wave of competitors for your business with ease. You can strategize effectively once you find out how your competitors play in the industry.  
Step 3: Find the best app developers:
To develop the best rental software, you need the best mobile app development company with you. Sharing your needs, ideas, strategies, techniques, and importantly budget with the right developers will help you to get the perfect app. If you found the best app developers, you can start your development part immediately. 
Step 4: Think out of the box:
Analyzing the current trends in the industry helps you to develop the modish rental business app. Always use cutting-edge technologies for your app while developing. This helps you to develop advanced solutions without complexity.  
Step 5: Start developing:
After concluding every ideology, you can start developing the rental script for your business. Remember: you are not only developing the app. You're developing your businesses and services too. 
Revenue after rental business app development:
Once you developed the rental script, you can flip the key of earning in many ways. Let's see what are the ways available to you after digitizing your business. 
1. Service Commission:
Guests and hosts are not forced to pay any specific commission to use the service. Instead, the commission will be deducted from the payments they make and receive through the app. For every transaction they make through the app, a commission will be deducted digitally. For non-digital transactions, hosts have to pay for them at the end of a given time. 
2. Premium charges:
Both guests and hosts have premium features to make their work simple. Guests get premium rooms at less rate just by purchasing premiums in the rental apps. The host can use features that are helpful to boost their listings highly. They get engagements better thereafter. Premium charges will be credited to app owners. 
3. Boosting services:
The host attracts guests instantly for every boost they purchase for their listing. Using list boosting, they get more views for their posts. So the services count also be improved for them. 
4. Advertisements:
If you open any free servicing app, you are encountered advertisements. It's common too in many apps. You also have the opportunity to display ads in your app to earn extra. Businesses will pay you for every ad they post in your room rental app. 
Wrapping up the blog:
It's a trend to run a business digitally. If you're expecting more from your business, try Trioangle's app like Airbnb development. It'll reflect every aspect of Airbnb with your ideas and strategies to attract customers in your own unique way.
For consultation
Dial us at +91 6379630152 or skype at Trioangle
To know more about rental app development, visit us