Most of the business is started with the vision of profit. Has all the businesses achieved the vision ? Maximum of the answer will be "No". So, before starting or to invest in a business, one needs to make a complete study on that field and take necessary steps.
Starting a business is not about ideas. It's about making ideas happen. Most of us struggle in our Covid situation to earn money. We can have a lot of ideas in our mind, without proper direction of ideas we are thinking of quitting. But if it is in a proper direction we can achieve them and turns into a profitable business.
Your idea will bring you your company, your company will bring you the people, and the people will bring you the market.
If one makes an analysis and invests in a correct business, they can succeed and earn more profit as of their vision.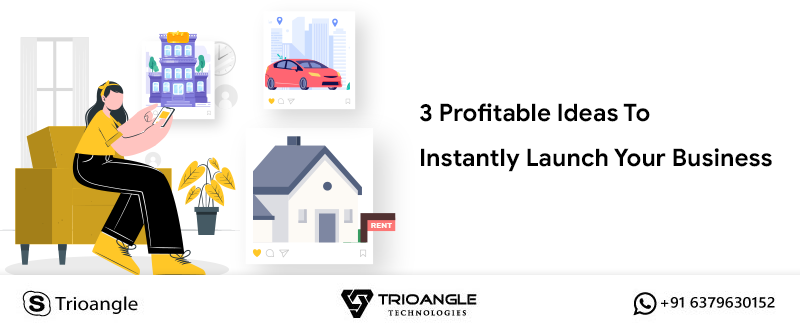 Top 3 Profitable businesses to start within short time 
Vacation or Property Rental Business

Vehicle Rental Business

Tools or Equipment Rental Business
Vacation or Property Rental Business 
Vacation or Property rental business is the most known business and which gives the Return On Investment in a high range. 
Tourist places or Treatment places are the most visited places and they will always be crowded. In these places there will be need for stay and some other things needed for the short period.
These arrangements can be maintained by Property owners and chargeable for some amount of time. 
If we are thinking wisely, this vacation or property is a one time investment, but it returns us money unstoppable.
Vehicle Rental Business
Car Rental Business is the most famous on these days. Most people don't want to take their own car, to get stuck in traffic and fill the petrol to waste on the signal and finally reach the office and again stuck for the parking.
Nowadays, people book the taxi from their home and reach their destination like a Majestic. So, there is a demand for rental cars.
If you can use this demand for your business, you can earn more profit.
And also there is a need for rental vehicles/boats in tourist places.
Check the best Airbnb Clone for car rental. 
Tools or Equipment Rental Business
Tools or Equipment Rental Business is the demand business in most of the countries. The types of tools or equipment based on the geographical needs. For example, In one place there will be a need for Earth Driller and in another place there will be a need for Computer peripherals.
For this business, Investment will be for only one time and by proper service it will give you countless profits.
You can buy the best Airbnb Clone – Makent which can be used for your online rental business.
Thank you for your time reading this blog.