Instacart is one of the famous grocery delivery apps among the users, which provides the service of ordering grocery items online & receiving them at the user's doorsteps with just a few clicks. The report shows that In the covid situation users prefer to shop using this app.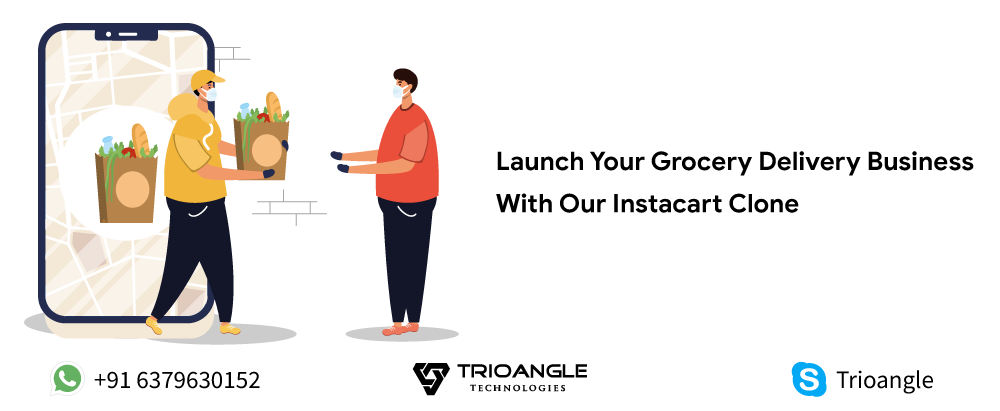 Entrepreneurs wish to start a similar business like Instacart which tends to be in the solution of Instacart clone which performs all the activities done by Instacart. Clone scripts are a better solution to start your grocery delivery script which saves your time and money, & also you can earn more profits.
Advanced Features in Our Instacart Clone
Takeaway Option – This option is available only when the store partner has the delivery type options like 'Takeaway or Delivery'. Users can order when they are willing to take their ordered grocery items from the store, using the option. Users will receive the orders on the doorsteps using the delivery option.
Tips Option – The user can add the tips for the driver when they checkout using the 'Add Tip' option. If the user added the tips, an amount was added to the total payment in the checkout process. They can add tips for the driver according to their perception.
Multiple languages – There are various languages available for all the stakeholders in the script. They can change their preferred language. Available languages are English, Arabic, Spanish and Portuguese.
Payment Options – Multiple payment methods available for the users to complete their transactions securely. Users can choose PayPal, credit, or debit cards for online transactions. They can also choose cash on delivery to pay on the driver's hand.
Order Tracking – Users & Store can track the driver's current location in the script. Using the feature they can predict how long drivers take to reach them. And also using maps, drivers can find the best short route to reach the destination.
Promo Codes – Using the promo code option users can enjoy the codes and offers which reduces the overall cost it increases retention & engagements. Store & Admin can provide offers using the online groceries, stores can provide offers for the customers, & admin can create promo codes for the customers.
Once you are ready to start a similar business like Instacart, then we are here to help you. We provide you the Instacart clone script which covers all the core features of Instacart. Using our script you can start your business instantly and customization also available according to your perception feature can be added.
Our Clone Script Supports in
Admin – Web Panel
User – Web Panel, Android & iOS
Store – Web Panel, Android & iOS
Driver – Web Panel, Android & iOS
This is the right time to buy your grocery delivery script. In the current situation, most of the users prefer to shop online & receive the goods at their doorstep. Delivery business has a wider scope in the current & future situation. To know more information contact us Via Email at [email protected] or WhatsApp us on 6379630152. You can check our demo by visiting https://www.trioangle.com/grocery-delivery-script/#demo