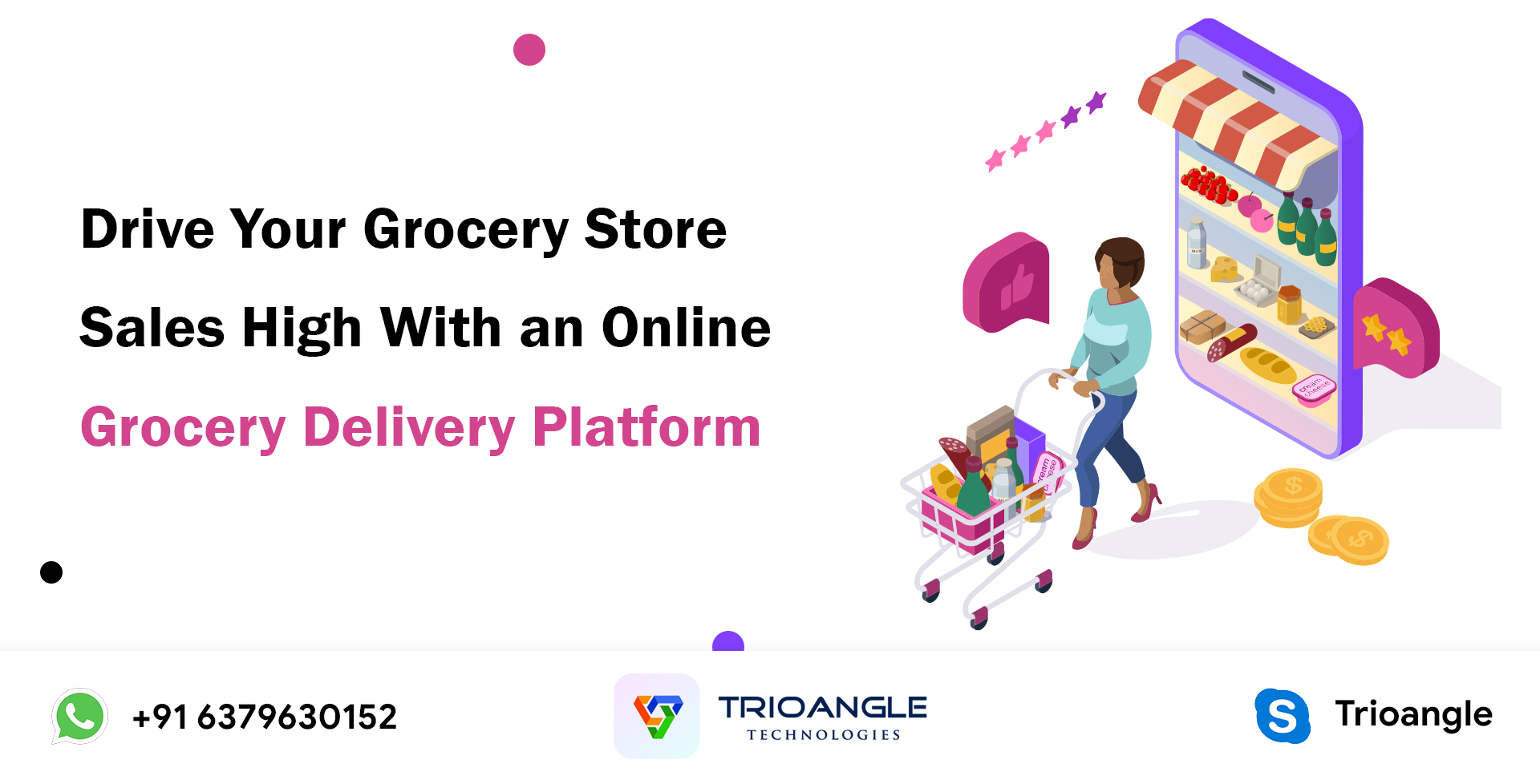 A business will perpetually be a business as consistently. In addition to your business type, the duration is also a matter of reality for the ups & downs in it.
If you own a Grocery Store that works traditionally, then it's high time to start thinking about presenting something new to generate more profit. So, how about having your very own Grocery delivery Platform
if in case, you don't have any existing online services, then it is a thoughtful idea to get a grocery delivery developed. There will be a growth in sales, your brand will get widespread, and less business dropping with the use of such Grocery delivery Services.
So, here are some of the convincing reasons why your brand must have its own Grocery delivery Services and the extras which you can avail of yourself.
Reasons
Technology is continuously developing and is joining the spheres of all kinds of businesses, including the Grocery industry as well. So, it's obvious that smartphones have become a necessary source of information.
Instead of newspapers, computers, radios, and other channels, people are going for smart devices nowadays.
The justification is that smartphones are the most comfortable and suitable source of communication. But just a Google impression is not enough anymore.
Nowadays, if people search your Grocery store online, they are often looking for a price for two, menu, atmosphere and location, and also the discounts and unique offers you're suggesting online recently.
Improved Delivery service
Customer Retention
App Drives Grocery Delivery into the Growth
Improved Delivery service
So, it's an absolute fact that a mobile Service for your Grocery Store business is the most suitable way to enhance the sales and in-house experience in many ways.
The Grocery Delivery services give them many favours like multiple Grocery lists, different categories, discounts, offers, and paying in advance via various digital payment modes.
This will decrease the pick-up time to a greater extent. Customers can order a product in advance for a hassle-free enhanced experience. Also, they can consider themselves by answering any surveys or puzzles and get discounts and bonuses.
Customer Retention
The consumers of these current days always expect to interact with business personnel as it gives them a significant sense of importance very instantly.
Contacting consumers will be fast and easy as it is pretty useful because of mobile services. When it's a consumer support reach, the potential buyers are ready to attend and respond to your instructions and vice versa.
Honestly, the Grocery delivery service is very widespread among millennials. The current problem requires modern methods. And having your grocery delivery app will be a great answer.
App Drives Grocery Delivery into the Growth
Don't lose the possibility to give the growth your business deserves. In the era of smartphone applications, own a Grocery delivery online platform for your business too.
The cost of this online service development depends on many factors. It includes the features that you add, personalization, platform dependency, and so on
The online Grocery delivery business is a lucrative idea as so many sensation stories are evident in real life. If you wish to develop your Grocery delivery app which is enhanced with new innovative technology.
Grocery Delivery Statistics to look out in the Future
With the online shopping boom and growing eCommerce sales in the US year after year, it should come as no wonder that the online grocery market has also been rising pretty quickly in recent years.
In 2022, online grocery sales crosses $135.23 billion, with approximately 143.6 million digital grocery buyers across the country.
This deals figure marks a 19.8 percent annual increase from the previous year, which is the most significant change in the forecast period from 2021 to 2025.
From 2023 to 2025, online grocery sales in the US continue rising—albeit at a marginally slower rate of around 17.86 percent on average per year.
Likewise, the number of digital grocery buyers in the US is increasing over the next few years. It's set to hit 147.7 million in 2023 before increasing further to 151.4 million in 2024, reaching the 150 million mark for the first time.
These online grocery sales statistics show that the market is set to nearly double from 2021 to 2025, with a growth of $108.52 billion in just four years.
Online Grocery Sales During the Coronavirus Pandemic
The US online grocery market underwent a massive boom in 2020 as a result of the coronavirus pandemic.
With brick-and-mortar stores shut and shoppers mostly remaining indoors to prevent the spread of the virus, most shoppers resorted to going online to buy groceries.
According to the latest online grocery sales statistics, tens of millions of US customers bought groceries via the internet for the very first time during the pandemic.
Experts say grocery retailers also helped to boost online their grocery sales by adjusting to the position. Not only did many start to deliver curbside pickups, but delivery apps also improved their features to provide added incentives.
Strategies to Increase the Revenue of Grocery Store Sales
There are a bunch of ways to improve the revenue of a retail store:
Understanding the behavior of your customer is essential to promoting the sales of your Grocery Store. There are variables that affect the decisions that customers make, forcing them to choose certain products or to expand their shopping volume. Find some strategies below:
The capability of the shopping cart or basket
Decimals on price tags
Placing of Products
Make Customer Feel special
Free Delivery
These are the strategies that help your Grocery store sales revenue in the upcoming future revenue.
Wrap up
Now, you might get an idea that by using the Online grocery platform from this blog. These ideas surely will drive the grocery store sales high. Let's develop the right grocery delivery platform and increase the revenue of your sales. Get technical assistance from experienced professionals right now