Yes! Another blog about fleet business, it's the comprehension of taxi services.
If you find a niche in taxi services after reading about the transportation business in the previous blogs, then you have come to the right place.
The market for taxi services has been growing more and more since the 17th century. With the value of it being huge in both traditional and digital markets, entrepreneurs are choosing a fleet business.
Uber, the US based, is the first taxi service company to see lucrative growth in the transportation industry. It takes the taxi industry one step top with its online platform.
Starting a business is an easy job when you have a clear notion. If you don't have So, no worries. To make your taxi service development simple, I have come up with a handbook to guide you through.
In a nutshell, you can find what taxi services are, trends of taxi services, and the step-by-step process to start a taxi service in this article.
Let's move in!
The Future Of Taxi Service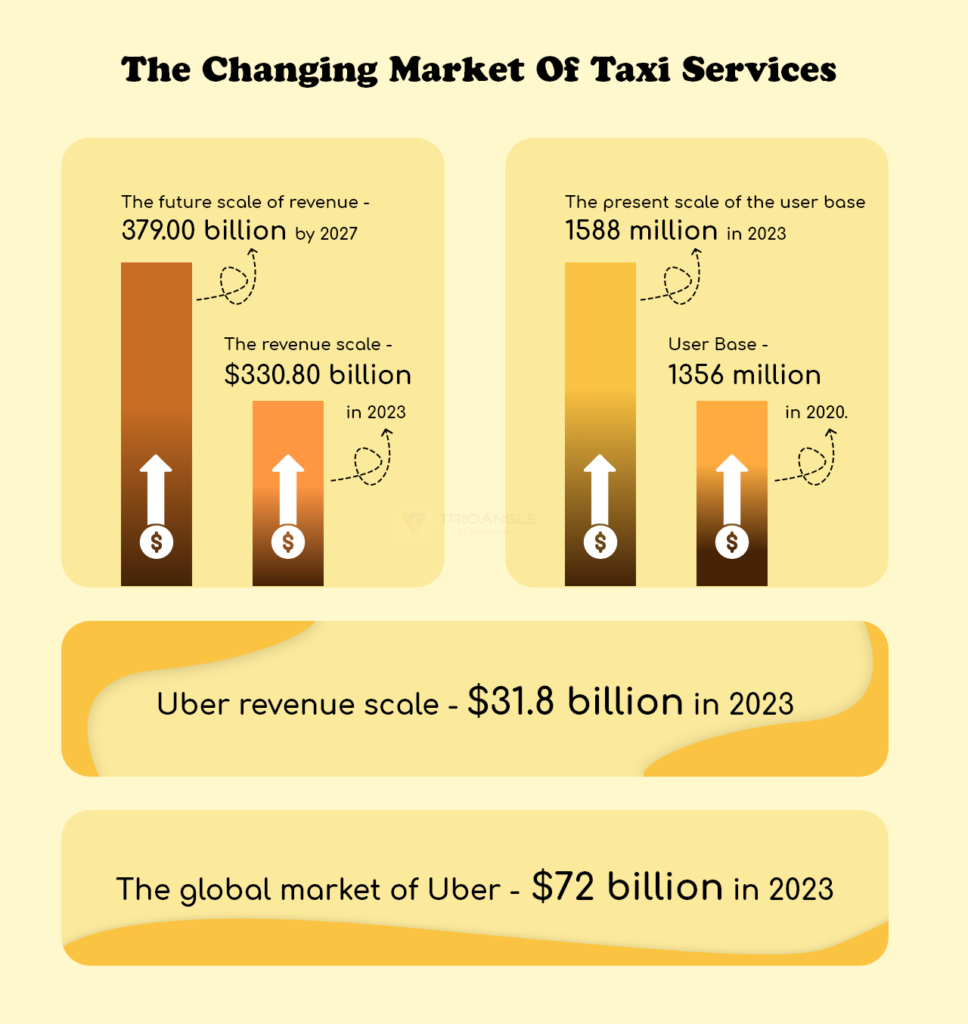 The growth can be seen in every corner of the world. However, to better understand the market, I have included the statistics.
A business's success is based on revenue. The revenue in ride-hailing is $330.80 billion in 2023. A prediction is that the revenue scale will be $379.00 billion by 2027.
A user base increases the revenue of a business. The number of users was 1356 million in 2020 and the number is about 1588 million in 2023.
When we speak about taxi services, we can not skip mentioning Uber statistics. Uber generated $31.8 billion in 2023, an 82% increase from the previous year. Uber's global market value is $72 billion in 2023.
What Is Taxi Services?
A taxi service is a transportation service where a passenger hires a taxi to take them to a particular destination. Taxis are typically cars that are licensed to operate as public vehicles and are equipped with meters to determine the fare based on distance travelled and time taken.
Passengers can hail a taxi on the street, or they can call a taxi company to arrange for a pick-up. In some areas, there are also smartphone apps that allow users to request and pay for a taxi ride. Taxis are a convenient mode of transportation for individuals who do not own a car, are in a hurry, or need to travel to a location not well-served by public transportation.
Top Trends To Explore In The Taxi Services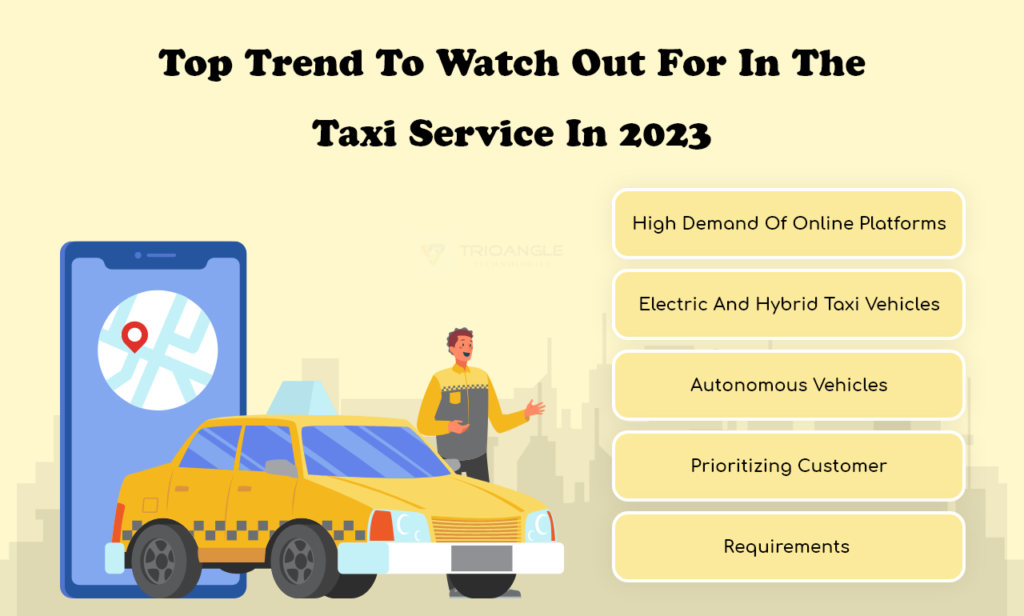 To make the taxi service business successful, you need to keep up with top trends & tips to outreach your taxi services. So, let's look at the top trends to follow.
High Demand Of Online Platforms
Online demand for taxi services is rising after the pandemic as it offers convenient ride-hailing service for passengers. Though taxi service has existed for a very long time, transport industry growth is massive after the emergence of the internet.
Taxi service software and its cutting-edge features make the online platform lucrative. When a rider wants to book a service, they must fill in the mandatory details such as location, type of vehicle, and payment option. Similarly, if a provider wants to book, giving their legal documents, they can start bookings.
Instead of looking at the benefits of online taxi services, explore the growth of huge players like Uber, Grab, Lyft, Ola, and more. They are the companies to see quick success. An online platform is not only for huge players but also small-scale taxi services that want to increase their taxi business.
Electric And Hybrid Taxi Vehicles
Electric taxi vehicles run solely on electricity and are powered by rechargeable batteries that can be charged with an external power source such as a charging station. These vehicles produce zero emissions, making them environmentally friendly and a popular choice for eco-conscious taxi operators.
Hybrid taxi vehicles combine an electric motor and a traditional gasoline engine. The electric motor is used at low speeds and during idling, while the gasoline engine kicks in at higher speeds and when more power is required.
In a nutshell, electric and hybrid vehicles are types of vehicles that don't need manual help. The reason for its popularity is because of its lower operating costs, environmental benefits, and effortless ride experience for riders.
Autonomous Vehicles
Autonomous vehicles are self-driving vehicles. These vehicles are booming because they offer advanced features like sensors, cameras, navigation, software, and traffic without human intervention.
Autonomous vehicles in a taxi service take passengers from one location to another without the need for a human driver. This trend is increasing the demand for the taxi industry as it reduces costs, improves efficiency, and provides a safer and more comfortable ride for passengers.
Many taxi companies are investing in autonomous vehicles. If the trend continues to evolve, the taxi industry will see radical growth.
Prioritizing Customer Requirements
"Instead of focusing on the competition, focus on the customer"- ( Scott Cook, Intuit)
Customer experience comes first in business. Taxi service follows this trend precisely. To give a convenient experience, taxi service has increased their commute experience.
The experience includes offering cleaner and more modern vehicles, real-time tracking of rides, and car amenities such as Wi-Fi, phone chargers, improving driver training and customer service.
If you are starting a taxi service or any other business, keep these factors in mind.
Advertising
Customer service
Price
Convenience
The trends show you that tax services hold a huge demand. Let's look at the step-by-step process to use those trends in your tax service.
The Steps To Start A Taxi Service In 2023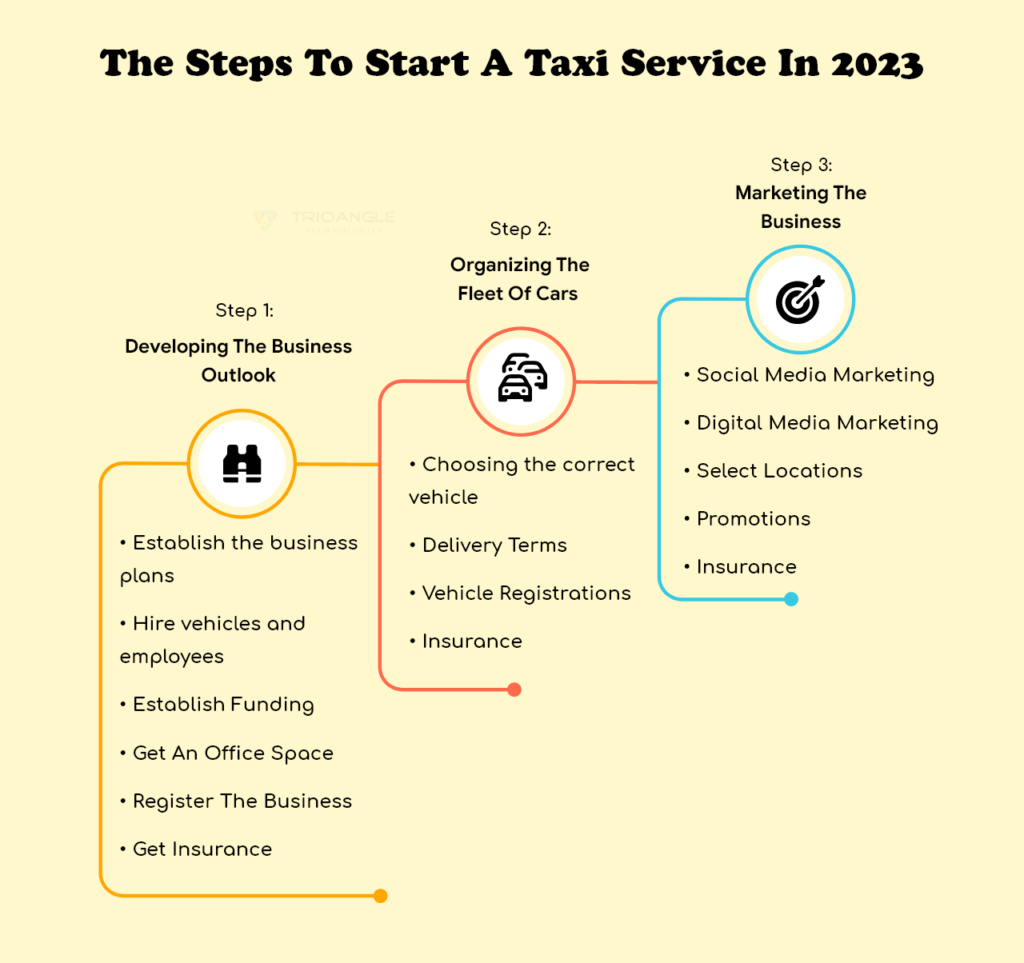 To establish your taxi service, several steps need to be completed. While there are numerous procedures to be followed, I have outlined some of the key steps that may prove useful.
Developing The Business Outlook
Before starting a taxi service, you need a plan from the initial to the end. In the process, you include how you start your business when you should hire employees, and more. You can see everything below in detail
Establish the business plans
From choosing types of vehicles, employees, and developing firms, to marketing, you need to form a strategy.
To analyze everything, you need knowledge of the market. There are factors to look at when analyzing the market
Hire vehicles and employees
To establish a transportation company, it's essential to decide whether to purchase vehicles or lease them, and whether to hire drivers as full-time or part-time employees. This is a crucial decision as it requires a significant portion of the initial investment, and should be thoroughly planned before registering the company.
Establish Funding
After estimating the initial capital requirements, it's important to identify potential funding sources. If a bank loan is being considered, relevant business case documents may be required. It's crucial to ensure that the bank funds cover all aspects of the business operations, including infrastructure, insurance, marketing, legal, and statutory requirements.
Get An Office Space
Following that, the subsequent task is to strategize and obtain an office space that can function as a hub for managing and overseeing the taxi services. Ensure that this space has sufficient storage capacity for the vehicles. You may either rent a suitable location or utilize any existing space that you own.
Register The Business
Subsequently, proceed to register the company with the relevant regional or national authorities. This may involve submitting applications to the Registrar of Companies, and Taxation Authorities, as well as obtaining clearances from Environmental and Safety regulatory bodies and Labor Authorities.
Get Insurance
Commence the business operations with a minimum insurance coverage that meets the required standards for various aspects such as the vehicles, drivers, and premises. As the business progresses, regularly assess and adjust these insurance schemes to ensure they align with the evolving needs of the company.
Forming The Fleet Of Cars
The cars that you are choosing determine the success of your business. From the vehicle's appearance, and smooth functionality, to affordable price, everything is important in starting a taxi service.
To optimize the purchase of vehicles, consider the following factors based on the number and types of vehicles need:
Choosing the correct vehicle
When you are choosing vehicles, make sure that vehicle has equipment that is needed for taxi service. The features include top lights, luggage space, meter, and tariff. Communication is important above all because with it you can track the taxis and drivers and also easily update the status with the firm.
Delivery Terms
If purchasing a significant number of vehicles from a dealer, it may be possible to negotiate volume discounts. Additionally, consider the delivery terms that best suit your needs, including vehicle service agreements, delivery timelines, and options for selecting the interiors and exteriors of the vehicles.
Vehicle Registrations
Starting a taxi service requires obtaining the necessary licenses and permits for your vehicles. This process varies depending on the location and the type of service you plan to provide. you need to obtain a commercial driver's license for each driver you hire and register your vehicles with the appropriate transportation department.
Insurance
As you take a license for the vehicles, have the vehicle's insurance. By taking insurance, you claim an amount if the vehicle met with an audience and was damaged. Don't leave this step. Make sure that you got it for all the vehicles.
Once you complete the business outlook and farm the fleet of cars, then you move to promote your taxi business. There are methods to look at in advertising. Choose the correct below-mentioned method that helps you meet your requirements.
After finishing the process that needs for starting a taxi service business, you need to follow 5 tips to make your cab service remarkable. Get your research on it and make it profit-making.
Marketing The Business
Since the marketing is taking your business to the audience, the promotion must be effective at the same time it should be under your budget. Let's find a way of marketing.
Social Media Marketing
You can advertise your taxi service using third-party platforms like Facebook, LinkedIn, Instagram, YouTube, and others. You don't need to invest much in it as these platforms allow you to use it for free.
Digital Media Marketing
Digital marketing has two ways, paid and free. You can advertise through the internet, emails, and mobile devices.
Select Locations
Promoting in a particular area helps your business with visibility. By advertising in selected locations such as airports, shopping complexes, and railway stations, you can increase the audience base.
Promotions
Another way of promotions is offering discount coupons, rewards, and occasional offers. These offers encourage potential customers to visit again.
Business Ethics
"Build something 100 people love, not something 1 million people kind of like" – Brian Chesky
The CEO & Co-founder of Airbnb says that it is important to attract audiences to the fullest. Whether 100 or 1 million people, the idea should be contented to the audiences.
When you are thinking about marketing, you don't need to follow the above-mentioned method. You can increase the audience base by giving quality experience, timely rides, competitive rates, experienced drivers, and more.
Instead of searching for a new way to promote, you can optimize your business by offering a good service.
Bottom Line
If your taxi business of yours runs well, it can increase your business growth. To make your business run well, I have discussed the starting process of marketing.
For a successful taxi service, you need to build a taxi service, gather vehicles, and marketing business. Hope the article gives a clear idea.
You don't need to start a taxi service with a huge investment. You can start with a minimal amount. There are many ideas to watch out for.
If you want to know more about How to start a taxi service, read more blogs related to it.