On-demand delivery business is extensively developed in which the user can order anything at their place online. Million of users opt for delivery services of different sectors, based on the research.
In the modern world, no one wants to waste their time. Everyone wants to use their time more effectively. Alcohol delivery business reduces the user's time needed to stand in a queue for purchasing the product, script used to deliver the items to their doorsteps.
Important factor of the on-demand industry is the business model, convenience and adaptability to any environment. If you're ready to start your alcohol delivery business, at the end of this blog you will know how to build it.
GoferAlcohol is an online alcohol delivery script. Users can now order online such as  wine, beer and other liquor products delivered to their doorsteps.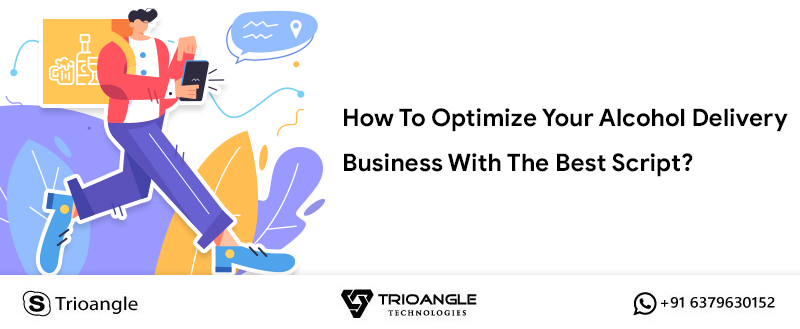 Workflow of Gofer alcohol delivery
User side:
Users have to sign-in first by verifying their mobile number.
Users search for the order to their need and place it in the preferred shop
User pays for the order either online payment or cash on delivery. If online payment, there are multiple payment options available with a secured payment.
When user receives the order have to click 'Order received'
Shop Side:
The shop receives the order and have to accept the order for further process
If the order accepted by the shop then packs it for safe delivery.
Driver side:
Nearby drivers receive order requests.
If accepted, the driver collects from the shop & delivers it to the customer.
Features of Alcohol delivery script
Script consists of the easy registration of users, alcohol shop and drivers. Can make ease of login via facebook or google.
Users can buy products directly from the shop, this feature is similar to buying parcels from the shop. Advantage of takeaway option, you need to place an order from a takeaway restaurant near you and once you reach them need to show the code to pick up your order. 
There is a secured payment method. Payment options available in GoferAlcohol are paypal, credit card or debit card & COD(Cash on Delivery). Wallet payment option also available which helps customers and alcohol shops.
Users can search the alcohol on the website and mobile app. There are a set of filters users can apply to get what they exactly needed like brand, location, shop, money, etc. 
Users can leave ratings and reviews for the corresponding alcohol shop for their products and delivery boy for their service made.
One of the important stakeholders in the script is the Shop, they can update their status either online or offline. They can also display the availability of the products in the shop.
Admin can customize the site images, site setting, fee structure, email setting and payment gateway. Admin can customize the app to their perception.
These are some more useful features on this wine delivery script.
For more information about our online alcohol delivery script visit https://www.trioangle.com/alcohol-delivery-script/ or
Contact as through mail [email protected]