Did you know that the global car wash industry is worth over $33 billion? In the United States alone, this industry only generates around $10 billion in revenue each year 😯 Consecutively, making money with the car wash business is expected to climb high in the forthcoming years. This presents a significant opportunity for entrepreneurs looking to start a profitable business.
So, what makes car wash businesses so lucrative?
Nowadays, car owners are becoming increasingly conscious of the importance of keeping their vehicles clean for aesthetic and functional purposes. Additionally, with busy lifestyles, many car owners are willing to pay for the convenience of having their vehicles washed by professional cleaning services.
"Owning a car wash business is like having a license to print money." – Unknown
In this blog, we will explore the strategies you can use to start and grow a successful car wash business. This blog will provide you with the resources you need to build a thriving car wash business. And eventually, it will let you know how to grab the license to print money, lol 😂
Let's take a quick look at the blog's infography:

Why start a car wash business?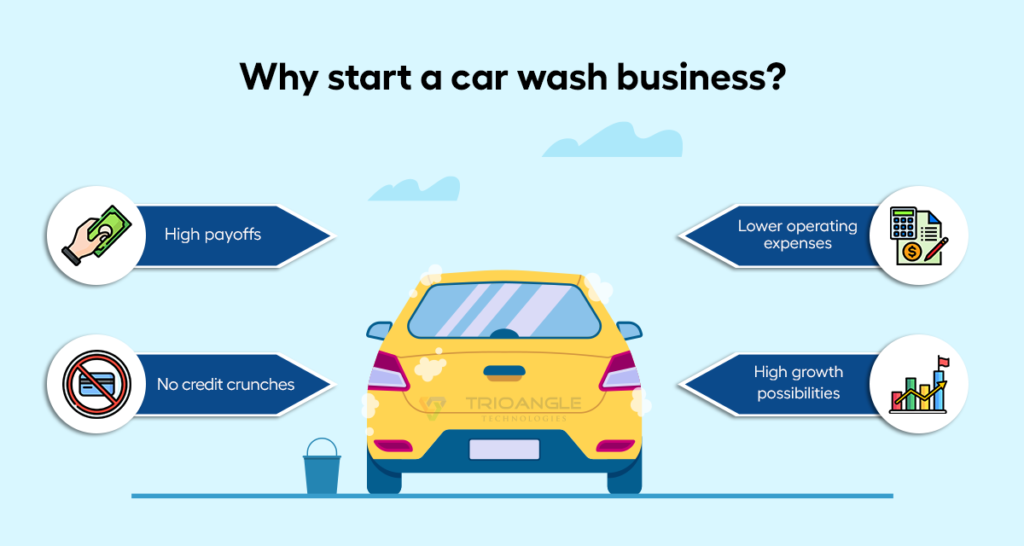 Discussion on the benefits of possessing the car wash business
There are not one or a couple of benefits of owning a car wash business. One can relish numerous benefits and advantages of starting a car wash as a business. Let me include some of them below:
High payoffs:
The significance of owning a car wash business is its low operating costs and its high demand🔺 among people. These aspects make this business incredibly profitable. And the business is customizable to owners' wishes. They can introduce any new services and launch any membership programs to increase their returns from the business.
No credit crunches:
Car owners started accepting that car washing is a necessary thing for their cars. They are ready to pay high even at tough times to keep their cars clean and shining. We can clearly figure out from this the demand for this business, right? It's proven to be recession-proof 🥳
Lower operating expenses:
A car wash business needs very low operating expenses 😄 compared to starting other ventures. Except for upfront investments and ongoing costs such as labor, utilities, and supplies, there are no more overhead costs to involve into.
High growth possibilities:
As the demand for this business is always prevalent, the growth possibilities are also wide for it. By expanding your physical location, and services, and inaugurating new branches, you can expand your business 💪 and pave the way to a high revenue generation.
Overall, owning a car wash business can be a lucrative and rewarding venture. With high-profit margins, low overhead costs, and growth opportunities, it's a business that has stood the test of time and will continue to be in demand for years to come!
Let's understand why car wash businesses are lucrative: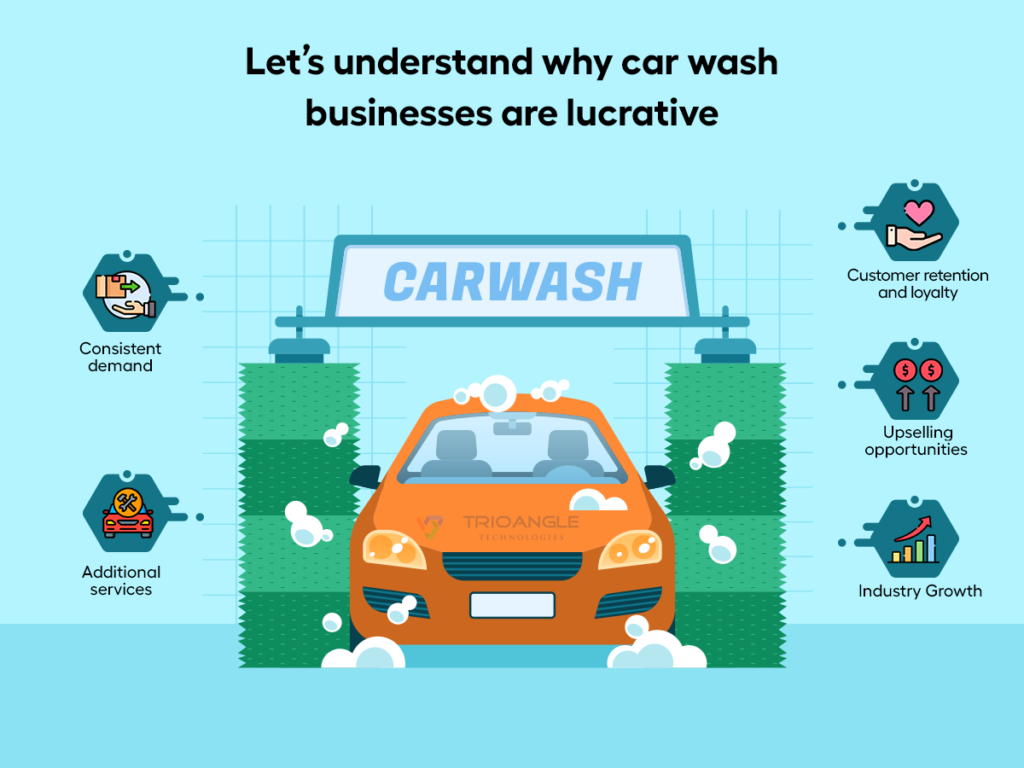 Car wash businesses have a revenue-gaining track record of delivering impressive profits💰. In this segment, the numbers speak for themselves.
Let's delve into the statistical data to understand why this venture is greatly regarded as lucrative:
Consistent demand:
The demand for car wash services gradually rises throughout the year. According to a survey conducted by the International Carwash Association, around 77% of car owners adore having their vehicles washed at least once a month 🙂
Most US car owners wash their cars at least 13 times per annum. This consistent demand ensures a steady flow of customers. This helps create a reliable revenue stream for car wash businesses.
Revenue figures:
The car wash industry has been generating influential revenue year by year. In the United States alone, the industry's annual revenue reached approximately $10 billion in recent years 😮, as reported by IBISWorld.
This revenue has been on an upward trajectory. This indicates a growing market, people's needs for washing their vehicles, and the profit potential for car wash businesses.
The popular statistical data provider "Statista" claims that the car wash industry is estimated to generate 11 billion American dollars by 2024. We can understand that the opportunity for growth is glowing for this industry. Entrepreneurs can positively start a business without the fear of meeting a downtrend.
Additional services:
For any business, diversifying revenue streams is key 🤗 to maximizing profitability. This works in the car wash industry too. Offering additional services beyond basic car washing can significantly boost revenue.
For example, a study conducted by Auto Laundry News found that adding detailing services to a car wash business can increase revenue by up to 20%.
Interestingly, 65% of car washers have gasoline stations too to augment their revenue possibilities. The possibilities are not limited to them. Services such as interior cleaning, waxing, or paint protection, also help to tap into higher-priced services that contribute to greater profitability.
Customer retention and loyalty:
In the car wash business, building customer loyalty is essential for sustainable profitability. The WhiteWater Express Car Wash chain reported that loyal customers make up about 60% of their customer base.
What's fascinating here is these loyal customers not only generate repeat business but are also more likely to spend more during each visit. 🎉
By focusing on excellent customer service, and leveraging customer relationship management systems, car wash businesses can foster loyalty and enhance customer retention. These are the basic factor to drive increased revenue.
Upselling opportunities:
Upselling is a powerful strategy to increase revenue per customer visit. It not only helps businesses to rise but also pleases customers for getting something beneficial from the service 😉
In the car wash business, service providers can offer customers the option to upgrade their wash package or add premium services such as waxing, tire dressing, etc. By doing so, businesses can capitalize on upselling opportunities and boost overall revenue.
According to data from the International Carwash Association, businesses that effectively implement upselling techniques see an average upsurge of 5-15% in sales per vehicle. That's so curious, isn't it?
Industry Growth:
Research by Grand View Research predicts that the global making money with car wash business market will reach a value of $41.1 billion 📈 by 2027. The values are driven by factors such as increasing vehicle ownership, urbanization, and a focus on vehicle aesthetics.
The above-telling factors are not far from achievable. This growth shows ample opportunities for new and existing car wash businesses to capture a larger market share and increase their revenue potential.
These things make car wash businesses position themselves for substantial profitability. The statistical data provides a lot of facts to demonstrate the revenue-generating potential of the industry, highlighting why owning a car wash business can be a financially rewarding endeavor for entrepreneurs today.
Types of money-making car wash businesses: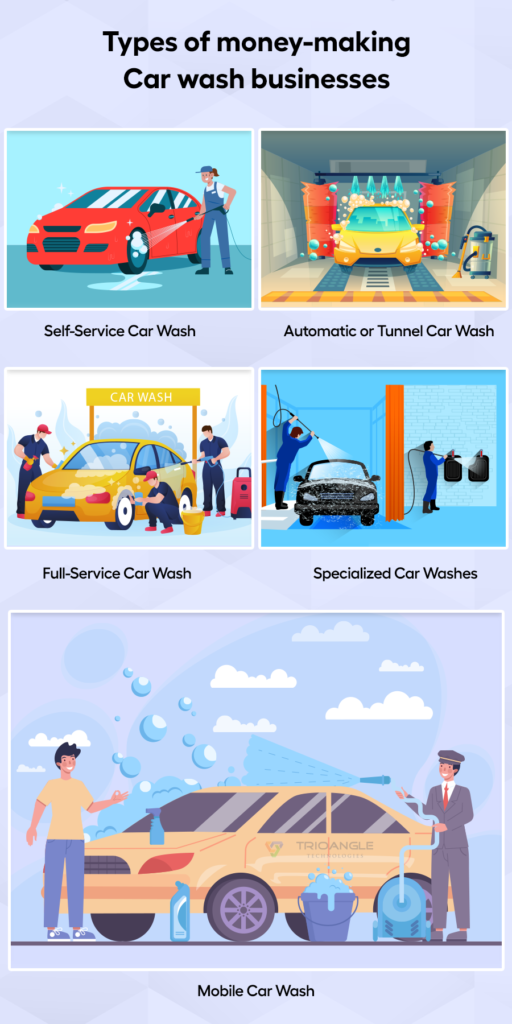 When it comes to making money with a car wash business, there are several types to consider ⚖️ Each with its own advantages, disadvantages, and specific potential target market.
Understanding the different types of car wash businesses will help entrepreneurs identify the best fit for their goals, resources, and preferences.
So let's explore some profit-yielding types and their suitability for different entrepreneurs:
Self-Service Car Wash:
Self-service car washes offer customers the opportunity to wash their vehicles themselves 😌 using provided equipment and supplies. These establishments typically feature multiple bays equipped with pressure washers, foam brushes, and coin-operated systems.
Self-service car washes are well-suited for hands-on entrepreneurs who prefer a low-maintenance business model. This type of car wash requires minimal staffing and can cater to a self-sufficient customer base who prefer to save money by doing the work themselves.
According to statistics, 51% of people prefer the self-servicing car wash type. Because it saves their time and cleans and dries their cars quickly. With self-service car wash, entrepreneurs can rope in that percentage of people to their business.
Automatic or Tunnel Car Wash:
Automatic 🤖 or tunnel car washes are known for their convenience and efficiency. Customers drive their vehicles onto a conveyor belt, which guides them through a series of automated cleaning processes, such as pre-soaking, scrubbing, rinsing, and drying.
Tunnel car washes are well-suited for high-traffic areas and can accommodate a large volume of customers. It drives people in while waiting for the traffic to be cleared. This helps them to be productive by washing their car while stuck in gridlock.
This type of car wash requires more seed capital due to purchasing specialized equipment and infrastructure. Entrepreneurs seeking a hands-off approach may find this type of car wash appealing. This offers automated operations with a minimal team of labor requirements. So entrepreneurs have the opportunity to utilize the net income for themselves and business investments.
Full-Service Car Wash:
Full-service car washes provide a comprehensive range 🤩 of cleaning services, including exterior washing, interior cleaning, vacuuming, and detailing. This type of car wash caters to customers who desire a thorough and professional cleaning experience.
Full-service car washes typically require a larger facility and a different team of employees to handle various tasks.
The full-service model is rewarding for entrepreneurs who enjoy managing a team and providing personalized car wash for customers. Additionally, this type of car wash often commands higher prices for services. If the servicing is more appealing to customers, this business has the potential for increased revenue per customer.
Mobile Car Wash:
Mobile car wash businesses augment the convenience of car washing services. It offers the service directly to the customer's location, whether it's their home, office, or any other preferred site.
This flexible and on-demand service is well-suited for entrepreneurs who are ready to follow a mobile and customer-centric approach. Mobile car wash businesses require a compact setup, such as a van or trailer, equipped with water tanks, cleaning equipment, and supplies.
The key advantage of a mobile car wash is the ability to reach a wider customer base by offering convenience and time-saving solutions. By providing services directly, entrepreneurs can develop a good relationship with their customers. This will develop their business and expand their customer base effectively. This approach to business is a win-win for entrepreneurs and their customers👏
Specialized Car Washes:
Specialized car wash businesses cater to specific customer needs. For example, eco-friendly car washes use environmentally-friendly cleaning products and water-saving techniques, appealing to environmentally-conscious customers.
Luxury or high-end car washes provide premium services, targeting customers who seek top-notch care for their vehicles. These specialized car wash businesses require a deep understanding of the target market and a commitment to delivering specialized services and experiences.
It's a bit risky type of car wash because very few prefer this specialized car washing service. It's a costlier and time-consuming service that may prevent them from choosing it. If an entrepreneur with a keen interest in developing customer business relationships can thrive 🥇 here with this type. And they have more possibilities to create a customer base who are willing to pay any cost for this service.
Depending on various factors – personal fancies, investment plans, target market, and local demand entrepreneurs can choose the fitting type of car wash business. They should evaluate their skill set, available resources, market research, and long-term goals. So they can select the type of car wash that aligns with their strengths and aspirations.
By recognizing the right type, entrepreneurs can set themselves up for success 🏆 and maximize their revenue prospects in the car wash industry.
Key Takeaways:
Finally, we have arrived at the conclusion part after studying how to make money with the car wash business. It presents lucrative opportunities for entrepreneurs to get started. There is no specific time or season that helps run this business profitably.
With a clear focus on differentiation, pricing strategies, customer experience, technology adoption, and targeted marketing, you can build a fruitful venture in this industry. Embrace the possibilities, stay adaptable, and strive for excellence to unlock the financial rewards that await in the car wash business.
See, today's customers are keen to pay for the service. But they did not get the services satisfactorily. So keep your car wash business to their satisfaction parameter. That's how you can meet their demands and yield revenue by selling your service to happy customers. And remember, your business should not happen one time for one customer. Your business should welcome customers again and again. That's how your business success could be calculated. Success not only indicates the customer count but also the profits you yield.
So, cheers 🎊 in advance to your money-making car wash business.
{ "@context": "https://schema.org/", "@type": "HowTo", "name": "How To Make Money With The Car Wash Business: Let's Probe", "description": "Making money with car wash business is quite interesting. Wish to bring your car wash business? then this is a time for it.", "image": "https://www.trioangle.com/blog/wp-content/uploads/2023/05/How-To-Make-Money-With-The-Car-Wash-Business-Lets-Probe-20230523-130407.png", "totalTime": "PT43200M", "estimatedCost": { "@type": "MonetaryAmount", "currency": "0", "value": "0" }, "supply": [ { "@type": "HowToSupply", "name": "3" } ], "tool": [ { "@type": "HowToTool", "name": "online" } ], "step": [ { "@type": "HowToStep", "text": "High payoffs\nNo credit crunches\nLower operating expenses \nHigh growth possibilities:", "image": "https://www.trioangle.com/blog/wp-content/uploads/2023/05/How-To-Make-Money-With-The-Car-Wash-Business-Lets-Probe-20230523-130407.png", "name": "Why start a car wash business?", "url": "https://www.trioangle.com/blog/how-to-make-money-with-the-car-wash-business-lets-probe/#Why_start_a_car_wash_business" }, { "@type": "HowToStep", "text": "Consistent demand\nRevenue figures\nAdditional services\nCustomer retention and loyalty \nUpselling opportunities\nIndustry Growth", "image": "https://www.trioangle.com/blog/wp-content/uploads/2023/05/How-To-Make-Money-With-The-Car-Wash-Business-Lets-Probe-20230523-130407.png", "name": "Let's understand why car wash businesses are lucrative", "url": "https://www.trioangle.com/blog/how-to-make-money-with-the-car-wash-business-lets-probe/#Let%E2%80%99s_understand_why_car_wash_businesses_are_lucrative" }, { "@type": "HowToStep", "text": "Self-Service Car Wash\nAutomatic or Tunnel Car Wash\nFull-Service Car Wash\nMobile Car Wash\nSpecialized Car Washes", "image": "https://www.trioangle.com/blog/wp-content/uploads/2023/05/How-To-Make-Money-With-The-Car-Wash-Business-Lets-Probe-20230523-130407.png", "name": "Types of money-making car wash businesses", "url": "https://www.trioangle.com/blog/how-to-make-money-with-the-car-wash-business-lets-probe/#Types_of_money-making_car_wash_businesses" } ] } { "@context": "https://schema.org/", "@type": "FAQPage", "mainEntity": [ { "@type": "Question", "name": "How profitable is a Car Wash Business?", "acceptedAnswer": { "@type": "Answer", "text": "A full-fledged car wash business generates huge revenue from 500K USD to 900K USD annually. Offering a wide range of services other than the basic interior and exterior services, you can gain additional revenue." } }, { "@type": "Question", "name": "Is An Automatic Car Wash A Good Business?", "acceptedAnswer": { "@type": "Answer", "text": "An automatic car wash business is the profitable one with many revenue-driven channels. Offering car wash services in an automated way does not require space or equipment and hence it is quite a good business option in real-time." } }, { "@type": "Question", "name": "Is The Car Wash Industry Growing?", "acceptedAnswer": { "@type": "Answer", "text": "Definitely Yes. year by year, the growth of the car wash industry is unexpectedly increasing one. Adding proof to it, the global car wash market volume is 30.85 bn USD in 2022 whereas it is 29.3 bn USD in 2021." } }, { "@type": "Question", "name": "How to Make A Car Wash Profitable?", "acceptedAnswer": { "@type": "Answer", "text": "Compute the base wash price Assign price value for car washes for your decided area Add the additional features to car wash business as per the real-time market requirements Make your errand as experience and skilled Offer incentives to customers to purchase a new membership" } }, { "@type": "Question", "name": "How Do You Attract Customers to Your Car Wash Business?", "acceptedAnswer": { "@type": "Answer", "text": "When you are searching for long-term customers, keep follow these steps on your car wash business. Focus on what the customer expects Create Loyalty Program Social-media integration Make Operating hours Update Flexible scheduling option Partner with local business Use customer feedback Expand service offering" } } ] }