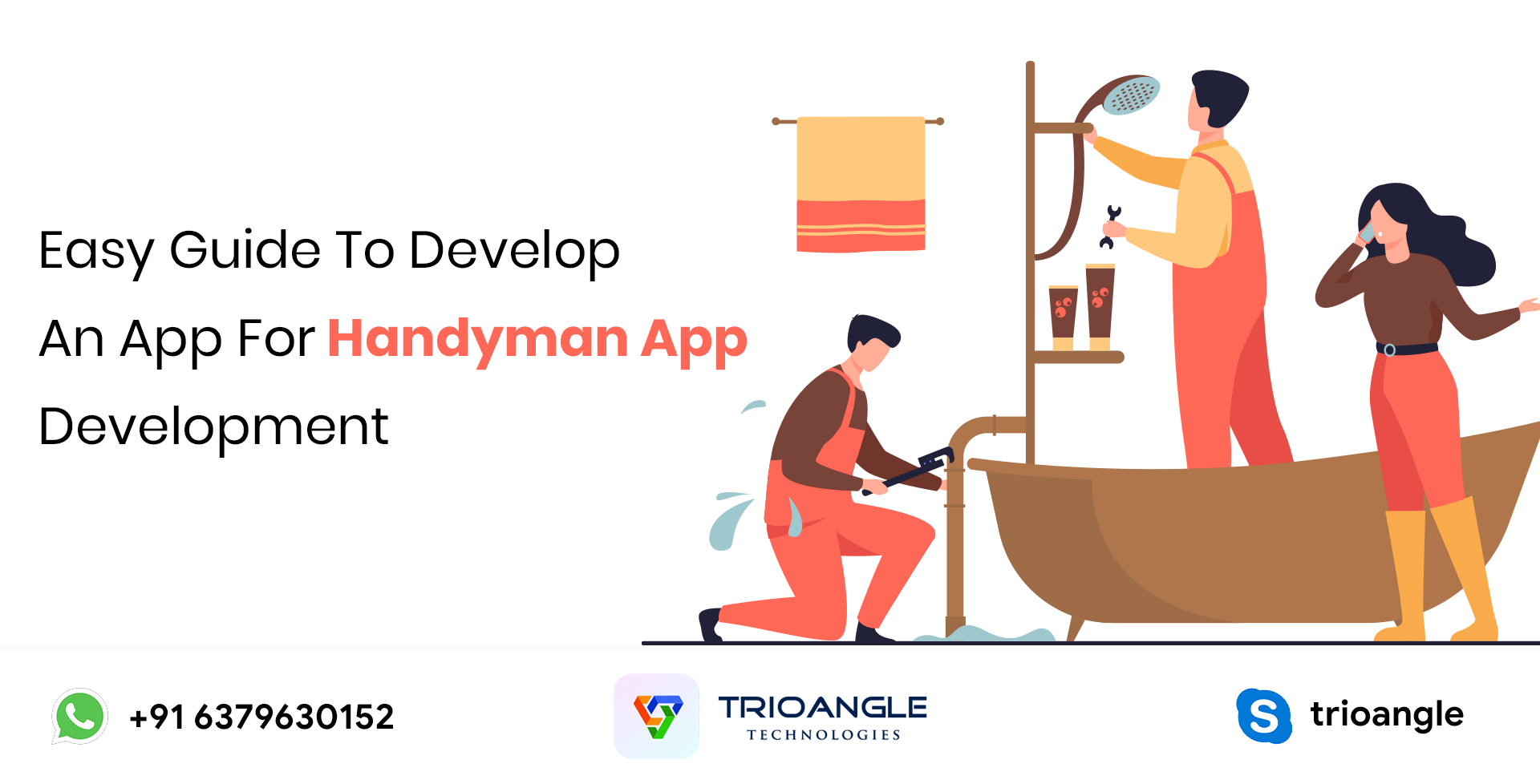 Maintenance tasks are needed until we live in a home. Completing the maintenance of plumbing, carpeting, cleaning, laundering, electrical repairs, etc., for our home will bend our spine and sucks out the juice that is needed for a day.
Imagine you came from work after a whole day, and you notice some electrical fault occurring in your home. What will you do?
Will you do it yourself or call a professional for that technical work? Because you're already running out of energy and have a variety of choruses to finish for your dinner. So I think you don't pick the former.
Today's age group is the greatest user of home services because of lifestyle changes. The rapid germination of smartphones has made them choose online home services.
With a few clicks in the Handyman App, they can acquire maintenance services from technicians and verified personnel even if they are new to the town.
In this guide, I'm going to tell you how you can offer home maintenance services by developing a handyman app. Let's take a pace and understand the concepts deeply.
Market Status Of Handyman Services Business
We are adopting to get any services within a few steps by using smartphones. Apps like AllBetter, Porch, Thumbtack, Taskrabbit, Uber, Handy, etc., are started to provide the best home maintenance services to us.
The market here is already filled with tough competition. To stand in the nourished competition, hire the best handyman app development company. They can support you to define the business you need.
While the app is ready to launch, ensure the app is smooth, simple, engaging, and attractive to the users. The download count of the app will be increased only if you offer services that are lacking in the competitor services.
The business analyst said "though you offer the best services, you need a niche. That will boost the business you offer for people."
It is most important to check that the services you provide through the app have a strong presence. Only after you have to pay attention to solving issues the users face in their life.
To acquire a place in the market, you have to make sure of the services that reach users at said time. You have to check the maintenance is all served with the best assistance that people requested through the app.
These all could be served with ease by developing an on-demand handyman app for your business. To strengthen the brand presence and yield handsome profits, the handyman app can help you in many ways.
Market Size Of The Handyman Services
According to the report of Future Market Insights, the handyman is currently valued at 339 Million USD.
It is estimated to acquire a market share of 1.65 Billion USD in 2032. The CAGR, which presently stands at 15.7%, will see a rise of 1.5% in 2032.
A study finds that even after the pandemic, handyman services are booming.
Plus the indirect impacts on people's livelihood, demand, and prices are hiking for the handyman services programs.
To improve the life of any things that we use for our daily lives need maintenance and repairs. So the market will not stop flourishing for this handyman services business in upcoming years.
By analyzing these aspects of daily life necessities, the growth of the handyman business was predicted for 2032 with ease.
With this report, pivot your decision to develop a handyman app for your business. Read below to know why I suggest you develop an app for handyman services.
Advantages Of Developing An App For Handyman Services
We can't explain the advantages of the app that provides much comfort in running handyman services. We need to elucidate the advantages of the app for handyman services to understand better.
You can establish a connection with users and professionals digitally.
With minimal tapings on mobile, users can book services smartly. Likewise, repair work professionals will get notified immediately after users requested a service.
Service starts in a minute. With the closed integration of links between users and professionals, the job can be started within a few minutes of users booking it.
Users can acquire services without documenting their issues. Automation will record every tapping user made in the app.
You can show up the price to the users before the booking. So numerous services can be done genuinely through the medium of the app.
If you are working on connecting professionals and users alone, you can grow the business for them virtually.
Virtual assistance for those who know no neighbors.
A variety of services can be provided with this all-in-one app. This ensures convenience in providing services for users.
The Future of Handyman Services
In history, handyman services are less heard by the people. In between, only aristocrats acquired handyman services for cleaning their households.
But now, the scenario is different. Anybody with a smartphone can acquire handyman services for household maintenance. This is because of the normalcy of booking services virtually.
Starting from booking cars, rooms, and eateries, now becoming booking services for a variety of cleaning and repairing services. Hiring professionals for dog grooming, carpet repairing or cleaning, gardening, flooring, electrical works, physicians, painters, etc., are possible for anybody.
With the fast-growing world, business-like handyman services will see a boom soon. Marketing is not so necessary. Professionals with must-have tools are enough to run this handyman business profitably.
You can enhance your handyman business with the help of an App Like Handy.
The future is bright. Make use of it by building the necessities to meet unexpected market demands.
Wrapping Up,
For sure, handyman apps will be assistance for people needing household maintenance. Like food delivery, these services will be on-demand in the future. The reason is most households become old and certainly need maintenance for it.
I just want you to be ready by Handyman App Development for on-demand services. With the help of the best app-developing company, you can build the app as you want. Start customization and grow the business that runs without you.