E-commerce has revolutionized the way we do business. With the increasing popularity of online shopping, more and more businesses are focusing on e-commerce to reach a wider audience and raise their sales.
As we move further into 2023, e-commerce businesses need to keep up with the latest trends and strategies in order to stay ahead of the competition. Also, it helps them continue to grow.
In this article, we'll look closer at the steps you can take to grow your e-commerce business. We'll cover everything from understanding your target audience to optimizing your website, developing a strong social media presence, leveraging email marketing, embracing mobile commerce, implementing a customer loyalty program, and monitoring your metrics.
By following the topics we discuss, you can create a solid foundation for your e-commerce business to attract customers, increase your sales, and ultimately achieve your business goals.
So whether you're just starting or looking to take your existing e-commerce business to the next level. Read ahead to discover how to grow an e-commerce business in 2023.
Before that, take a glimpse at the infography of this article!

Apprehend Your Target Audience In E-Commerce Business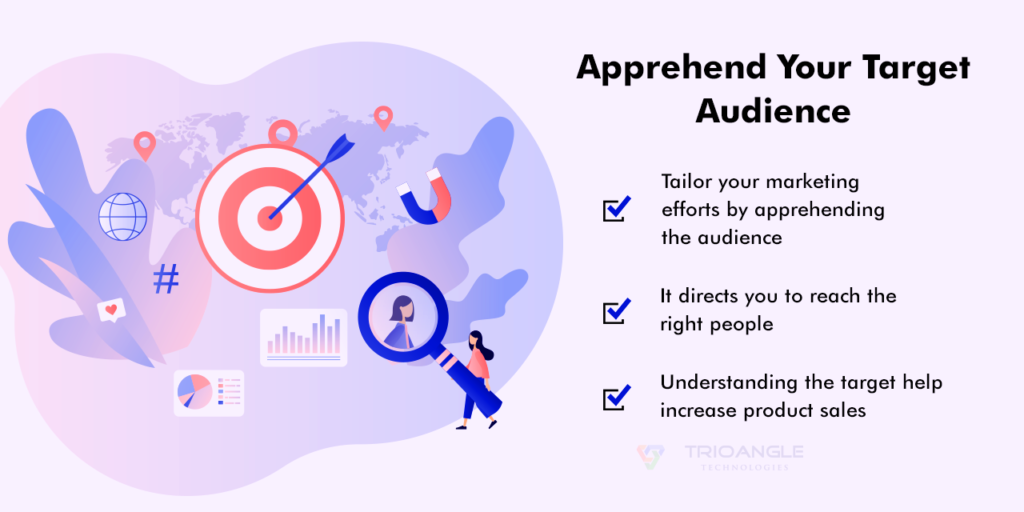 You have to apprehend your target audience to effectively grow your e-commerce business.
By apprehending your target audience, you can tailor your marketing efforts to reach the right people. That will ultimately help you to increase your product sales. So it's essential to identify who your target audience is.
To begin with, identify the people most likely to be interested in your products or services.
Once you have a general idea of your target audience, conduct market research to gain deeper insights into their needs, preferences, and behaviors. This can include surveys, focus groups, and analyzing industry reports and data.
Utilize the knowledge you gather from your market research to develop buyer personas. A buyer persona will clearly state who will be your customers and their product needs. This can help you better understand your target audience and create influential marketing campaigns.
Finally, scrutinize your competitors to see who they are targeting and how they are reaching their target audience. This can give you insights into gaps in the market and opportunities to differentiate your brand and offerings.
These are steps you can take to apprehend your target audience to effectively grow your e-commerce business.
Optimize Your Website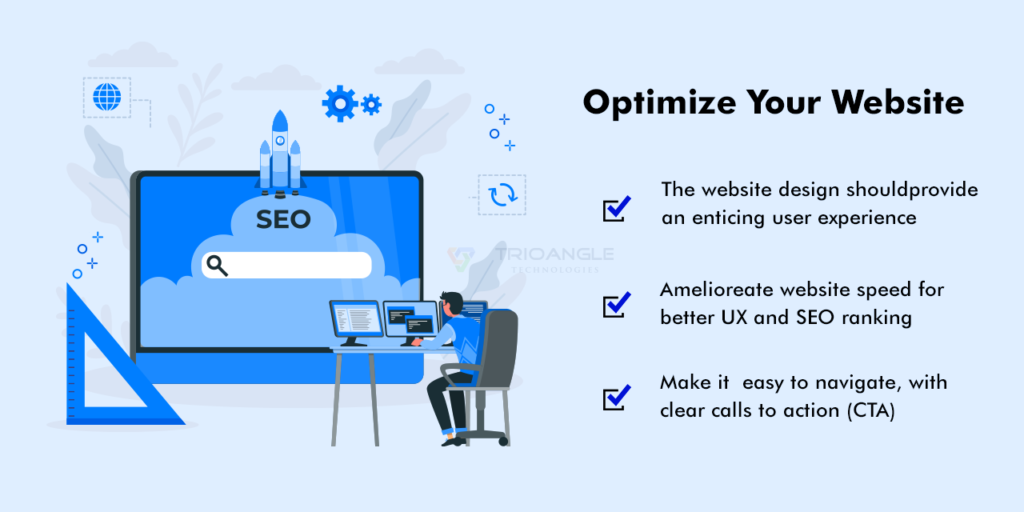 Your e-commerce website is the floor of your e-commerce business. You need to put every possible effort to build a website strong and convincing. Only thereafter you can draw visitors and transform them into consumers.
To achieve that, you have to optimize your website. For optimization, you have to:
Improve E-Commerce Business Website Design
Your website design should be enticing to create a positive user experience. Ensure the e-commerce website you have is appealing to users, navigatable, and comfortable for both desktop and mobile devices.
Enhance Website Speed
Website speed enhances user experience and search engine optimization (SEO). Both are necessary and notable answers to how to grow an e-commerce business. Check your website loads quickly. Achieve that by optimizing images and videos, using a content delivery network (CDN), and minimizing code bloat.
Sweeten User Experience
A positive user experience is a base for retaining customers in your business. It'll encourage them to make a purchase. For that, your website should be easy to navigate, with clear calls to action (CTAs) and simple checkout processes. Employ product recommendations and personalized content features to enhance the user experience and repeat visits.
Implement effective SEO strategies
If you know how to utilize search engine optimization (SEO), you can make your e-commerce website rank higher on the results pages. Make keyword research to identify relevant search terms. Build high-quality backlinks to your website to increase your domain authority and improve your search engine rankings.
Develop A Firm Social Media Presence for E-Commerce Business
For the past 20 years, social media has become an essential marketing tool for e-commerce businesses. A firm presence in social media has huge advantages in enhancing customer relations, retention, and deals.
Though it can provide these persuasive marketing tools, it's free for every business to use.
But, not all social media outlets are devised equally in benefits. TikTok may work better for you to showcase products in a short video. Sometimes Twitter may be more suitable. Next, both may not work for you. Instagram may do. That's why it's a back-breaking task to identify the social media platforms that are most relevant to your business and the target audience.
For example, assume your target audience is predominantly as young grown-ups. Then you have to navigate your efforts on social media such as Instagram and TikTok which they use the most.
Once the finding concludes, you should post engaging and visually appealing content. Importantly, it should resonate with your target audience. To get a better result, post a mix of content like product photos and videos, user-generated content, and educational content to keep your audience engaged and interested.
Try posting product photos and videos for better reach and engagement from the audience. For better sales, go with user-generated content as the audience is more likely to purchase your product once view a consumer voice out for your product.
Educational content will help you at the product launch. It helps consumers to understand the product you sell. Make content that clearly describes your product.
Initially, educational content affirms low results. But over time, it helps audiences to engage more with your business when your educational content page ranks high in SERPs.
Leverage Email Marketing
It's a fact that operating an e-commerce business is not so easy.
But you can lessen your hard work if you can divert your efforts to leveraging e-mail marketing. Yes! It's very possible to construct a reasonable customer base via e-mail marketing.
Your first thing to achieve in this email marketing is to make visitors sign up for your business newsletter. It can be a weekly, or monthly newsletter. But you have to make them sign up for sure.
While signing up, ensure you add sections that ask them about product preferences, expectations, interests, and more. It's like collecting the first-party data that users themselves provide you.
Once they started signing up for your e-commerce newsletter, you can confirm that they're wishing you to reach out to them.
Send them welcome notes and exclusive offers for signing up. It'll be more pleasing, and remember, you have to reach out to them immediately after they've signed up.
This is how you can collect customer data and indulge in practical marketing for your business.
To make this sound more effective, send customers personalized emails at specific intervals.
While launching product discounts, or else you can even send greetings during the day. It will help them to remember your business. They may engage with your business for its sake and someday, they become customers if your product page looks enticing and the CTA is perfectly placed.
It's the power of e-mail marketing. Use it to the fullest possible. And that's how to grow your e-commerce business as you craved.
Consider Mobile Commerce
Statista says that in the fourth quarter of 2022, mobile devices, particularly smartphones, have become the leading source of website visits and orders in the world of digital commerce. Retail site traffic was mainly driven by smartphones, accounting for around 74 percent globally, while online shopping orders were generated at 63 percent through mobile devices.
I'm not going to say "Hire the best m-commerce app development company today to develop an app for your business." That's not a point here.
Make research first of all before choosing m-commerce. According to this world, m-commerce is indispensable. But to start an e-commerce business, you have to study possible customers who might need your digital assistance. And assess if they're suitable for the products and services you provide through the outlet. If these two aspects fit together, think about the necessity of m-commerce or e-commerce app development.
Suppose, you have a much bigger customer base that feels comfortable with online shopping. But if you don't take your business digitally means, you're missing out on 63 percent of business that happens on m-commerce apps.
Here, you should not think about the cost and future of the investment you make for apps. Surely, the investments will be paid off shortly than your calculation.
Go Global for E-Commerce Business
If you go e-commerce, go global. So that you can taste its benefits to the fullest. And by going global, you can flourish your name, brand, market, products, and services to the multinational landscape.
It's not like a business that happens between four walls. E-commerce can land your business anywhere. It can make use of the whole planet which is full of customers.
But taking it globally is not so simple. Complications and hindrances will come. At the same time, additional profits are impossible without the exact complications and hindrances.
The beauty of global e-commerce lies in its cost-friendly investment. If you run the business traditionally but thinking about expansion, what do you do? You plan to open additional branches by placing risks on your personal assets.
Here, in expanding e-commerce, the risk is much less than the traditional business. That's why businesses with e-commerce platforms operate worldwide.
One of the answers to how to grow an e-commerce business globally is here! Ensure you have a good customer count in your own country. The second thing is, to check the product & service you provide appeal to a global audience. You can bravely launch your business in countries that have a lasting demand for your stock.
Appreciate Repeat Purchases
Appreciating repeat purchases is more vital than offering rewards for new purchases. But, many businesses lag behind by appreciating new customers alone. It's like filling up a pot that has holes in it.
New customers may or may not purchase from your e-commerce.
To clearly say, existing customers should not be underrated. They are significant contributors to your business. You have to put strategies for existing customers like you make to attract new ones.
Because growth can also be gained from customers who make repeat purchases. Repeat purchases are far healthier than new purchases made at a time.
It's better to appreciate repeat purchases than keep them unnoticed. Appreciation will encourage them to make purchases another time. They bring organic traffic to your site which is gentler than using sponsored ads.
If you keep them happy by providing frequent offers, and discounts, they make you happy too. They keep you happy by referring their neighbors, friends, and families to use your customer-centric e-commerce. You get new customers at the same time by taking your loyal customers into account.
Include Up-selling & Cross-selling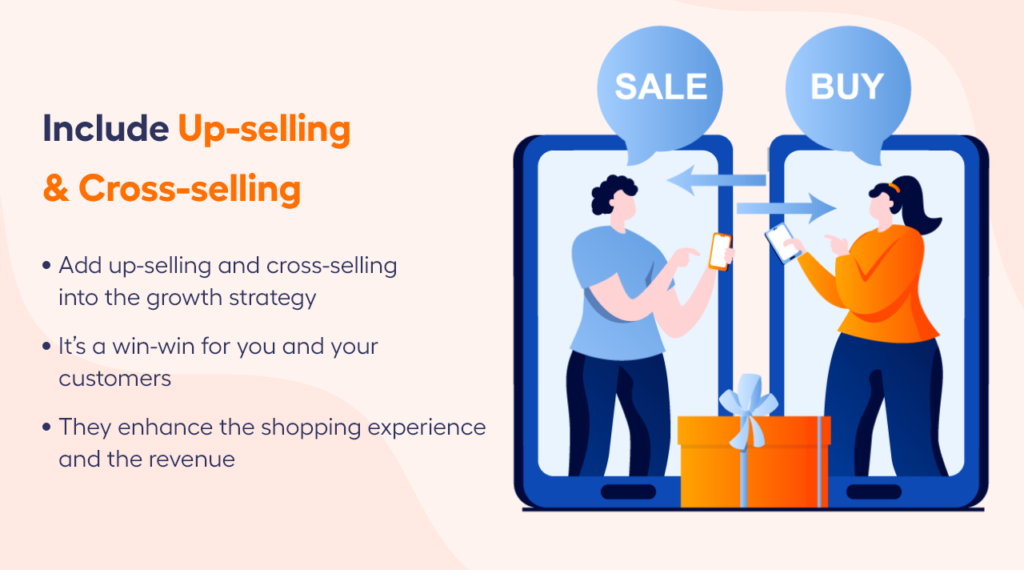 Include up-selling and cross-selling in your business growth strategies. It's a win-win for you and your customers.
From a sales perspective, they help you to sell products profitably in a short time.
From the buyer's perspective, they provide them with products of higher quality (up-selling) or quantities (cross-selling).
To decode the strategy, you need to understand what up-selling and cross-selling mean.
Up-selling is the method of encouraging customers to purchase premium products over the basic model which they intended to buy initially. By making them purchase the premium one, they get better quality, service, and lifetime of the product. Correspondingly, you get bigger profits by selling a bigger range of products to your customers.
Also, cross-selling enables customers to purchase additional products with their intended purchases. It helps to increase the average order value and persuades customers on getting multiple products at affordable prices.
By comparing, both have pros and cons.
For example, you get a higher margin of profits by selling products in the up-selling method. You also get a margin in cross-selling but only by shedding out more from your inventory.
You can implement both techniques through various channels like email marketing, product pages, or during the checkout process. By executing up-selling and cross-selling effectively, you can enhance the shopping experience for your customers and also drive more revenue and growth for your e-commerce business.
Final Curtain
From this article, we clearly understood how to grow an e-commerce business in 2023. If you aim to grow your business, you need to focus on plans and techniques. Without clear planning and techniques, it's hard to thrive in today's e-commerce industry as it's so tough like never before.
But with proper forethought and strategic decisions, you can deliver assured success quickly. So design your e-commerce app by keeping yourself in place of the audience. Provide products and services that are capable to meet their demand. Find out the business method that works best for your audience. Learn the art of appreciation and be firm to provide customer-friendly services at all costs.
By the time you look back, your e-commerce business would be grown a lot more than you thought.