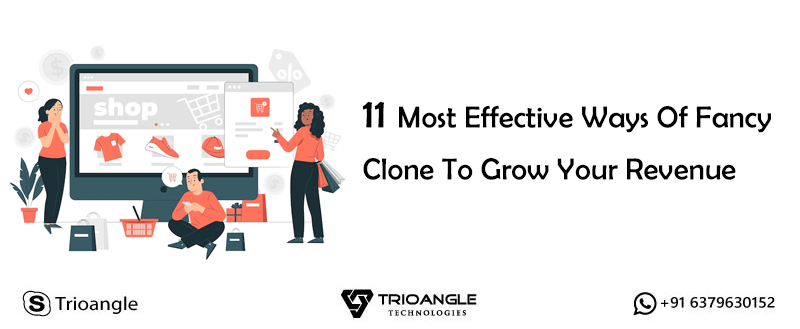 Ecommerce has been the face of the A game in the business world.
This has seen a major boom in the past decade and has been showing an accelerating growth curve.
It has been estimated to generate a revenue of 4 trillion by the end of 2022.
And this is why people are moving towards eCommerce scripts to run their own multi-vendor marketplace to gain such profits.
Fancy clone is one of the popular eCommerce scripts used and has been proved through its results.
But, many people find it hard to sustain in this business, and do you know why?
It is because of the strategy they implement to run their business.
Because these strategies need to be updated and changed over the performance of the business.
Majorly, they lose in this business because of the simple things that business owners forget to focus on.
So, let's discuss the most effective ways to overcome problems in Fancy Clone.
Always keep the looks attractive but simple. This is the key factor in making the customer or user stay for a while.
Not everyone is going to have extensive knowledge in the application or website so make it as simple as possible for people to view, identify and make decisions.
The product page is the most important part of your business. It acts as the face of your business.
So keep it as simple and optimized as possible. You can use good and quality descriptions and images to make it easy for the user to understand your product.
The main factor to focus on is to think like a visitor when you see your own page or product.
Because if you can simulate the experience as a user you can solve many issues before they can even happen. This also allows you to make the right changes before the user could notice the issue.
Branding is one major influencer that can generate traffic and sales.
This is because people have moved from quantity and price to quality and price. This factor has made many businesses adopt different branding techniques to make them more visible and reliable for people to trust.
Use color schemes to your advantage
There are many color schemes available on platforms for your website and script.
Abuse and use the maximum of these with the proper attractive color schemes. And you can also use templates to gain more advantages through this.
Image with the highest quality will make customers experience the product before using it.
So, use the right image to show people what you are offering. Believe it or not, this can influence the lowering of sales for your business and products.
Make it highly responsive
Make your Fancy clone script exclusively responsive for any device and user to use it.
This will make people use the app or website easily and will complement the stereotype in people which says low responsive websites lack quality.
Make it look professional
Always make it look professional so that it gives an appeal to people who expect more expertness.
This will majorly create a trust for your brand and product among the competitors.
Use reviews and video testimonials from users who have experienced your product or business and place the hook.
Hook is where you can gain more trust from people and act as a word of mouth to new or confused users. And this gives a personal touch to the digital product.
Making it easy to navigate around is important because it will help you retain customers.
Many users come and use your website or application mainly for the experience you give the. So, make it as easy and simple as possible to make them stay longer.
The last but not the least valued point is payments. Many people can easily do the purchase but will be confused or scared to complete the payment. So, a simple responsive payment gateway can help your customers to make payments without any hesitation.
These are some of the effective ways you can overcome problems in Fancy Clone that occur. This is where our Fancy Clone Script dominates over other similar platforms.
Because we have also thought as a user and created the best fancy clone in the market with features that can easily help you overcome the above-mentioned problems. So, if you find it interesting and want to try a demo just click the link below;
For more details:
Website: https://www.trioangle.com/fancy-clone/
Mail: [email protected]
Whatsapp: +91 6379630152