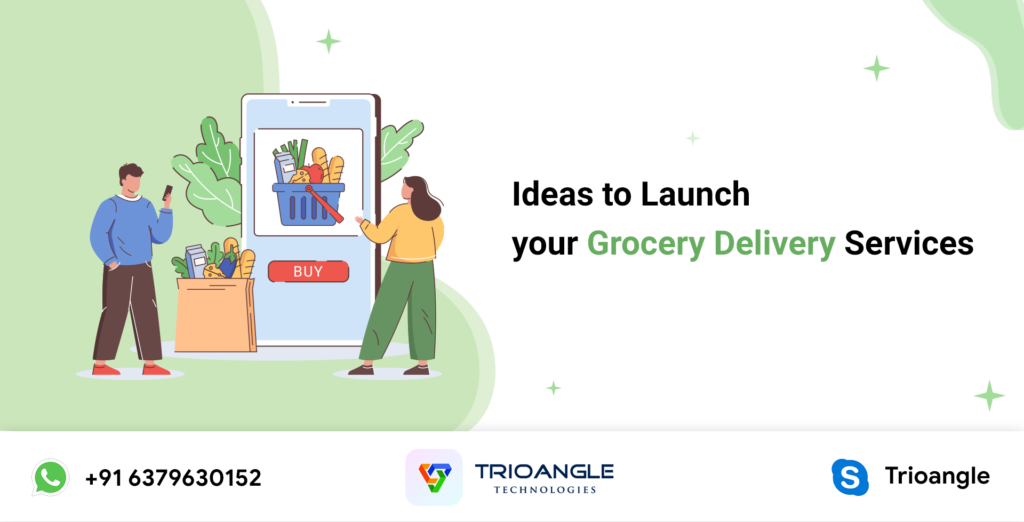 Everyone needs to eat right? But not Everyone likes to shop. Plenty of people are happy to pay when someone gets their groceries. Before starting a business, You'll need to do market research and advertise and research local business-licensing laws. 
But if you have time to drive and a reliable vehicle, the service can be a moneymaker. Every people in this world need groceries for their routine life and it is also a fast-moving platform to get consumed
In the online delivery segment, everyday groceries have set an extraordinary demand. This demand for daily essentials and necessities in individual homes has been increasing day by day. 
Every entrepreneur can run and grow an individual business module and get all the advantages from it. In modern times, grocery delivery services are a high-investment option. 
Do you know why?
Don't wait here! Let's dive into the concept.
Investment In Grocery Delivery Services is High, Why? 
An online grocery store sells a vast variety of products like spices, packaged products, and seasonings to beverages. In the past years, most shopping uses online platforms. 
The market has seen the building of eCommerce giants as well as beginners who have made development in business growth by dealing in the grocery segment. The main reason is the usage of smartphones this is the reason for rising in popularity of online grocery stores
Foreign companies are investing in this segment as the growth prospects are so huge several social commerce start-Ups have reached household essentials as well as Grocery items to the doorsteps of the customers. 
An online grocery delivery service typically operates with multiple vendors. Due to the outbreak of the coronavirus, most people are ordering online. This business offers opportunities to small startup players who wish to start or set up a grocery delivery services online
The sales of grocery delivery and pickup in the United States have surged as a result of the COVID-19 outbreak in 2020. 
In August, sales were 1.2 billion U.S dollars and grew to 4 Billion

In March of 2020, a 233% increase 

Sales grew by an additional 80% from March to June before declining to 5.7 Billion in August

As of October 2021, In-store pickups and online grocery deliveries reached 6.4 billion U.S. dollars 
Similarly, the stats related to Euro Market also depict the same. 
As of 2019, Schwarz Group, a german retail group, ranked first with sales worth 120 billion euros, it was followed by Aldi and carrefour with 66 and 65 billion euros respectively

The year 2020 saw an amazing acceleration in the formation of experimenting capital in European startups, with €40bn have been invested according to Atomics state of European Tech report
As for the above statistics, what do you think about investing in Grocery delivery services?
Is it worth doing that?
However, has inspired much interest lately as Grocery Delivery, whether it's an online supermarket or the 10-minute convenience Grocery Store. Over the first quarter of 2021 alone, the European  startup performing this certain market the investment is billions of euro currency
This is just some of how the startup world works. Once a sector is assumed hot, the forecast is self-fulfilling like,
More founders decide to Jump in. 

More customers realize they have access to a new, useful product and they are happy with that. Many of them are looking for options to

make customers happy.

 

More investors  want to guard the exposure to what appears to be the next big thing
In turn, It even inspires even more founders to jump in and so on.
Grocery Retailer Is In now…..! 
In the market of retail stock processes, all of the actions keep a store functioning well each daytime. So everything is well-executed, planned, and considered
It includes many aspects like 
Store Design

Display placement

Customer Service

Money and Credit

Handling

Shoplifting prevention

Premises maintenance

Staff management

Inventory Optimization
Dealing with the whole supply chain leads to having products in the store. In recent years, retail hasn't been easy, 
So what are retail store operations? Or what is meant by Retail Store Operations?
Generally, When people use the word retail store operations, they are mentioning the stores and most of their functions in stores. The term translates to individual operations depending on the type of store and the specific company's organizational chart
So, retail operations can enclose everything about how a store engages each day. Start with picking the store's location and developing the store. Then think about how the store plans, and adjusts its product inventory and orders: 
How it prices objects and depicts them in the store,

From entry to exit how it treats its customers all through the store Knowledge.

How the cash and credit are handled.

How the returns and refunds are handled.

How the sales and price markdowns are handled.

How does it maintain its staff and manages its premises? 

How it handles data about revenue, products, sales, and customers of this can come under the retail operations.
Retail can come under services and goods. Some stores are both, the difference between the goods and services is that an item of clothing in a store is mostly goods, and the dry-cleaner which offers a service
For Example, a tire store will sell both the goods and services like the tire comes under the goods and installation is done as service. The common structure of every supermarket business defines the essential system of the supermarket model
Ideas
There is more than one way to set up a grocery business:
Contact the local store to deliver the product for a fee. The Grocery bills the customer and markets the service and you do all the work.

Using grocery wholesalers create an account. Customers place their orders and you place them and then sell the product at your profit.

Cater to the specific market segments that give you profit and development.

If you are in business for yourself, you need some way to tell customers to communicate with you like what and when they want it

If you are just starting up then marketing through text and mail requests from your customers may be enough to get the job done

So as you grow the business at some stage you would think that setting up a website will be better to make orders for the customers 

So if you are targeting the senior market, keep in mind that every customer may not use a smartphone or computer
Know Your Competition.
Most startups or newbies make a mistake when starting a business. Before launching your grocery delivery business see what is the competition like, if you are willing to hit the weekend or farmers weekend, then this helps your company stand out
Another aspect to consider is the Delivery. To deliver hot or frozen food instantly, you will need a vehicle in good condition. You should work around traffic or day and night. 
Even counting on your phone's maps, is going to take knowledge and planning. It is said that work on the automated delivery system decreases up to 90 percent of the company's time
Wrap up
Now you might get an idea of how to launch your grocery delivery services, how they impact the online industry and their ideas in detail. For any entrepreneurs and start-Ups, developing the InstaCart Clone app provides the best step to earn profit and develop the business
Mail: [email protected]
WhatsApp: +91 6379630152
Skype: Trioangle
Website: https://www.trioangle.com/instacart-clone/