I think you are in big search of starting a grocery delivery business. In light of this, you are here.
If yes, you are at the right place to apprehend the knowledge about starting a grocery delivery business.
Let's get in.
What Is Grocery Delivery Business?
A decade ago, there came the convenient option for food delivery booking through phone calls. Now, every last thing comes under technology via smartphones and apps. Grocery delivery is also the part that builds a strong community in the online pace and creates a big demand after the impact of Covid-19.
Grocery delivery allows people to shop for groceries within a few taps. Any authorized users can browse and select the necessary items from the catalog, place their orders and schedule them for their doorstep delivery.
This offers customers with reliable shopping process and efficient delivery service. Users can save time instead of going to the grocery store physically. And people who may have difficulty leaving their homes benefit from the grocery delivery business.
Alright, let's know the statistics for this business, and understand your decision for this startup plan is correct or not.
What Is The Future Demand For Grocery Delivery Business?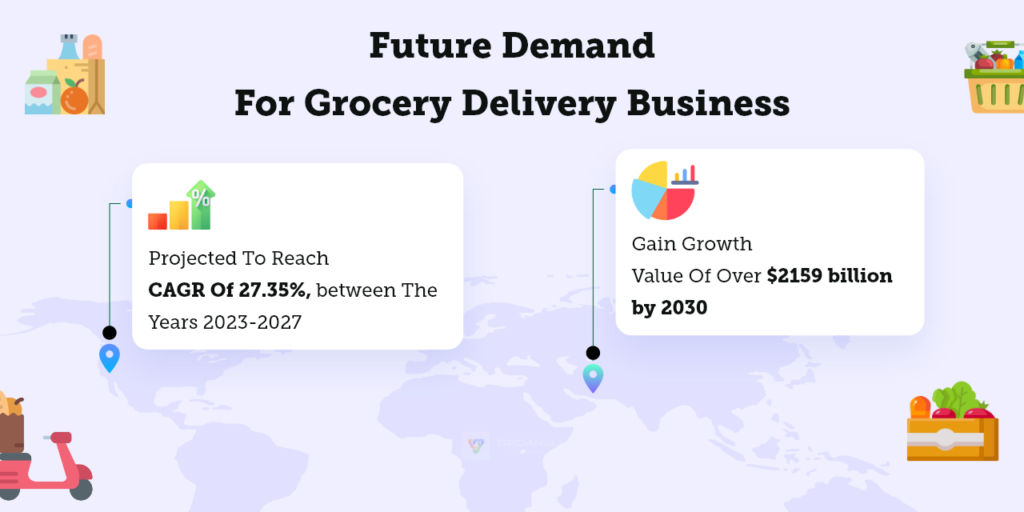 Though you might undergo some study about the grocery delivery business demand in your local region, it's significant to know it with global facts.
Many people practiced food and grocery delivery via smart apps. But the pandemic period has made a significant impact on consumer behavior toward online shopping and home delivery. It creates on-demand delivery services that assist consumers in having their groceries delivered to their doorstep along with safety and convenience
As a consequence, research about the grocery delivery business has reported that this segment is expected to reach over 20 billion US dollars. And can reach a market value of about $53 billion by the end of 2027.
It projected that the annual growth rate CAGR of grocery delivery between the years 2023-2027 is 27.35%. And other reports state that it has expected to grow by over $2159 billion by the year 2030. This may get increase with this suspected value.
Overall, the future of the grocery delivery business would possess high demand. So, begin your grocery delivery business without any doubts about sustainability and growth profits.
Read Also: How To Start a Home Food Delivery Business?
What Are The Models Of Grocery Delivery Business?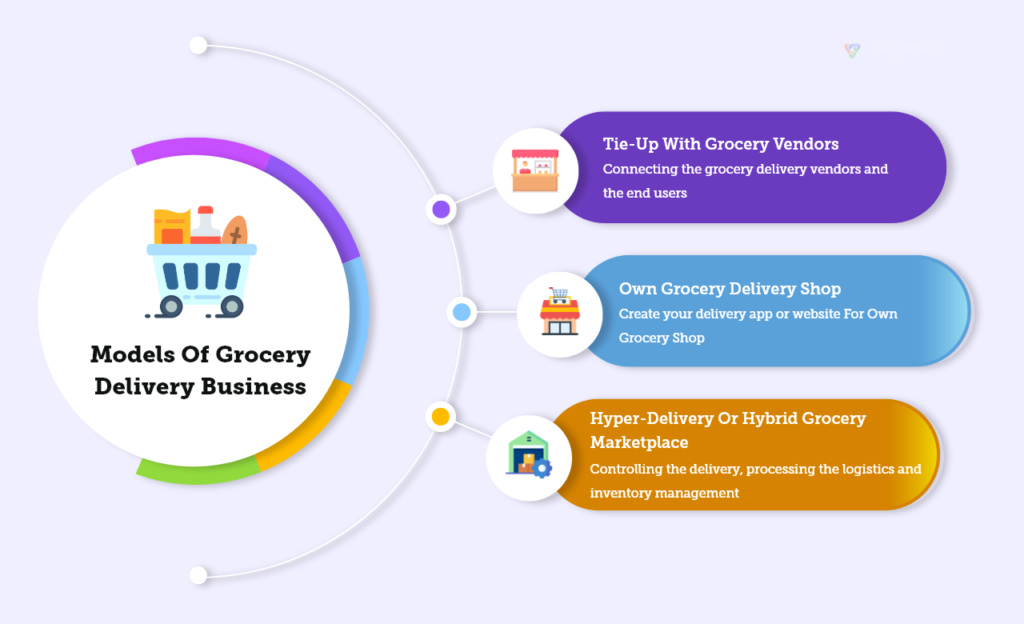 It is essential to understand the models involved in the grocery delivery business. Here are the top business models involved in the grocery delivery process.
Tie-Up With Grocery Vendors
If you are not interested in doing grocery warehousing and only want to function the grocery delivery. Then make a defined platform for connecting the grocery delivery vendors and the end users.
This grocery marketplace platform assists grocery merchants in selling their products and makes users buy via it within a few clicks. To initiate this startup, you should get partnered with the delivery companies or else hire the delivery people on your own.
Own Grocery Delivery Shop
This model is the suitable one for you if you are running a physical retail shop for groceries. You might do a delivery process to your regular consumers, via phone calls or for direct orders. Create your delivery app or website to connect with a widening range of customers. This will increase your grocery delivery orders even get from the city's last-mile users.
For bringing this up, you could take responsibility for scrutinizing the online platform and processing the grocery inventory.
Hyper-Delivery Or Hybrid Grocery Marketplace
It is the combination of the above too, you can possess a separate warehousing store place for doing the logistics of groceries. Your online grocery marketplace helps grocery shop owners to connect with people easily. And your consumers can also able to shop for groceries at their doorstep quickly with a couple of taps.
Doing this hybrid local model, you could take ownership of managing the delivery, processing the logistics and inventory management, and the technical platform maintenance.
Let's choose your business model based on your budget and business plan.
Know Challenges In A Grocery Delivery Business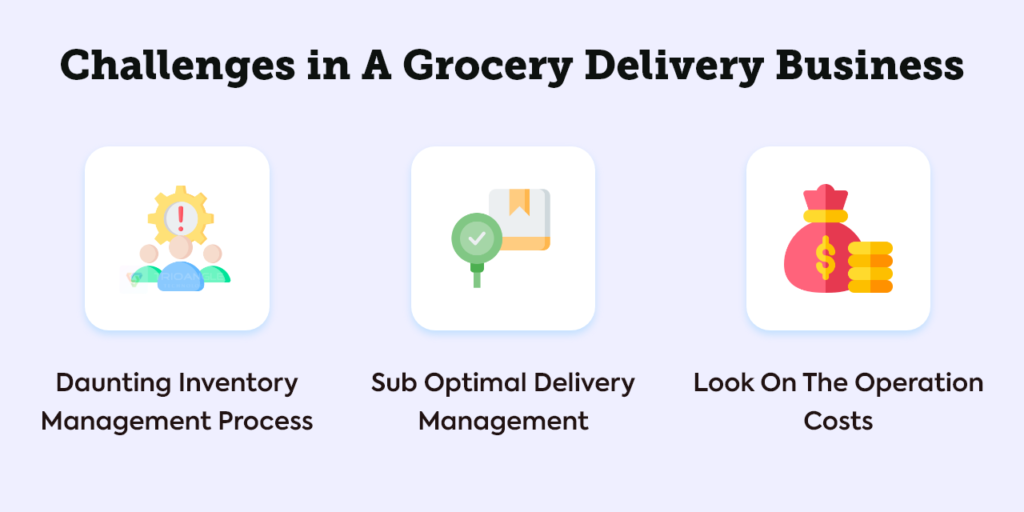 When it comes to business startups, it is important to know about the challenges that they could face while running the grocery delivery business.
Let's know,
Daunting Inventory Management Process
Keeping an inventory of a grocery business is a risky one until it gets delivered to the customers. Because the grocery delivery business involves a wide range of products. This includes perishable goods, fresh fruits, vegetables, meats, and dairy products.
You should maintain an optimal inventory level based on your customer demand. Because holding too much inventory can lead to waste and spoilage, also increased storage costs too. Sometimes, it can impact customer dissatisfaction through the stockouts of expired products.
Let's overcome this bottleneck problem with an optimal inventory level, manage multiple suppliers, and ensure the seasonal demand to balance the inventory storage during the peak demand periods. It will help you to get more consumer retention value.
Sub Optimal Delivery Management
With the rise of online grocery delivery services, your business can meet the demand. For that, look on to own a sufficient and efficient grocery delivery management system.
Maintain a consistent delivery service to people, possess real-time tracking and management, as well as efficient order processing and fulfillment. It will be difficult in managing the delivery personnel, as it involves coordinating schedules, monitoring performance, and ensuring that all deliveries are made on time.
Delivery managers must also ensure that their personnel is trained on safety procedures and customer service best practices.
Let overwhelm these issues with a proper plan in the delivery system.
Look On The Operation Costs
The cost of delivering groceries to customers can be significant, especially when delivering to remote or sparsely populated areas. The cost of fuel, maintenance, and insurance for delivery vehicles, as well as salaries for drivers, can add up to significant expenses for businesses.
And you could look for the costs going for acquiring and storing these products can be high. Especially for perishable items that require special handling and storage.
Furthermore, the cost of implementing and maintaining technology, such as online ordering platforms, mobile apps, and GPS tracking systems, can also be a challenge for grocery delivery businesses. These systems require ongoing maintenance, updates, and support, which can add up to influential costs over time.
Thus, escape from this big pressure of higher and insufficient cost balance while running the business. Utilize any cost-saving measures such as route optimization, technology upgrades, etc.
Build A Grocery Delivery App Or Website
We are living in an app civilization, grocery delivery businesses get more fame during the pandemic period only by the penetration of online grocery delivery apps. So, it is highly essential to build a grocery delivery app and website.
There are two ways in the online market, to develop your mobile app.
Start From Scratch Development Process
With this platform, create your mobile app from the beginning. It requires careful planning, research, design, development, testing, and deployment. Then, you should research and analyze hiring the best grocery delivery app developers. The cost of the scratch development process is more expensive than using instant solutions. Also, you could stay concentrated during all the stages of development until it gets deployed.
Ready-Made Grocery Delivery Solutions
Going with the ready-to-deploy grocery software would be a cost-effective and effortless solution. The sole process for you is to pick the robust clone or instant grocery delivery solution. This type of readymade app will facilitate your grocery delivery business quickly by providing customizable options.
Additionally, you can get valuable data and insights into customer behavior and preferences. A readymade solution could give increased efficiency and convenience for both the customer and your business. By leveraging this you can save time and reduce the risks of errors or delays.
Let's build your grocery delivery business with a feature-rich mobile and web application that helps to connect with a widening range of consumers.
Pinpoints To Note In Building A Grocery Delivery App
Ensure your grocery delivery app's success, by creating it with the right parameters.
User-Friendly Interface: The grocery delivery app should have a user-friendly interface that allows users to easily navigate and find what they are looking for. The interface should be intuitive and easy to use.
Easy Registration Process: The registration process should be straightforward, with the option to sign up using social media accounts or phone numbers.
Payment Options: The grocery delivery app should offer multiple payment options, including credit/debit cards, e-wallets, and cash on delivery.
Real-time Tracking: Users should be able to track their orders in real-time. This feature helps them to stay updated on the status of their orders and delivery time.
Security: The app should have robust security features to protect users' personal and financial information.
What Is Your Fund For Starting Grocery Delivery Business?
Deciding on cost is a vital part of creating the grocery delivery business because you should hold on the separate fund for every part.
Here are some key factors that you should keep in mind,
Delivery and supplies:
If you are going with the hybrid grocery delivery business, you are the entire charge of delivering the grocery with a neat parcel. For, that you should need separate equipment, which may include insulated bags or containers to keep the items fresh until it gets delivered.
And for the delivery process, you could need a reliable fleet of vehicles to carry groceries. Possess, a separate fund for the delivery and packaging part that depends on the size of the business.
Fund For Building A Mobile App Or Website
As discussed before, it's a crucial element to invest in for building your grocery delivery business.
The cost of building an online grocery delivery marketplace will differ based on your business requirements. If you are opting for the readymade solution for the app development part, then your customization needs will fix the costs for the development.
Moreover, it includes your required
Features and functionalities,
Choice of the platform-Android, iOS or hybrid,
App marketing,
Maintenance, and support.
These meters will decide the size of the development team and finalize your cost for building the tech port of the grocery delivery business.
Licenses And Permits
Legalizing the business is very important to avoid big economic losses. So, make your research on obtaining the necessary licenses and permits to operate a proper grocery delivery business in your region. This includes business licenses, permits for delivery vehicles, and grocery or food handling permits. Split your money for this part too.
Cost For Insurance
As with any business, it's important to protect yourself and your assets with liability insurance. Furthermore, consider including additional coverage for your vehicles and employees. This insurance cost will back up your business investment in the case of any big losses.
Prevalently, the cost of starting a grocery delivery business can vary widely depending on the size and scope of your operations. Create a detailed cost plan and ensure the resources to get your business off the ground and keep it running smoothly.
Final Thoughts
In a nutshell, starting a grocery delivery is a remunerative business opportunity for entrepreneurs. Getting to succeed in this business is completely in your hands. Provide a valuable service to your local community and own a potential number of consumers.
Have a strategized business plan before launching your grocery delivery business. Acquire your business profits shortly by furnishing high-quality grocery products, and on-time delivery with satisfied customer service.
Get a complete grocery delivery business plan and tune your grocery app business with multiple streams of revenue, that are filled with billions of US dollars!