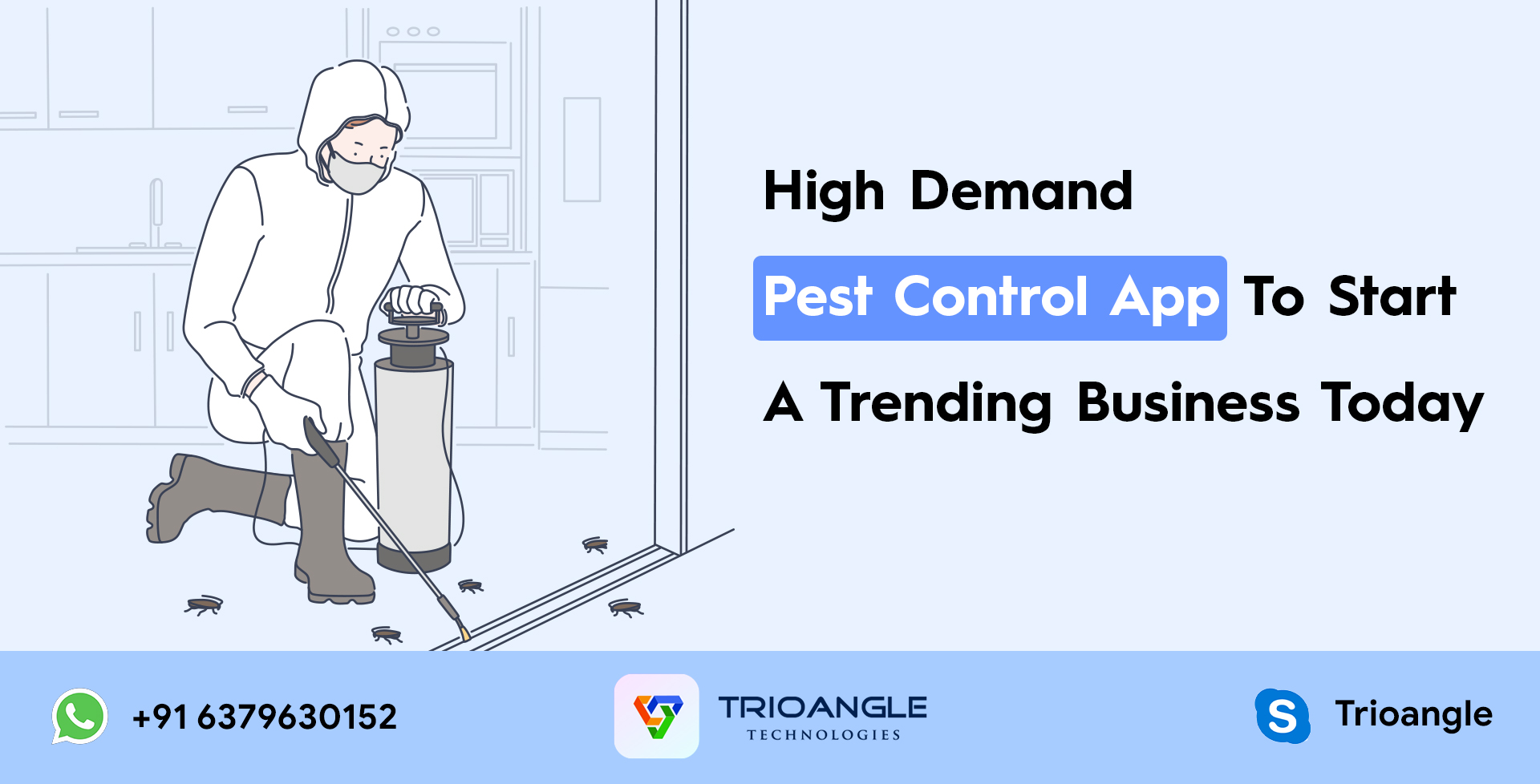 Pests have become a threat in houses, residences, hotels, etc. Be it cockroaches, insects, or termites. They give jitters and cause living in the home complex. These home intruders appear with some critical health menaces and cause severe damage to the belongings. The pest control service is the exclusive solution for these problems. Many agencies that provide pest control services have started developing their own On-Demand App For Pest Control. By using this on-stop solution the users can easily find all the needed services with a few taps using their smartphones to get relieved of the problem. People are required to use on-demand pest services. Considering this has a lot of demand, this is an extremely profitable venture. If you are planning to begin an on-demand app for pest control services, then here are some of the ideas that are needed to start.  
What Is An Uber App For Pest Control?
The Uber App For Pest Control is an app through which service providers can get pest control requests from people owning houses and commercial businesses. Between the pest control service providers and the users with requirements, here the app will act as an intermediary. 
Benefits Of Pest Control App On-Demand
There are numerous business benefits gained from the pest control app on-demand. Here we have compiled the main list of benefits worth looking into. 
Let's Look At Them!
Enhanced Business:-
Since it's the time and era of technology you demand to make the business noticeable to your targeted audience. It should be easier to reach them and accessible for them to get their necessary service. Owning the app guarantees the people or users looking for the pest control service on-demand should be uncomplicated for them to book an appointment.  
Easy & Secure Payment:-
Having the app is mainly for the payment process to be more simple and secure with online payment. Integrated payment options to be provided are debit card payment, e-wallet payment, Paypal Payment, Stripe Payment, and even the pay on delivery option also available. 
Easier To Record Transaction:-
Once the service is completed by the service providers an invoice is generated automatically for both the users and the service providers. The users can also look at their bills with detailed mentions. They can also verify all the completed previous service payment details and invoices at any time from their app. Everything is documented in this way within the application. Also, the customer's issues can also easily be cleared from your side easily by looking at their generated invoice details. 
Appointments Booking:-
Just by a few fings taps the users can effortlessly book or cancel an appointment for the needed services. So you will get an easy business and the brand awareness will be increased by having your own app. 
Real-Time Tracking:-
If you get user requests for pest control service you can quickly locate the service personnel and allot the most next available service personnel for the job. The business handling will be easier while the app-enabled with the GPS tracking system. 
Closure,
If you are seeming to take your business to brand-new altitudes then owning an Uber App Clone For Pest Control is imperative. We Trioangle Technologies have acquired a custom-built on-demand app clone for pest control software.  If you are excited about knowing more about it, reach out to Trioangle and we are here to help you right now. 
For More Details Visit Our Site:  https://www.trioangle.com/pest-control-service-script/
WhatsApp: +91 6379630152
Email Id: [email protected]