Entrepreneurs have found more profitable opportunities in the business world, with numerous industries experiencing successful expansion. One such industry is the taxi industry. It has seen substantial growth, particularly with the adoption of digital technologies, resulting in an increased online presence and profitability.
Taxi services are the key players in providing capitalism to the world economy. There are many reasons that taxi services are a booming industry.
Starting a taxi service is the right opportunity because it holds high demand in the market. Though there are thousands of taxi services, Uber is an online taxi service. It started with a minimal vehicle and drivers and later it increased business-wide.
"It is very easy to be different but very difficult to be better" – Jonathan Ive
As the quote says, starting a business may be relatively simple, but sustaining it successfully can be challenging. If you aspire to launch a distinctive taxi service that sets itself apart in the industry, I have provided a comprehensive guide outlining How to build the best on-demand taxi services business like Uber?
The Future Of the Taxi Service Like Uber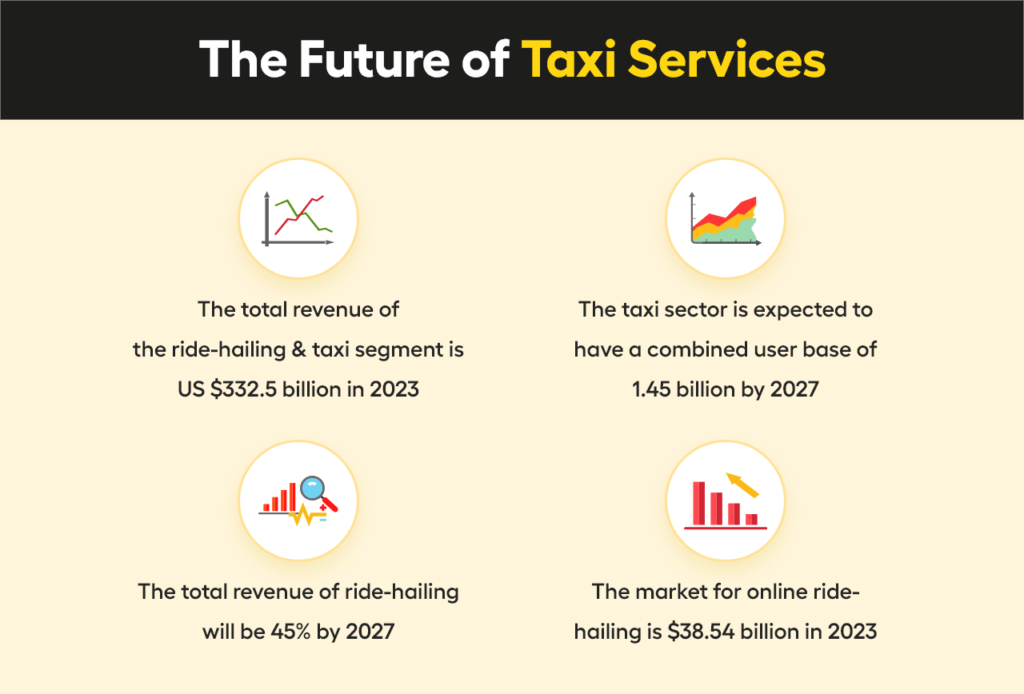 This year, the ride-hailing and taxi segment has generated total revenue of US$332.50 billion, which is expected to reach US$378.80 billion by 2027.
The total number of users in this segment is predicted to be 1.45 billion by 2027.
According to a source, user penetration is currently at 17.4% in 2023 and is projected to increase to 18.3% by 2027.
China is expected to generate the highest revenue of US$130.20 billion in 2023.
In the internet age, we must also consider global online taxi services, which are predicted to have a total ride-hailing market of $38.54 billion in 2023 with growth expected to continue in the future.
What Is Taxi Service?
A taxi service is a mode of transportation where passengers can hire a vehicle with a driver to take them from one destination to another. Taxis can be hailed on the street or booked through various online platforms and mobile applications.
Typically, fares are calculated based on the distance travelled or a fixed fee for a particular journey. Taxis offer a convenient and flexible means of transportation for individuals or groups who need to travel quickly and efficiently.
Trends Shaping The Taxi Service Industry In 2023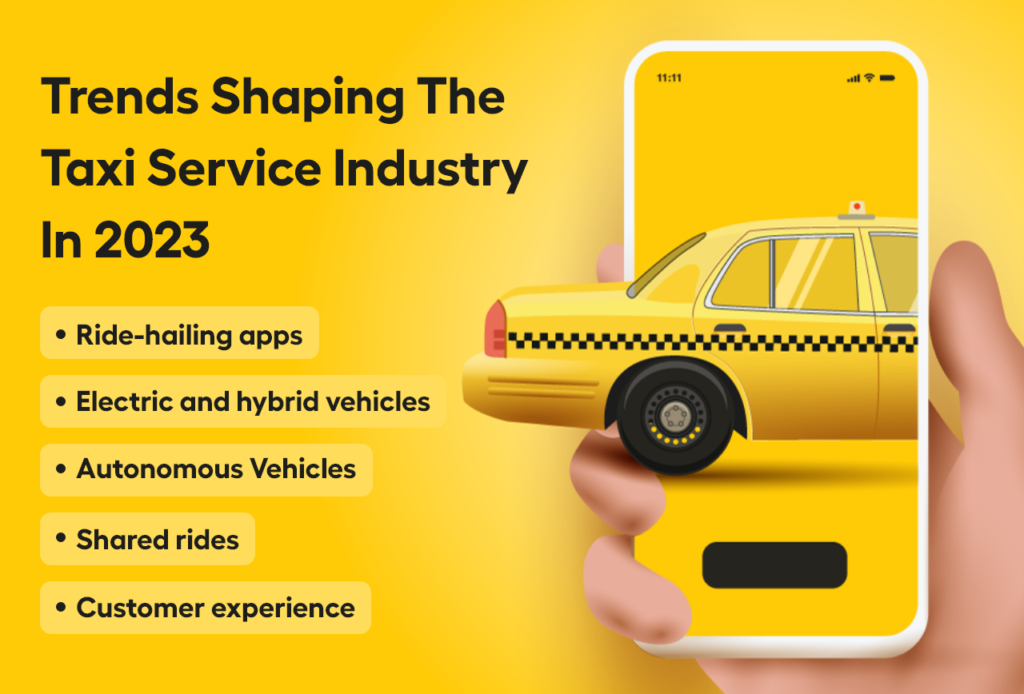 We know that taxi industries are seeing a radical evolution in recent days. Taxi service like Uber has restructured the way of raid hailing taking its business into the digital.
In the fast-moving world, taxi service' trends are transforming day by day. Let's look at some of the trends that are booming currently.
Ride-Hailing Apps
One of the major important trends in taxi service is ride-hailing applications. Uber is the first ride-sharing to start an online taxi service. Online transportation helps people to save time by eliminating the need to stand on the street until they get a taxi.
Besides that, it helps a lot by providing real-time tracking, price, vehicle type, offers, and payment options.
Riders book a taxi giving their destination. Then the application shows the vehicle type with the fare amount. Users choose vehicles based on their convenience. Once the driver accepts the request, riders and drivers get locations.
The reason why it is game-changing is that it offers a convenient process with which anyone can easily use it.
Electric And Hybrid Vehicles
Electric and hybrid vehicles are types of automobiles that use electric motors as their primary source of propulsion, rather than internal combustion engines.
Electric and hybrid vehicles are booming in taxi service due to their lower operating costs, environmental benefits, and improved ride experience for passengers.
Business people are preferring electric and hybrid vehicles because they are more fuel efficient than traditional gasoline-powered vehicles, meaning that they cost less to operate over time, this is especially beneficial for taxi services that operate on a tight budget.
Autonomous Vehicles
Autonomous vehicles, also called self-driving services, are booming in the current internet era. These vehicles have advanced features, including sensors, cameras, navigation software, and traffic without human intervention.
An autonomous vehicle in a taxi service refers to a self-driving car that operates as a taxi, transporting passengers from one location to another without the need for a human driver. This type of service has the potential to revolutionize the taxi industry, as it could reduce costs, improve efficiency, and provide a safer and more comfortable ride for passengers.
Many companies are investing heavily in the development of autonomous taxi technology, and we will likely see these vehicles on the roads in the future. As this technology continues to develop, it has the potential to transform the way we travel and revolutionize the taxi industry.
Shared Rides
Another trend to watch in taxi services is shared rides. This trend is gaining popularity among people because it involves multiple passengers sharing a vehicle. This helps to reduce traffic and customer cost.
Taxi services like Uber provide shared riding options, and many taxi services are incorporating shared ride services.
With the benefits of ride-sharing, many cities have introduced policies to encourage shared rides.
Customer Experience
Any service's main motive is customer experience. It is one of the trends to look at in taxi service.
Ride-hailing service has increased the convenience of transportation. The taxi industry is also improving its standard because of the rise in the taxi industry.
The experience involves offering cleaner and more modern vehicles, real-time tracking of rides, and car amenities such as Wi-Fi, phone chargers, improving driver training and customer service.
Before starting a taxi business, you should know what you need to start a taxi service. I have included step-by-step guidance below.
Let's look!
The Steps To Think Before Starting A Taxi Service Like Uber
Research The Market
If you are starting a taxi service like Uber, it would be much better if you know the field. Not that you need to be an expert, knowing trends and the market are enough.
Though you have not, it is not a big problem because there are many strategies. One of the strategies is analyzing competitors. You can study Uber's strategy for planning further processes in starting a taxi service.
Some main ideas to follow before starting a taxi service like Uber are
Finalize the anticipated timeline and launch date
Gather legal documents to start your taxi service
Collect tools such as vehicles, maintenance equipment, and more
Details on your competitors
Map your business goals.
Develop A Business Plan For Your Taxi Service Like Uber
In this step, you document things such as business strategy, financial forecasts, types of vehicles, marketing, and more.
Firstly, you ask yourself what are your business goals, what is the current state of your market, and what are the current industry trends. After answering the question, strategize everything to opt your business.
The next factor to look at is the financial forecast. Map out everything on your budget. You need clear cost-effectiveness so that you can cover all the requirements. Lastly, you proofread that the made-plan will go in the right path.
A business plan includes

True goals for company growth
General ideas and plans for your business
Hire your drivers and staff
List of asset and financial forecast
Obtain Licenses And Permits
If you want to start a private taxi service, getting licenses and authorization is important. Once you finalize your plan, move to legalize your business to launch it.
Every region follows different norms and regulations, you follow steps that are described in your region.
Acquire Vehicles
The important thing in the taxi service is vehicles. When choosing vehicles, pick vehicles that work for the long run and benefit you in your business growth.
Whether you choose to purchase or lease your vehicles will depend on your budget. During the selection process, it is recommended to take into account factors such as the vehicle's model, maintenance needs, fuel efficiency, and safety features.
Hire Drivers
Your drivers will be the face of your taxi service, so it's important to hire the right people. Look for individuals with a clean driving record, excellent customer service skills, and a good understanding of the local area.
Choose the number of drivers based on the number of vehicles. A key to remember in this step is choosing skilled drivers.
Build An Online Platform
Online presence for a business is an important thing in this digital era. Though you have a quality service and infrastructure firm and no online presence, taking your taxi service business to customers would be a little hard.
To take your business online, you need a software development company. In the development process, you need to follow a few technical steps.
The steps to start an online taxi service are
Choosing features and UI/UX design
Picking technology
Testing
Marketing
Though you don't know of any of the above-mentioned, not a big deal. The company will guide you through the entire development process.
Promote Your Taxi Service Like Uber
Once your taxi service is up and running, you need to focus on promoting your taxi service business. The major thing that all businesses follow is social media. Create a marketing strategy that is tailored to your target audience.
With the advantages of digital media in today's society, it is essential to have an online presence on platforms such as Instagram, Facebook, Twitter, and others to effectively promote your business. So, promote your business on social media by yourself or with a marketing team.
Successful Revenue Model Of the Taxi Service Industry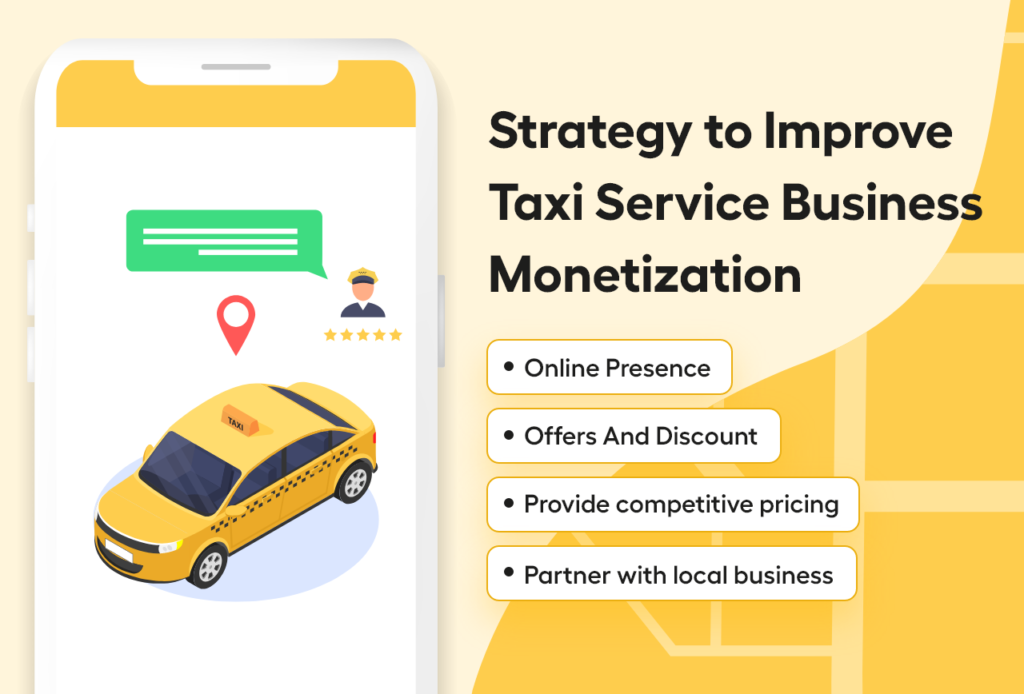 Charging customers is the major source of income for taxi services. Taxi companies charge customers based on distance. The fare amount also is fixed based on factors, including the type of vehicle, the time of day, the location, and the level of demand.
In addition to the standard fare, taxi services may also charge extra fees for additional services, such as airport pickups, luggage handling, or waiting time. Some taxi services also offer premium features such as luxury vehicles or in-car entertainment systems for an additional fee. Do you know how much it cost to develop an on-demand taxi service app like Uber? Though we can not estimate the value, read the blog to know the cost factor.
To maximize their revenue, taxi service businesses may also use various strategies such as surge pricing during peak demand periods or offering discounts and promotions to attract customers during slow periods.
Strategy to Improve Taxi Service Like Uber Business Monetization
Online Presence
Taxi service businesses get a lot of benefits by having an online presence. They can increase revenue by increasing fares on occasion days, traffic, or climatic day. This is not majorly possible in traditional methods.
You can allocate the fare amount based on the size of the vehicle. For instance, if a fare amount is less than other taxi services, more riders come to your platform, which can also increase your revenue.
Offers And Discount
To generate more revenue, you can offer discounts on occasion day. You can allocate a discount percentage based on the distance or banks.
If you use this strategy, 78% of your riders will use your coupons and 80% of them will be on the lookout for special offers. This option helps in driving more customers to your service.
Provide Competitive Pricing
Research the prices of other taxi services in your area and consider adjusting your pricing to remain competitive. Offering promotions and discounts can also help attract new customers.
Partner With Local Business
Partnering with local businesses, such as hotels and restaurants, can help increase visibility and attract more customers. You can offer discounted rides to customers of these businesses, and in return, they can promote your taxi service to their customers.
Bottom Line
Starting a taxi service business is not a hard thing. In this article, I have included everything you need to know before getting into a taxi service with an Uber-like app. You can find trends, steps to consider, and revenue.
In this digital era, you need an online presence. For proof, Uber is a great example. You don't need a large size of firm to start at initially. You can optimize your business gradually like Uber.
If you want to know more about how to start your own taxi service, read blogs related to taxi services and gain more insight into the taxi market.