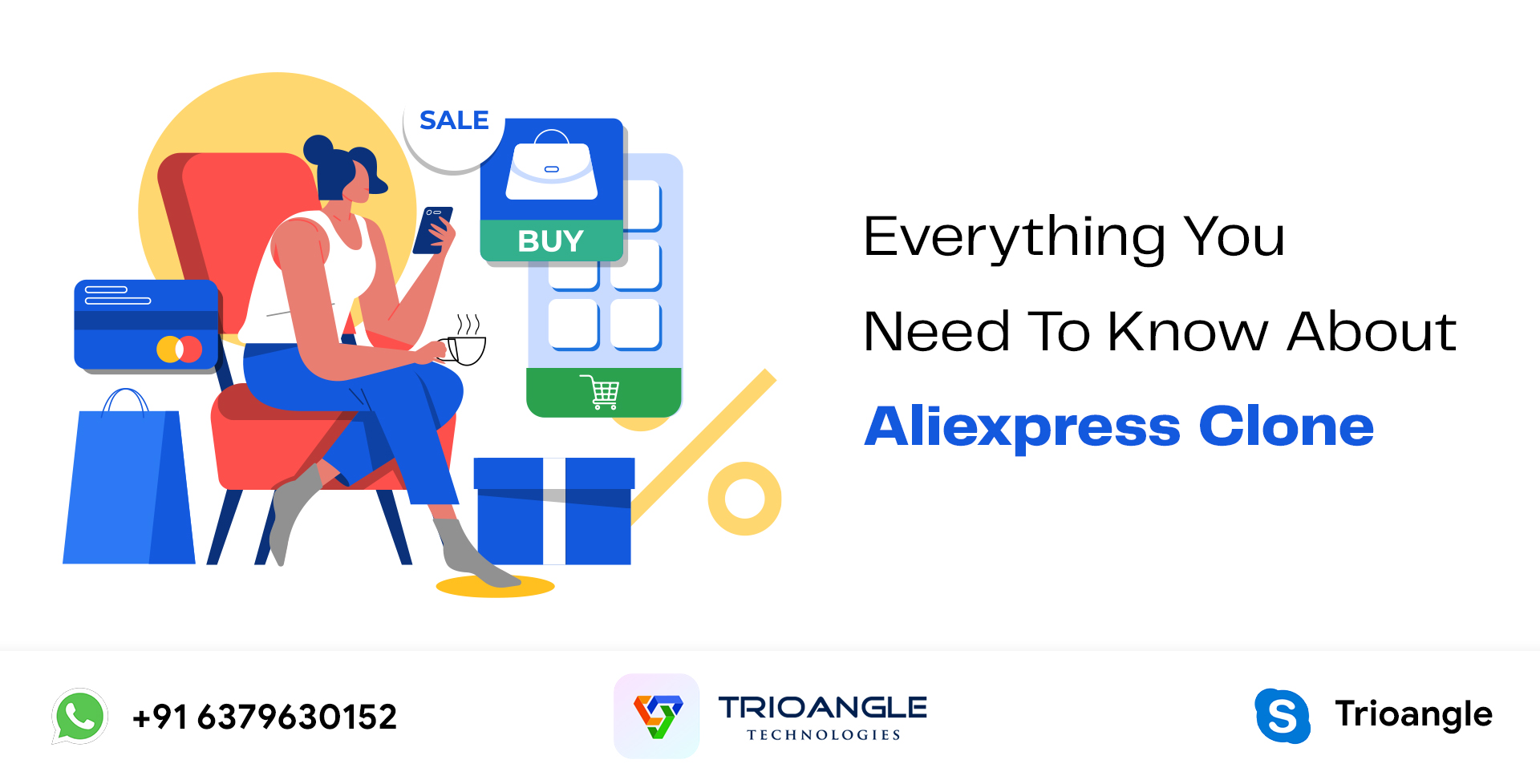 Ecommerce has become a skyscraper in the business world making many changes to the world in a significant way.
It has made people more aware of quality rather than quantity which also made them cautious buyers.
This industry has seen great growth in the last decade and also contributed to the global economy.
This made many new businessmen and businesses women invest and run their businesses using these eCommerce clone scripts.
So, Here is where AliExpress Clone has proved itself to be a reliable business medium.
In this blog, let's see everything that you should know about the AliExpress Clone.
This clone comes with many features that are compiled into 3 main features namely,
Admin Panel
Merchant Panel
User Panel
These three act as the face of your business operations because of the features that are built into them.
Admin Panel:
The Dashboard is the main panel that the owner will use to have an overview of the performance of your business.
There are many performance measuring metrics like total sales, total products, total transactions, etc. These will help you to make any new important decisions and to change strategies when in need.
This feature allows you to add or delete categories that you need or don't need.
This feature will help you to make new expansions into new categories and also allows your vendors to add products through a single step to get listed in the AliExpress Clone.
Using this feature, you can add new products that will allow you to optimize the products page as well.
When you get new vendors to join your business, this feature will help you to add and manage products easily in one step. Since it has the optimization option built-in, it will help you to make your product page look appealing to your user.
In an eCommerce business, this part is where many issues occur normally.
This feature allows you to manage all the payment methods that you can add to your business. This is mostly selected based on the location of your business. It also allows you to track the orders and payments done or pending.
This decision is also based on the location of your business operations. This will help you to easily maintain a balance between the vendor, delivery partner, and your customers.
In case you expand to newer locations, you can easily add new locations and expand the circle of your shipping and operations.
Reports from your business performance can be downloaded and analyzed easily using this feature in your AliExpress Clone.
These reports will give you microscopic details about your business's performance. This will also allow you to take action on the products, decisions, vendors, and sales that will make you discover newer depths.
You have to make decisions for products and make promotions on your websites.
You can easily add products to featured sales, Discounts, and other promotions within your site. There are templates built into this feature that will help you design the appearance of your promotions.
Merchant Panel:
This will give you many insights about the store you are about to add to the admin's business.
Insights like orders, wishlist products, sales, and other important insights will make you easily run the business without any problem.
This will help you set up your products in your store to help you make new sales.
This feature comes with easy adding and deleting options that will help you add new products and remove products if you want in your AliExpress Clone.
This will give you detailed information about the purchases done by the customers. Through this, you can easily do follow-ups for purchases that are pending.
This is a very important part of the multi-vendor business where many issues could occur.
So, this feature will give you a detailed view of the products sold the tax and the commission for the sale of your product.
User Panel:
Multiple Onboarding options:
This will allow the user to easily register and join your community and store. It has Google, Facebook, and Apple to join the store and become a user and avail your business.
This feature allows your users to compare similar products that they feel interested to make a purchase.
This allows the user to gain more views and select the product that will match their expectations and requirement.
Users can add feedback and reviews for your products to make them more visible to other users. This will allow you to make your products more reliable among your customers.
Well, these are only some of the features but it will give you a detailed view of the features that will allow you to make it easy for you to run your business.
This is why AliExpress Clone is considered the best in the market for eCommerce scripts.
It also comes with a set of benefits namely;
Free Server Installation
Free App Submission
Free Bug Support
On-time Support
100% source code
Support After App Rejection
Free Technical Support
Free White Labeling
Responsive Site
These are the benefits you will receive from our AliExpress clone. We at Trioangle technologies built the best eCommerce scripts in the market based on your business plan.
If you'd like to know more, just click the link below;
Website: https://www.trioangle.com/aliexpress-clone/
Mail: [email protected]
Whatsapp: +91 6379630152