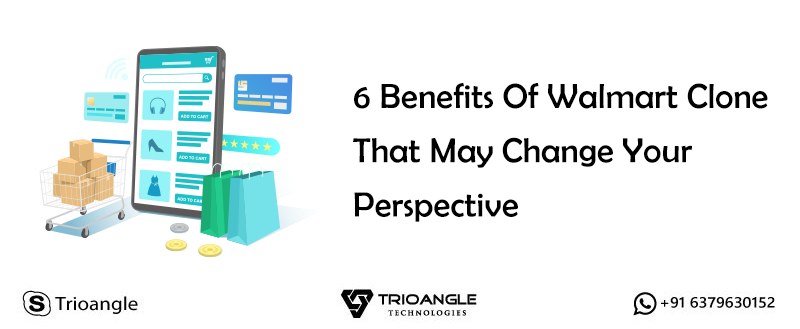 Shopping has become a necessary part of our life and to be exact it has moved from a want to a need. A want is something that is considered as a desire but a need is something that we cannot live without.
Everyone enjoys shopping and when it comes to selecting a product we tend to spend more time and energy finding, comparing, and identifying a product that meets our needs. This practice is in the past and shopping has been made easy by making it available in hand.
Walmart is a retail department and grocery store chain based in the United States. It is the world's largest company with a revenue of 159.2 billion USD. With 2.2 million employees, it is also the world's largest private employer.
After looking into revenue stats, there are a lot of Walmart Clones out there but are they reliable, and will they generate you profit?
Yes, they are reliable and they can generate a lot of cash from the investments you make. 
So, before you can get an idea about what and how the Walmart clone works, let's know about the 6 benefits so that you will know what to notice when you use a Walmart clone.
6 Benefits of Walmart Clone:
Earn via Commission 

Revenue growth

Easy order management

Integrated payments 

Cost-effective 

Customer satisfaction
You as an admin who runs the business can gain a lot of revenue just from commissions because you are the third party throught which merchants can sell their products.
This commission may vary from product to product and also depend on the location of shipping. This commission helps you generate more revenue and also at the same time maintain your working capital.
This business handles both fashion and groceries so it is obviously a robust platform to conduct your business. Since you handle a wide ran of products is going to give a good ROI.
This is possible with the help of the overview of all the products and their performances. This view helps the admin to identify the granular changes happening in the business and take immediate actions to sustain a proper income.
Order management is a very complex operation because you need to have an overview of the whole list and range of products and their orders.
These orders placed can be viewed and acted by both the admin and merchant to easily notice any problems in the order flow. To maintain a sustainable flow, reports should be generated to organize the orders and restock the product in time to create demand.
Payments are also one of the complex operations in an eCommerce business because you need to make it easy for the customer to pay for the purchase they have done.
Multiple payments can be done through this Walmart clone easily so that there won't be any issues in completing the payment.
This is considered to be one of the most cost-effective scripts because they give you a wide range of features for a low cost.
But these features can easily help you generate revenue more than your investment. Since Walmart is also cost-conscious this clone script is also built with that in mind.
Customer feedback and reviews are some of the most important factors in retaining and making loyal customers. 
So evaluating the customer reviews and feedback the admin can easily identify low-performing and low-quality products and decide to replace or delete the product from his\her product base.
From these above-mentioned points, you would have come to light about the benefits you can get from a Walmart clone script.
As one of the pioneer script developers, we have kept the benefits in mind and developed our own Walmart clone.
Let's discuss some features that we have taken into consideration that will generate you tons of cash easily.
Manage Payment Gateway:
Admin has access to all payments done and can add any account or method of payment he\she wants.
Manage Category:
New categories can be added in case of expanding the product range and can also delete or edit the existing categories.
Manage Shipping and commissions:
Helps set up the shipping configurations, shipping countries, API, commission fee, and cities the service has been offered. The shipping cost can also be determined and set by the admin for different products and ranges. 
Payment History
Merchants can see if the payment is successful and can keep an account of the transactions that are being completed.
Commission History
Gives the merchant a detailed history of the commission that they have paid for a particular product and their earnings in the purchase process.
Orders
You can make some products that are not moving properly to be more visible and push for purchase.
Product Reviews
Merchants can view the product's reviews and ratings and can also make the appropriate decision for increasing the product's performance or to delete the product from the list.
These are only some of the features available in our Walmart Clone script. And to discover more about the features that you can use you can contact us for a demo.
For more details:
Website:https://www.trioangle.com/walmart-clone/ 
Mail: [email protected]
Whatsapp: +91 6379630152