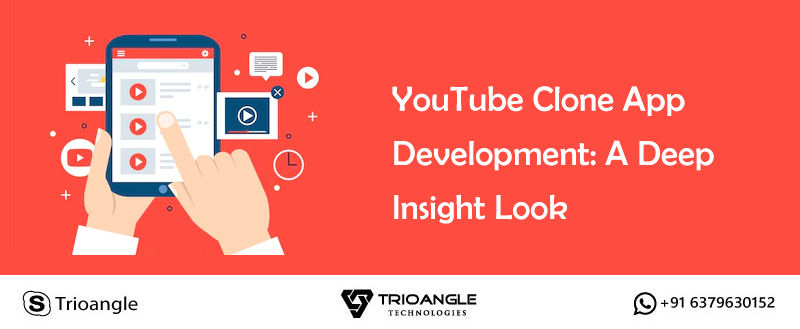 In recent days, 96% of consumers increased their activity on video-sharing platforms, and 9 out of 10 viewers said that they want to see more videos from brands and businesses. 
In fact, an average person is predicted to spend a lot of time per day watching videos. The trend of video creation, watching, and sharing led by a platform is observed for more than 16 years.
Yes, Your guess is right!
It is Youtube. Currently, It has 2 billion users, and 42.9% of all global internet users access Youtube monthly. It placed second position on the list of most used social media platforms.
Undoubtedly, video streaming platforms attract users through visual elements and engage them in a better way. Entrepreneurs can also make the opportunity to make their idea a reality with a Youtube Clone Script.
Do you know the process to create an App like Youtube?
That's the reason why the blog is, let's get started.
The Step By Step Process to creating an app like Youtube:
Set your business idea and target your audience in the market. With the help of the Youtube Clone App, you can be available across more than 90 countries instantly.

Later select the authorized clone script to develop your application related to data production, privacy, and security. This will ensure the hassle-free launch of video-sharing applications.

Finalize standard and opt features that are included in your application with the help of the

Youtube Clone Script

.

Develop a user-friendly option that is accessed by all ages and sections of society. 

Choose the operating system like Android iOS or macOS for launching your application.

Design your business application to generate revenue. You can also design advertisements, paid membership, and also subscriptions.

Share your business goal in the company. So the developer will create your Android and iOS App.

Launch your video streaming application on-demand platform to develop your business to the next stage.
Technical stack in development of Youtube-like App.
Programming languages:
To integrate and design the application with Cascading Style sheet (CSS), Javascript, HTML, and PHP are the programming languages to utilize to develop the video-sharing application.
Front end Development tool:
React.js tool is used by UI designers to build Youtube clone App. It provides quick login access for users and an interactive experience for users while watching videos.
Back end Development tool:
Node.js helps robustly to maintain the back-end process. It will handle the traffic, and content, Analyze the video function and share it with the users.
The Basic Features Of The YouTube Clone app:
Home Page Settings:
It is an advanced feed area where the latest trending videos are displayed And they can check the number of views, Name of the channel, and time of uploading.
Advanced search option:
The search option provides the perfect result for the user based on their keyword search. The youtube Clone App has a powerful search option like youtube.
Multiple Login Setting:
This option will provide an easy registration process for the users. Users can log in and sign in through email quickly. Also, the user can have multiple accounts to manage their channels.
Security and Safe:
The YouTube clone App provides maximum security to the user to hide their personal information from others and also provides privacy security in the search history. 
Video Management option:
This option helps the user to post their videos in a preferred option based on their business management. Video uploading is one of the best options to develop your business.
Wrapping up:
Finally, you will know the process and basic attractive features that are included to launch your own application like Youtube.
Now, it's your time to buy a Youtube Clone Script based on the process which is included in this above blog to set a trend in on-demand video sharing platforms.
Wish to launch your own Video Sharing Platform? 
Let's Get In Touch:
WhatsApp: +91 6379630152
E-mail: [email protected]