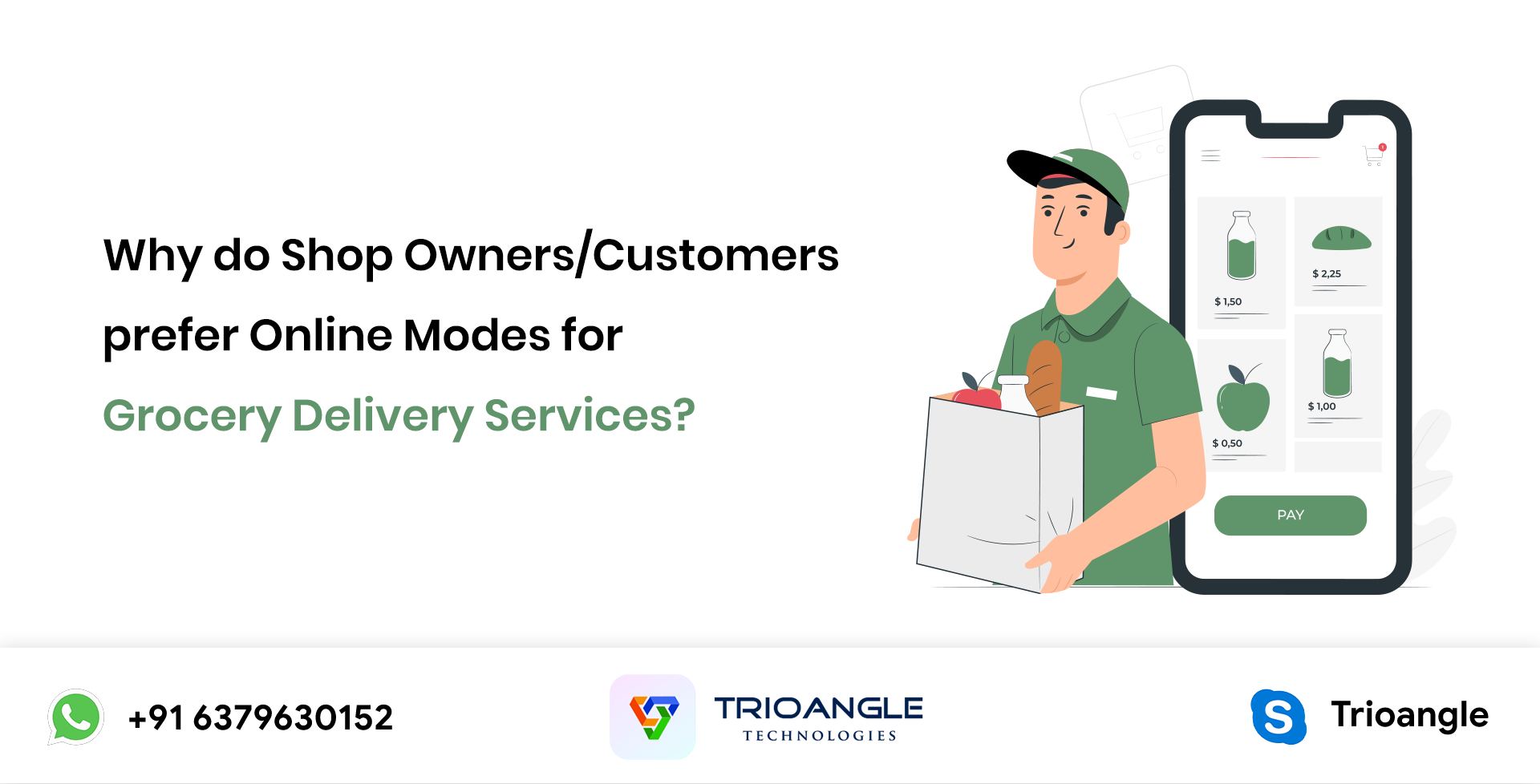 Today, a lot of online grocery shopping stores are appearing and many more are arriving into the market, making grocery shopping easy and convenient. 
For those who want to make online shopping for the first time or for those who already know about online grocery delivery services. It will be comfortable and helpful to buy groceries online. 
Using the best online grocery delivery services, you will be delivered new and high-quality products with a few clicks.  
In this blog, The shop owners and the customers prefer Online modes for grocery delivery services and the reason why they prefer this online Platform
Shop Owners Choosing Online, Why?
To deal with the Coronavirus, with a country of over 1.3 billion people going into lockdown for 21 days starting March 25th, 2020. 
While basic categories, such as groceries and pharmacies are going to be open during the lockdown, this develops problems for shops as well as customers. 
Act fast to respond with product updates and new suggestions to help retailers like you navigate these challenging times. Announce more differences soon. 
Right now, local businesses need to find innovative new ways to stay engaged with their consumers, even while their retail location is unavailable.
Quickly set up an online store, so your shoppers can purchase online and safely select their products from your store, so that they don't spend time at your store, or wait outside it for others to complete shopping.
How Does 'Pick Up at Store, Buy Online' Work?
"Pick up at store" or "curbside pickup" allows shoppers nearby to purchase something online and move by your store to pick it up—without ever having to exit their car. 
This "drive-through" choice is often more suitable and it can decrease the shipping costs and minimize person-to-person dealings. 
Here are the steps:
Your shopper will order and pay you online via your new online store

You'll get the order emailed to you, so you can organize it safely

You'll then tell the shopper when it's prepared for pickup

Your shopper will drive to your store and find the package with their title on top

They will safely pick up their order

That's it, you're done
Setting up menu-navigation
When you are arranging your online store, you will need to add your product categories and sub-categories in the menu bar so that shoppers can easily find products or navigate your website.
By default, your menu consists of Home and Catalog which will be the menu items. 
Customise your product pages
Now it's time to set up a basic product page to showcase your items. Lead to the drop-down menu at the top of your screen and choose the product pages. 
Select show quantity to allow your Shoppers to select as many items as they want. After that, select show variant labels.
Customise your shopping cart page
The shopping cart page is where consumers can view all of the items they've added to their cart or the products they intend to buy. 
We have to make some quick modifications to set up our "purchase online, pickup at store" experience.
Though many have moved to this medium, there is still some uncertainty in purchasing groceries online which is why it is necessary to bring out its( online shopping ) benefits over the traditional way of Buying groceries in the right way
Reasons Behind the Shoppers Prefer Online
Enormous variety

House Delivery

Reasonable Prices

Time-Saving

24×7 Shopping Services

Easier to Find

No Impulse Buys

Easy Retrievals and Alternate

Reordering
Clearly, the combination available at the local stores is lower because of space limitations but when it comes to online business, variety and the number of products replaced in comparison to that of the traditional shopping experience.
The effort of moving heavy bags from the store is not a feature of this smart shopping choice. The young, and old are also becoming used to technology. Without bothering about anything, they too can shop from the convenience of their couch.

There are hidden Indirect Savings in online grocery services as well when one shops online like saving petrol costs to supermarkets, carry bag costs, parking ticket costs the food you eat at the Mall, etc.
These are the indirect expenses that people manage to ignore but this amounts to huge savings.
This method not only certifies for saving money but also time. Rather than wasting time stuck in traffic, in extended billing lines in the supermarket, parking Problems, etc.
One can decide to stay at home and opt for an easy checkout saving a whole lot of time for something productive.
Anyone can place an order at any time. Odd hours, Sundays, etc. don't count because here, one has easy access to the entire supermarket day and night through Mobile Application or website
One-click and the supermarket would occur on the screen. This advantage allows shopping when one is free and therefore does not have to run to the store before it closes.
Though virtual supermarkets claim to have a higher type of products, it is still more comfortable to find products by exploring them on the app or website.
Check their availability instead of walking around in the aisles of huge stores looking for the product ultimately exhausting oneself.
Small kids with their ever-growing demands are one of the other headaches people have to face but here, no such issue arises.
Easy Retrievals and Alternate
Imagine you bought a bag of rice from the mall's supermarket & you saw bugs in it – 
How would you get it returned?
Are you ready to go back to the mall and fight for the product exchange?
With online grocery, it's just one tap. It is their consumer support and after-sales services which push people towards this medium.

Every fortnight is a boring and tiring chore and supermarkets also do not provide the option of repeating orders. Reordering with online grocery shopping is very comfortable
one tap and it's done.
All the products of the last order will automatically get in the cart on the buyer's order. A few modifications can also be made easily.
With the right Online Delivery Services at your side, you can connect shoppers and shop owners in perfect sync. The above blog explains the reasons behind the selection of the online platforms for both shoppers & shop owners in detail.

This online platform helps both the shop owners and shoppers who mostly prefer Online platforms to engage in their work day-to-day life, Get the best online services from an experienced player. To know more