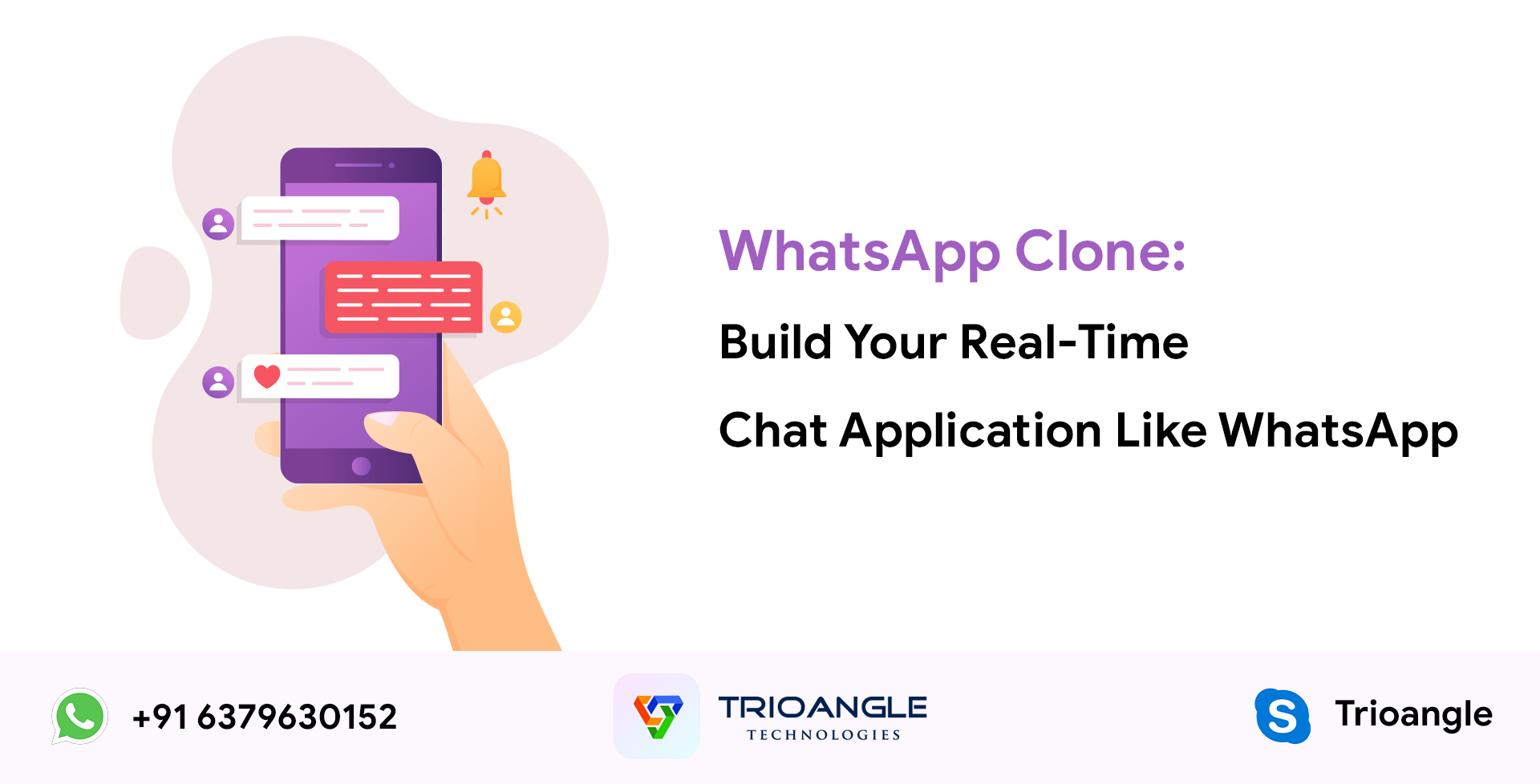 In this world, people are separated from family and friends due to work, studies, etc. They need to connect with their loved ones to show their presence. Messaging apps like WhatsApp are the opt solutions for that. 
This makes the WhatsApp clone app development a familiar one in the market. 
At this instant, if you also show your interest in building real-time chat application means, then this is a blog for you. 
Among many WhatsApp clone app developers, Trioangle develops the futuristic WhatsApp clone app solution(Gabble) with unique features. Gabble is the best idea to launch your messaging application and turn communication seamless. 
This blog quickly reviews the processes during WhatsApp clone app development and the steps involved in it in detail. Let's begin the blog. 
Processes included in the development of WhatsApp Clone:
Requirements tweetup:
Requirement gathering is performed in the developing teams to declare their general layout, front-end developing, and back-end development. And also analyzing the general expenditure and estimation of this project.
UI/UX design:
This process is based on the app development process as it is visible to the user platform. That interface should be interactive, understandable, and user-friendly. It is also applicable to mobile interfaces as mobile users unduly play a significant role in the success of the app.
Prototype:
Prototype helps the programmer identify their mistakes and their standings. It is a demo of the full functionality of the application. It also lets app owners learn how the result of the app would be. 
Application development:
This stage involves the creation of links, a payment process system, and also some important features which include the front and back end process. To say simply, the app development process will be kick-started at this stage. 
Quality analyzing:
This process has various stages in testing modules. If any error occurs it will be sent to the programming team for debugging. The programming team will assure that any bugs trouble the app at any stage. If so, the bugs will be removed from the app by the team. After testing is endorsed, the app will be processed to the deployment stage.
Final Promotion:
At the final stage, the app will be ready for advertising on various social media platforms. It's very hard to find people to make use of the app. So it's paramount to make the app public even before it gets launched on servers. 
The technology used:
 In our WhatsApp clone script Flutter technology is used to create an excellent interface. Flutter is an open-source UI software development kit with an inbuilt function. It is used across the board to develop cross-platforms, especially for iOS and Android.
Steps to create an app like WhatsApp:
First, you have to choose the proper business module to create your own chat application.

You have to design your application architecture in a way that alleviates users.

Determine your minimum product feature to create your app.

Devise your process efficiently.

And finally, with the help of a developer team, execute your idea in a real-time function. 
5 Must-have Highlighted Features
Chat function:
WhatsApp Clone App provides the option of unlimited texting to the user. With the help of this feature, users can send unlimited messages to their homes or friends.
Media sharing:
The media sharing feature allows users to share photos, videos, GIFs, locations, and documents. It takes only lesser time to send and receive docs via messaging apps. 
Video/audio call option:
Video and audio call features allow the user to make either video or audio calls to their loved ones. The chunky band of the app lets users connect with their contacts regardless of their locale. 
Profile settings:
This User-friendly option lets users upload or change their profile and status based on their interests. This makes them attractive to others.
Blocking/Unblocking:
This feature is used to block unwanted and spam messages from others. Users can easily block and unblock the contact quickly.
Conclusion:
The WhatsApp Clone App allows the owner to gain profit through this instant messaging application. We provide WhatsApp Clone with simplified processes, steps, and must-have features listed in this blog.  
It would be the best investment idea for developing your business. This is the way to turn your dream idea into real profit.
Now, it is your time to buy your WhatsApp Clone Script and develop the best Messaging application.
Wish to launch your own platform? 
Let's Get In Touch:
WhatsApp: +91 6379630152
E-mail: [email protected]