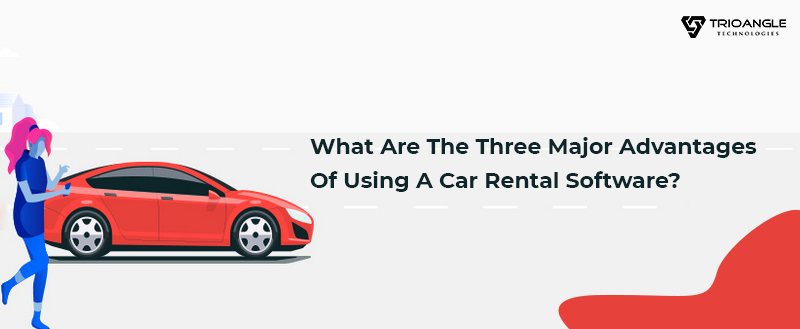 Car Rental business, one of the trending businesses among others. As per the report from Statista, the revenue generated in the car rentals segment amounts to US$26,873m in 2019.
You may wonder, what is the reason behind its inclination.
The rental industry is most welcomed one from the era of ancient to digital. Years may roll out, but it's craze never fades. Car rental is one such element from rentals, that comforts the work and provides seamless services at an affordable rate.
In this technology-driven world, the usage of car rentals has been increased. It is affordable, convenient to use and to start a business. As you can easily connect people with any digital medium like web apps and mobile apps.
If you wish to be a part in a rental community with a car rental software ping to [email protected].
Three Major Advantages Of Using A Car Rental Software:
Comforts The Work :
Car rental software easily connects people who are in need of the service and admin can monitor the whole flow also the performance of the system in a single monitor. As it is totally digital service will be available 24/7, it quiet reachable right!.
Rider who wishes to get the car for rentals can book their desired ones with or without an approved driver. The car owner can see money with the unused, better working car with it.  
Working of a car rental software is defined with fine working features and functionalities, here is a list of it
Multiple Login & Signup – Multiple entry points from facebook, google, linked in comforts users to enter the system easily.

Verified Users – Authenticated users are allowed in the rental system with increased security and trust of the system.

Advanced Search and Filters – Among numerous listing, choose the desired one is a bit lengthy process, which turned out to ease with an effective sorting algorithm.

Individual Panels – You may be an admin or a host or a guest, individual web panels available to smoothen your work. And admin monitors the whole scene in a single dashboard.

Flexible Profile Management – Switch over as a renter while getting a car for rent and owner while you own a car, the profile can be managed easily.

Detailed Listing – Owner of the car describes details and promotes their listing for rent.

Multiple Booking Options – Renter of the car can book the cars as per their needs.

Wishlist – Most liked listing is saved for another time of booking a chance. Such listing is also shared in various social media.

Handy – Car rental software is available in web apps, as it is responsive, the panel fits into the screen of your handset.

Ratings and Reviews – Our

car rental script

s affords space to rate the listing and hospitality, that guides other renters to book the listings.

Multiple Payment Options – Safe and secured transactions with multiple gateways incorporated, enhances the trust of the software

You can use 31 currencies based on your country – Expand the car rental business across the sea with this option.

Multiple admins – give roles and permissions to subdomains and split the workload which increases the performance.

Dispute and Cancellation policies – These policies help in any uncomfortable scenarios, you can break the chain.
Business Management :
Craving to start an online business! You can opt for a car rental business with the best software in the market, which helps you in managing business seamlessly. They are,
Asset Management –  A full packed car rental management software includes various modules like car management, owner and rider management, seamless booking, detailed listing, earnings report, etc. With car rental script it easily connects riders and car owners can control and manage the vehicles, also can find and track the status of the car.  
Data Management – Managing data manually is a delicate task for a car rental operator. By using car rental software, it is easy to organize all the data regarding vehicles, owners, pricing details, rental details and agreements, invoices, etc.
Billing and Invoicing – By using a car rental management system like Airbnb For cars, it is easy for operators to track the record of cash payments, generating online invoices and billing options. As a rental manager, you can keep track of your cash flow.
Manage Sales – A rental software makes it very easy to manage sales. There is no need to check your available vehicles and allocated vehicles manually. The software shows all the vehicles, rented vehicles and in park vehicles at a single dashboard. In this way, it is very easy to manage sales and achieving the target.
Quality Software :
Exciting features and designs may attract software, but to retain them a quality car rental script can only do it. Reliability, security, trustworthiness, scalability are notable qualities of software that can enhance your business.
If you need such software visit Airbnb for car rentals.