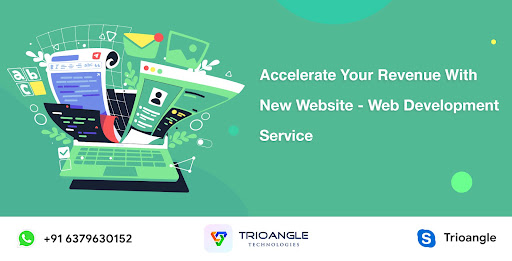 We are now in a digital world where everything is online. If your business doesn't have a website from the best web development service, your business is losing a lot of opportunities. A Website acts as the center of your online presence. It helps your customer to know more about you and your business with information like why they have to trust you. With the help of ratings and reviews, new customers can know about your services. 
An overall website can tell about your business 24/7 and market your business, and help to drive revenue without much effort. So, Selecting the best web development service provider can help you with all the following benefits
A structured, informative, and well-designed website can convert your visitors to leads and increase your brand awareness. The best website with strategic digital marketing services can increase your revenue and help you to be on top of the market.
Let's see Top 3 instant benefits of a well-structured website?
Gain lead conversions.
Brand awareness.
Build trust – reviews.
Gain lead conversions
Even a new website has visitors. Website design plays a main role in converting visitors into the lead. Even a small smart change in the website can turn your visitors into leads, for example adding a call to action button on the home page. Converting leads is a part of revenue generation though it is the first step to sales.
Developing a new website or redesigning a new website can increase your visitors and boost your lead conversion.
Brand awareness: 
From Microsoft to small startup companies changing their logo. Do you know why they are making such changes? To create a big talk or brand awareness. Logos are like a face to the business. 
A logo can speak or tell things. So creating brand awareness is so important for any business. There are no limit customers when you present online, But, creating brand awareness helps customers to find you better. The best website can get into visitors' minds and make them identify you next time.
Build Trust – reviews:
It's important to gain social proof that your service is best with reviews and recommendations. They are rewards at the same time they are deciders to make the next move. Customer feedback will help you to know your business better, it will tell you where you want to improve.
Reviews on Google are proof of how you are serving your customers and backing up your promises.
Conclusion:
Nothing's better than knowing others' experience for selecting any service. Websites are like the core of your business. A good website can increase your revenue without much time and effort. Convo with chatbots is always better than convo with emails. So, every time you value your customers you are gaining more revenue and reputation.
After a well-structured website, little investment in digital marketing will achieve your target revenue within months. Tieing up with the best web development service agency and digital marketing company can 
kick start your business sales. 
To know web development services and digital marketing services, contact us with the below info:
https://www.trioangle.com/web-development-services
Mail: [email protected]
Skype: Trioangle
WhatsApp: +91 6379630152