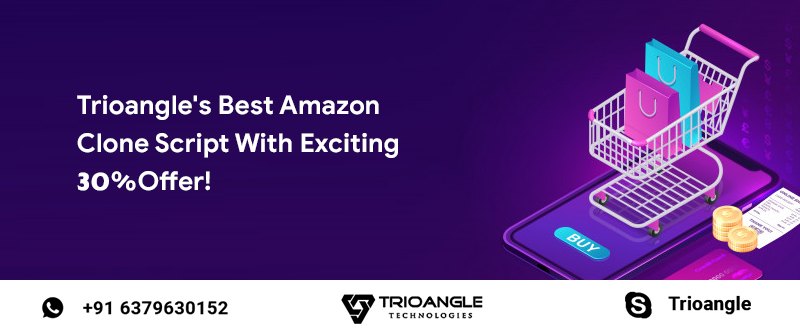 EXCITING FLAT 30% OFFER FOR YOUR E-COMMERCE BUSINESS!
"Don't wait to take off the best discount to lift it up"
Amazon Clone Script
Spiffy – Amazon clone script is one of the Trioangle's best eCommerce scripts to make a startup for entrepreneurs to get the achievement on their successful business. Amazon Clone script is running through the buyers and sellers through the worldwide network.
Features of Amazon Clone Script
Multiple Login/Signup
Users can log in through a Gmail or phone number and can log in using a social media network like Facebook, Twitter, and etc,.
Follow Users/stores
Users can follow the stores to get more updates, stock availability and to avail more offers to garb will get an instant notification through the store.
Multiple Languages
Users can easily search the products, according to their languages, In our script, there are multiple languages for the customer's easy access.
Merchant Panel
Merchant has a separate panel to manage profile, sales orders, add/edit products and view the orders, and more.
Social Media Sharing
Amazon Clone allows Users to share their favorite products using WhatsApp, Facebook, Twitter, etc.
Wishlist Option
Users can save the product in the wishlist option to buy after or to check the stock availability easily.
Trioangle
Trioangle is the best mobile and web development company providing the readymade scripts with full technical support and customization. Trioangle has successfully done 350+ projects with the happiest clients. Our team is working with 100+ people for the entrepreneurs to make a successful goal.
Trioangle best Amazon clone script has an excitement with a 30% Offer. Once the client has completed all the processes. Our team provides technical support and customization through the client's wishes. In our script, through the client wishes all the customization processes and add-ons in features or any other will be done within time. A Live demo of Amazon Clone script is available on our site. Amazon Clone script is available in web, android, and iOS Platforms.
Thanks for reading our blog!
If any queries mail us on [email protected] or tap us on Amazon Clone