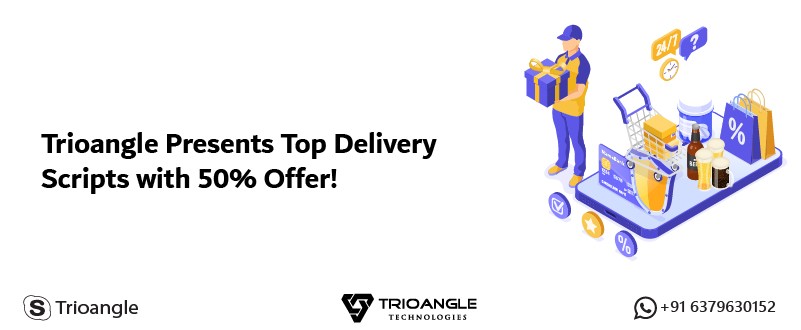 Trioangle provides a top delivery script like Food delivery script, Grocery delivery script, Pharmacy delivery script, Alcohol delivery script, and all in one delivery – DeliveryAll scripts for startups.
Trioangle is the best web and mobile development company providing readymade scripts for business startups. Our team has completed more than 350 projects with satisfied clients. Trioangle gives full support for entrepreneurs to start the best startups and achieve big.
Our Trioangle is available now with
HALLOWEEN SALE of 50% Offer, Valid till October 31st, 2020.
GoferEats – Food Delivery Script
The growth of an online food delivery business has reached magnificently by the top-notch food delivery companies like UberEats, Swiggy, Zomato, and so forth are rolling over the world. Trioangle had decided to make a platform for entrepreneurs to accomplish their online food ordering and delivery business in a one-box solution.
Our GoferEats is available with web, android, and iOS platforms, To check the demo, check through the site.
To plunge into such a hiking industry immediately, all you need is a grocery script. Trioangle offers the best grocery delivery script to business entrepreneurs, who wish to start a business quickly. It is the best app that is frequently updated as per the market requirements.
Instacart is the best grocery delivery company in the online grocery network, Our grocery delivery script was magnificently done with the top grocery company Instacart. Our GoferGrocery was available with web, android, and iOS platforms, To check the demo, check through the site.
GoferPharmacy – Pharmacy Delivery Script
GoferPharmacy is the best pharmacy delivery script with a structured working flow and needed features to kick start the medicine delivery business instantly. Our medicine delivery app is available on both the iOS and Android platforms. Start to illuminate your business 100% customizable and top trending features.
GoferAlcohol – Alcohol Delivery Script
GoferAlcohol is a reliable alcohol delivery script with needed features to kindle the wine ordering business immediately. It is a high-graded wine delivery app that comes with eminent features, workflow, and a powerful admin dashboard. We developed the best Liquor delivery script for your business uplift. Have a look at it.
Our GoferAlcohol is available in both native mobile applications such as iOS and Android platforms.
GoferDeliveryAll – All in One Delivery
GoferDelivery All is an all in one delivery app that delivers anything to the customer's doorstep. Build your delivery companies for all essentials from food to medicine.
In our DeliveryAll script, we provide multiple deliveries like pharmacy, grocery, alcohol, food deliveries in a single script. It's best for the users to get all the one in a single place. Our DeliveryAll script was available with web, android, and iOS platforms, To check the demo, check through the site.
We Offer
In our all delivery scripts, our company provides full technical support, bug support, 100% source code, and customization. The customization process will be done through the client's wishes within time. We provide free site maintenance for the first month.
Our delivery scripts are available with a flat 50% offer, valid till October 31st, 2020.
Meet you soon as the client!
Thank you for reading this blog…
To know more contact
Mail: [email protected]
Whatsapp: 6379630152