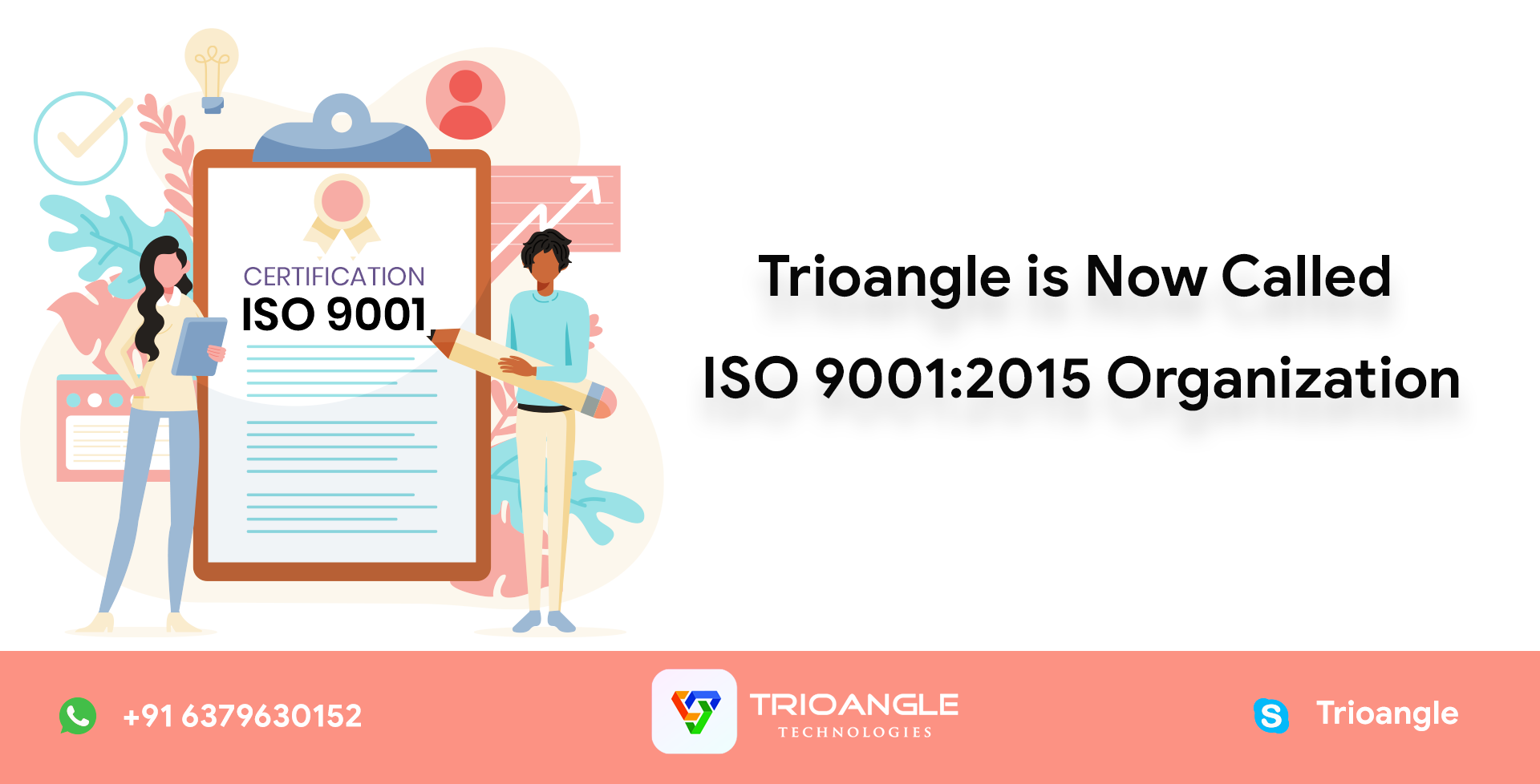 Trioangle is Now Called ISO 9001:2015 Organization
2022 begins with a happy moment for Trioangle. Yes. Proudly say that Trioangle Technologies is now called an ISO-certified company. We have been awarded ISO 9001:2015 certification after passing at the end of 2021, exactly 7th December 2021. 
Aiming to provide high-quality solutions crafted with the latest technologies according to real-time customer demands, Trioangle has Quality Management System(QMS). Now, We receive an honourable seal of approval to our QMS from the Breakthrough Management Quality Registrar at the International Organization for Standardization(ISO) and this sets the bar to a high-quality level. 
International Organization for Standardization(ISO)
Having membership of 165 national standard bodies, ISO is an international, independent organization to empower innovation and provide the overall solutions to challenges in real-time. ISO inherits with a range of experts to share their knowledge, develop market-relevant standards to validate the outcomes of organizations. 
Began in 1946, continually sets the standards with the aim of bringing high-quality outcomes in any business vertical. Filled with 165 members country-wise, ISO sets the 24112 standards covering all the aspects of technology. To develop the standard in the high-quality, group of 802 technical experts to develop the standards 
BMQR ISO Certification
A Breakthrough Management Quality Registrar(BMQR) is simply the independent Conformance Assessment Body(CAB) and it is registered with the identity number: U74990TN2007PTC063716. With respect to the International Standards declared by ISO such as ISO/IEC 17021:2021 and ISO/IEC 17020:2005, BMQR operates and provides the contribution in the following streams
Identification of risks and encourage treatments to them

Value-Added Services beyond the scope

Consistent improvement and growth

Implementation of best practices in respective industries
How Trioangle Attains ISO Standard?
Implemented the dedicated QMS team to achieve certification, Trioangle has a big wish to attain certification within the prescribed time. A perfect mission such as plan-do-correct it and act based on a customer-oriented approach. On this aspect, We craft the reports in terms of structure, roles and the procedures followed to accomplish the expected operative quality management 
Footnote:
With the happiness and pride in its heart, Trioangle would like to thank every pillar behind this huge achievement. Without them, this won't happen. Trioangle also expects this unmatchable support in forthcoming years also.