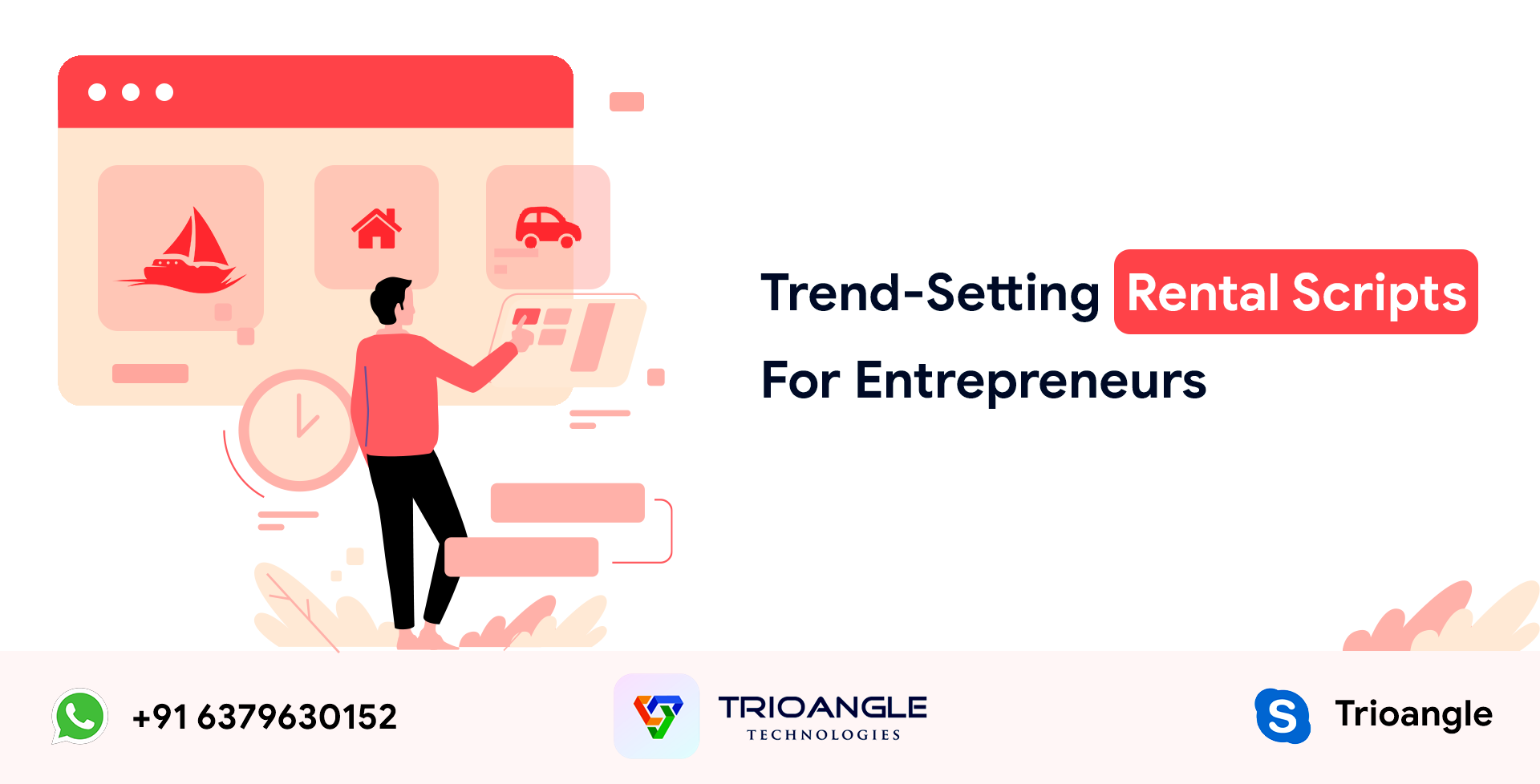 Today,
Starting a business is a dream for many youngsters, because of difficulties and confusion in predicting the futuristic revenue-generating platform, which is the main reason they couldn't launch.
According to statistics, after the pandemic, there is huge scope for some online rental businesses that are going to create a revolution in the rental industry.
This blog is going to reveal those upcoming Trendsetting Rental Business platforms for new entrepreneurs.
Future Demand Business
There are many new business ideas ruling the world with an online platform in spite of that replica or following the ideas, method of an already established brand with uniquely advanced features and technology has been generating more and more revenue day by day. Such as,
Car Rental
Boat Rental
Online Teaching
Makent Car Rental Script
Travelling and transportation are essential factors in daily life. So owning a car is a necessary one to all but apart from the elite class people more than bearing the expenses of the maintenance, the online platform created an opportunity to make huge revenue by renting their cars. It was achieved by the best Car Rental Script called Makent from Trioangle Technologies.
A Decolar clone is an internet booking program, where proprietors can rundown and riders can book cars for rental necessities.
The car rental business for occasions, functions, official arrangements has become a wonderful option for car owners and renters. Car rental scripts are widely available to make the car rental business smooth. Among them, finding the best Car Rental Script is an essential requirement for business owners. Here I can list some of the tips to choose the best online car rental script.
To get a wide reach and get an edge over the competitor, a best car rental script should possess the following characteristics,
Login, sign up.
Fill out the user profile.
different types of cars user (who wants the car can bid with your site)
Different types of Payment options.
Book desired car (to take a car for rental)
Booking car cancellation, changing the car.
Rentee reviews(After completing the car journey)
Rentee support(toll-free, chat, mail, instant call)
Makent Boat Rental Script
In this digital world, new business concepts are gloaming every day. However, all the concepts are not obtaining success in this global market. But now today, the boat rental businesses have created hype on digital platforms. If anyone who owns a boat has an idea to start a rental business without any risk, they can move to the boat rental business.
Nowadays, developing new software is not necessary for any new rental business because a new method of installing a clone script of an established brand like Airbnb is the smart move. From the leading topmost providers like Trioangle Technologies is trustworthy for its product called Makent Boat Rental Script with some special and bug-free technologies.
To shine in the boat rental industry, the boat booking software must possess the following features,
Reservation
Login
Forget the password option
Account management
Cancel of book
Facilities In Boat
Listings
Registration
Login
Booking details view
Bookings
Cancelled bookings
Boat details viewing
Car listing
Details of car renting
Booking options
Payment option
Makent Online Teaching Script
After the pandemic education system was one of the digitalized sectors that created a huge demand for an online platform to connect teachers and students to gain revenue with knowledge transfer. So there is a rush among both institutional and individual teachers towards the best Online Teaching Script called Makent from trioangle Technologies.
Trioangle Technology offers a Decolar clone for online teaching services. It helps to join private tutors and students on a single platform, enabling them to develop a business as an aggregator. Hire the experts now for an online platform with extremely rewarding and revenue-generating ways that will allow you to reach out to potential users.
To build a completely functional, innovative e-learning software, you must cooperate with a reputable education software solution provider such as Trioangle Technology. For its trustworthy product called Makent Online Teaching script integrated with attractive dashboard and user-friendly features to gain revenue in a short span.
For more details: https://www.trioangle.com/airbnb-clone
Email Id: [email protected]
WhatsApp: +976379630152