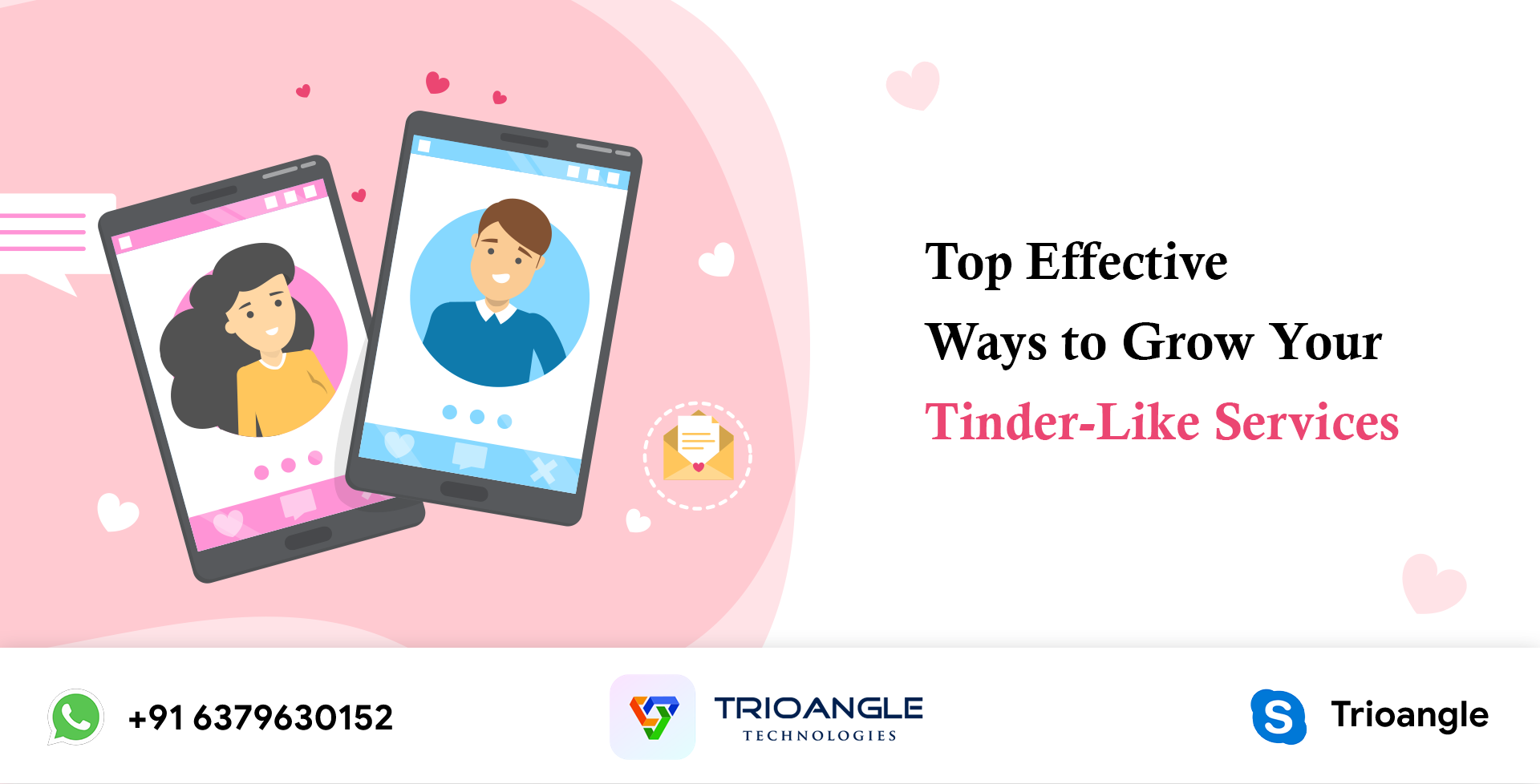 In this current digital era, relationships are discovered and built on applications via messages, video & audio calls. To be exact, people prefer dating apps to discover partners and spouses rather than take a long process. 
This has guided to a surge in the number of dating apps worldwide. These dating apps follow a further development strategy and contain a few common app features that let users communicate effortlessly. 
When we think about online dating, the foremost app that comes to our mind is Tinder. It is comfortable to use, feature-rich, and has a huge user base that possibilities of getting a date. Yet, that does not mean it doesn't contain any flaws. 
There might be other Tinder clone apps good than it. If you have thought of creating a Tinder Clone you feel is more suitable than Tinder.
If the popularity of Tinder is attracting you to create a similar app and make millions of dollars via it, then make sure you are notified and updated about every part of Tinder-like dating app development. Read this blog to know more about things to consider when creating a tinder app.
How To Build a Tinder-Like App?
To start with, you'll need to understand the main features of Tinder. How does the app work? What are the essential functionalities? Tinder is amongst the most famous and highly sought-after dating apps worldwide and its swiping feature and gaming spirit add to its growing favor.
All you need to do is swipe right to show your appreciation for a profile and swipe left to ignore it. Here's a quick overview of some of the key features of Tinder for your concern.
Easy login via social media

– Tinder lets you log in with your Facebook or Instagram profiles. Users can connect their Instagram and/or Facebook profiles with it This way the user is shown and other users can be sure that the different person is also as honest and trustworthy as they are.

Geolocation

– Utilizing location, Tinder sees the social sports, such as coffee stores, bars, etc. they frequent. Other users visiting the same areas also get a notification and alert after the app user exits the site. 
Besides this, Tinder uses geolocation to find like-minded, interest-based profiles. This way, Tinder can deliver enhanced services. For instance, the app (Tinder) will remove bars from the list of social zones if many users have been deleting them (bars) from their lists
New Profiles

– The app's algorithm reaches and matches the profile of the new user with other users' profiles and suggests suitable matches.
How Does The Algorithm Work?
The app (Tinder) uses scores to provide ranking to the users by their beauty. The app estimates the number of swipes per profile. Each swipe means one like and the more likes a user gets the more amazing his/her score becomes.

Users with similar/same number of likes are compared. Tinder's Swipe Surge allows improving the matchmaking possibility of each user by 100% and more.

Find partners: Tinder users can set their age, interests, gender, etc. as their search bars and the app matches people who swipe right each different's profiles.

Profile setting in Tinder allows users to set their social profiles in a manner that adds more beauty and reliability to their profiles.

Push notification. The user gets push notifications when the Tinder algorithm finds a match just as per his/her profile settings.

Private chat. This is a very good feature for those who are busily looking for a friend. The built-in messenger lets users chat with different users.
What People Wish from Dating Apps
One of the explanations why online the dating concept became so famous is the fact that you can screen people before you go out with them. Back in the day, people utilized to do mysteries and it took a unique meeting experience to solve them. Being memorable respect for women, safety is the most elevated priority expectation.
The capacity to gain some insights into a person's background via some sort of proof might be your future dating app's forte. Another thing to think about is the value of the application. Separated from the obvious matching, your dating mobile app development has to deliver a clear and valuable solution to the user's issues. 
The reason why a dating app UX is special and viral is the energy and comfort of usage. Like any location-based app, dating apps present options at the point. A person you might like and who might like you can slip out from your radar permanently. This makes speed and the often-frowned-upon habit of swiping left and right.
 So, briefly, this is what individuals expect from a dating app after they install it:
Privacy and protection.

Matches.

Comfort.
The Most Effectual Ways To Develop an App like Tinder
Accumulate Requirement
The premier advance for creating a clone app like Tinder is to learn about your space and the reason behind serving. You need to know your ideal good team, their preferences, and geolocation. 
This will analyze your details and make it comfortable for Tinder clone app installment companies to outline your concept. Experts pick app subjects, shading will, and plan as per the main good team.
Statistical Surveying
Most dating apps face blows originally in light of insufficient exploration jobs. While fair statistical surveying aids with making novel and effective methods of action. In this way, it centers around statistical surveying, competitor investigation, advertising necessities, business model, and so on Since well-being research processes result in:
Upgrading brand esteem.

Characterize the enterprise model.

develop an excellent selling point.

It assists with enhancing apps and higher commitment levels
Discover Your Business Model
While settling on a business model, you should be ready with what sort of adaptation process will suit your needs. Like,
Paid membership

Freemium

In-app advertisements

Outsider services
Wrapping Up:
Entrepreneurs who have thought of starting an online dating service. Tinder Clone is the most suitable solution to start the right business. The dating Business has also evolved into the most promising niche. Be a super-niche in the online market with the right Tinder clone app.