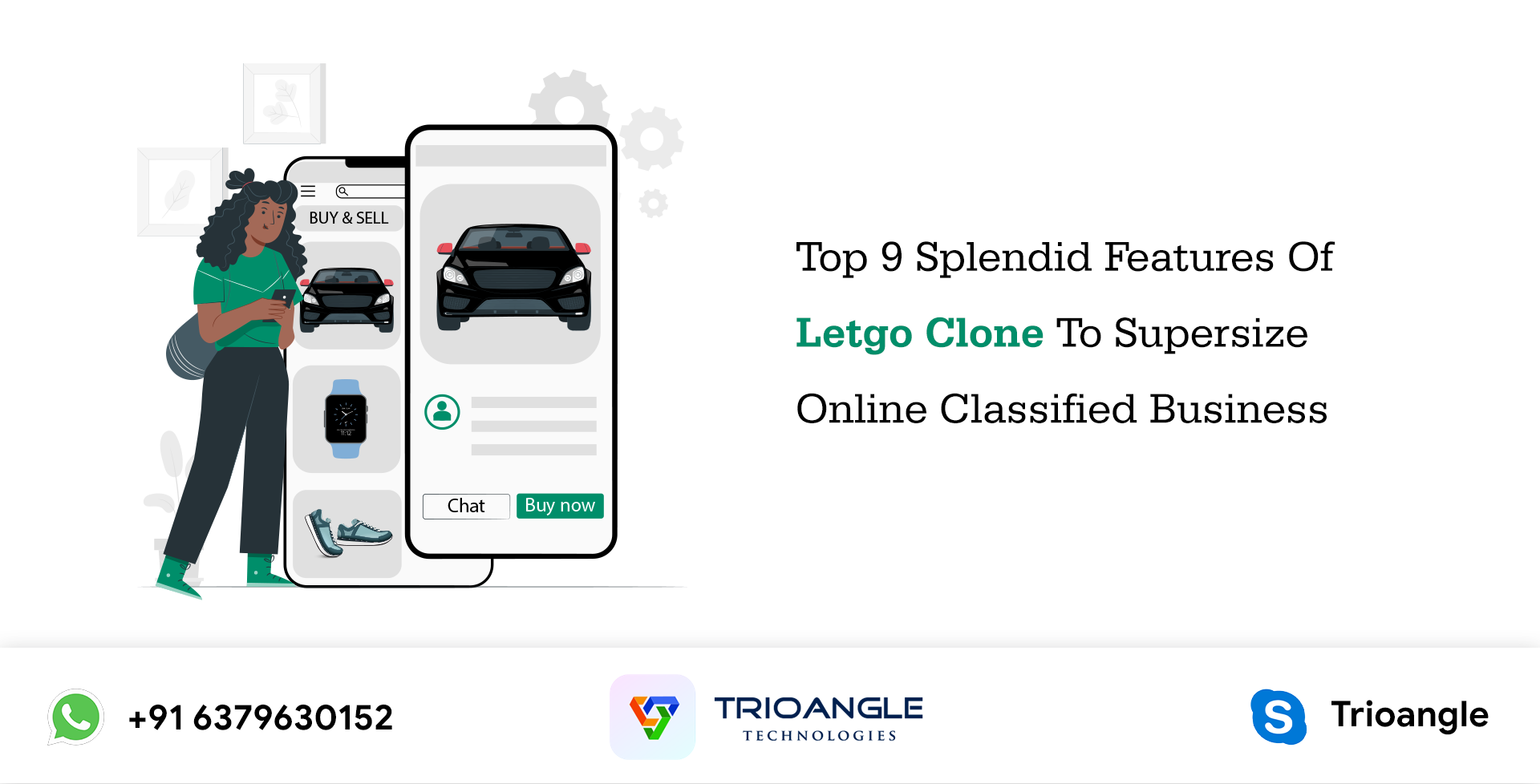 Letgo lets users sell anything by just taking a photo and posting it to a marketplace that has people thriving to buy used goodsLetgo Clone Script is an Online Classified Platform and the most successful, trending script for buying/selling. It can be used from a laptop or mobile phone. These platforms are some of the most popular e-commerce types worldwide. A letgo clone script is an online classified software to build a successful online marketplace that connects buyers and sellers for selling second-hand products smartly.
Using these letgo clone scripts can be very useful to the people who are interested in starting new online classified businesses with their own strategies of an existing business model. The Online Classified market is expected to grow by almost $11 trillion in 2025. Looking to this growth,
Trioangle includes the 9 splendid features to make your business into the front and they are:

Multiple signups and log in: These features help you to manage more than one account at the same time, and make it easier to compare them. Users can log in and switch between multiple accounts.
Advanced filter: In our letgo clone script users can filter the place or a different location and can set the newest first product, closest first, price: low to high, price: high to low, these features are used to pick a unique list of items.

Review and rating: Users can rate buyers and sellers on the letgo clone script to enhance their social trust. And also this feature allows the user to improve their profile and rating.

Google Adsense: Google Adsense is an advertising placement service by Google that lets publishers like letgo serve media advertisements. Google Adsense works in contrast with letgo website, and its contents are displayed on the web page. The number of Adsense units varies on different pages of the website. Admin can make money In Google Adsense.

Buy now option: The Buy Now is a clickable form of a button that's a process of making a purchase. A Buy Now button acts as a shortcut that takes straight to the online checkout.

With this feature, the ability to purchase a product using the credit or debit card with the click of a button, and Admin can gain more customers using this option.

Featured ads: It's a great feature for the seller, Featured Ad is a premium service that allows users to display Ads on top of the list to increase the advertisement visibility, get more responses and sell faster. Admin can get a profit from these features.

Report and block a user: For security purposes, letgo clone script includes these features, if a user noted that someone is a spammer can report the user and someone texting irrelevant or something the user can block.

Dynamic theme: Using this feature, Admin can change the theme color of an application, Admin can change the theme without technical team support. The main advantage of this feature is that it attracts more users.

Multiple languages and currency: Letgo clone script users can change the languages like English, French, and Arabic in both website & mobile apps. Passup has a different currency option if the user needs to change the currency.

Using this feature, you can expand the business across the world. Also, you can aggregate vendors in various languages and currencies to take the eCommerce business to the next level.
Wrapping up:
As an entrepreneur, letgo clone script provides the best choice to make or start a business for their profit. Choose the white-labeled and cost-effective Letgo clone platform with all the essential features listed here.

Is the right time to get your letgo clone script packed with advanced attractive features as discussed in this blog to grow in the feature. Wish to launch your own platform?
Let's Get In Touch:
WhatsApp: +91 6379630152
Mail Id: [email protected]