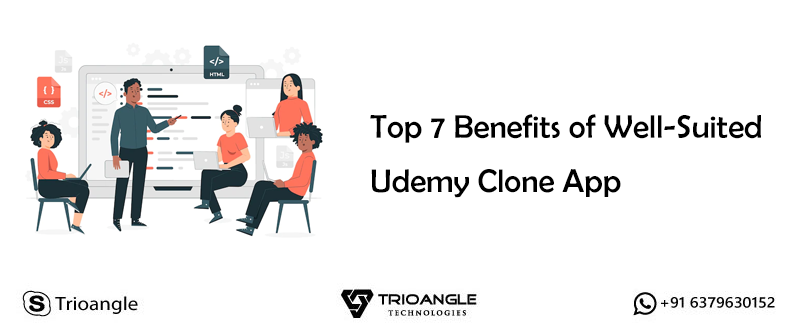 Education always plays an important role in developing a nation. So the system of education is not going to change in the future. The approach toward the student will be changed.
Can students able to learn from their own space?
It's an E-learning platform. Udemy is the one of best online learning software with more than 50 million students, and 150000 courses, the app has 42000 tutors and 3.5 million content in 50 languages. This is the main reason behind the demand for the Udemy clone script.
Udemy Clone is an exclusive App for developing your own user-friendly application like udemy. It has three-stack holders student, tutor, and admin.
It has helped many education management to handle their Pandemic situations.
These are the reason enough to explain the reason why you should like to customize and develop e-learning software.
Let me also share the major benefits and key features of the udemy clone script.
Why App like Udemy is a Great Idea :
Udemy Clone offers a free and paid courses to learn all courses with the providing of a certificate
The revenue is generated based on the fee received from every course. The range is from 3% to75% based on the source of traffic.
They worked in the simple process like searching for the course, Login to the course, learning their skill, and completing the course with a certificate.
7 Benefits of Udemy Clone App:
Price:
Students can get enroll the world-class standard courses at an affordable price. You can also provide them with various opportunities.
Easy Access:
This system provides easy search and access to courses for the students. It helps to learn anything from anywhere. They provide a lot of advanced courses like application development, photography, music, etc.
Self-based learning:
With this option, users can purchase the whole lecture and learn individually in their own space. This makes it easy for students and tutors to learn or educate new skills.
High-Revenue:
Titor can build and upload their course on their platform to educate students. So, each time the course is purchased the tutor will get a constant amount from students.
Flexible Schedules:
The instructor can work in their own space. Design and record at their own pace and then upload on your platform. flexibility in time helps to provide quality study content.
Increased Online Visibility:
The instructor can increase their online presence there course platform by making the session insightful and interactive, building a strong profile on the e-learning platform.
Multiple Revenue Systems:
Udemy Clone App will support multiple gateway options to generate the revenue stream. Some of the streams are
Commission – Admin will receive all the course amount and provide some fixed amount to tutors.
Subscription – Admin will provide a subscription or membership to the users
Advertising – advertising can help the admin to launch ads for their partnered companies. Make sure they are relevant to your sources.
5 Things are necessary to concentrate on making a good user experience:
Don't compare your ideas to another platform
Start and gather your own course idea for the students learning.
Make your application beneficial for others to learn something that they want.
Build an effective course to gain a lot of student positive experience.
Wrapping Up:
In the future online learning, the system is going to rule all over the world. The benefits of three stack holders are listed in this blog for you to make more clear about the in-depth process of the Udemy Clone App.
Now, this is your time to develop your own Udemy clone app to change the education interaction system to help the students for their bright future. 
Wish to launch your own platform? Let's get In touch:
WhatsApp: +91 6379630152
E-mail: [email protected]