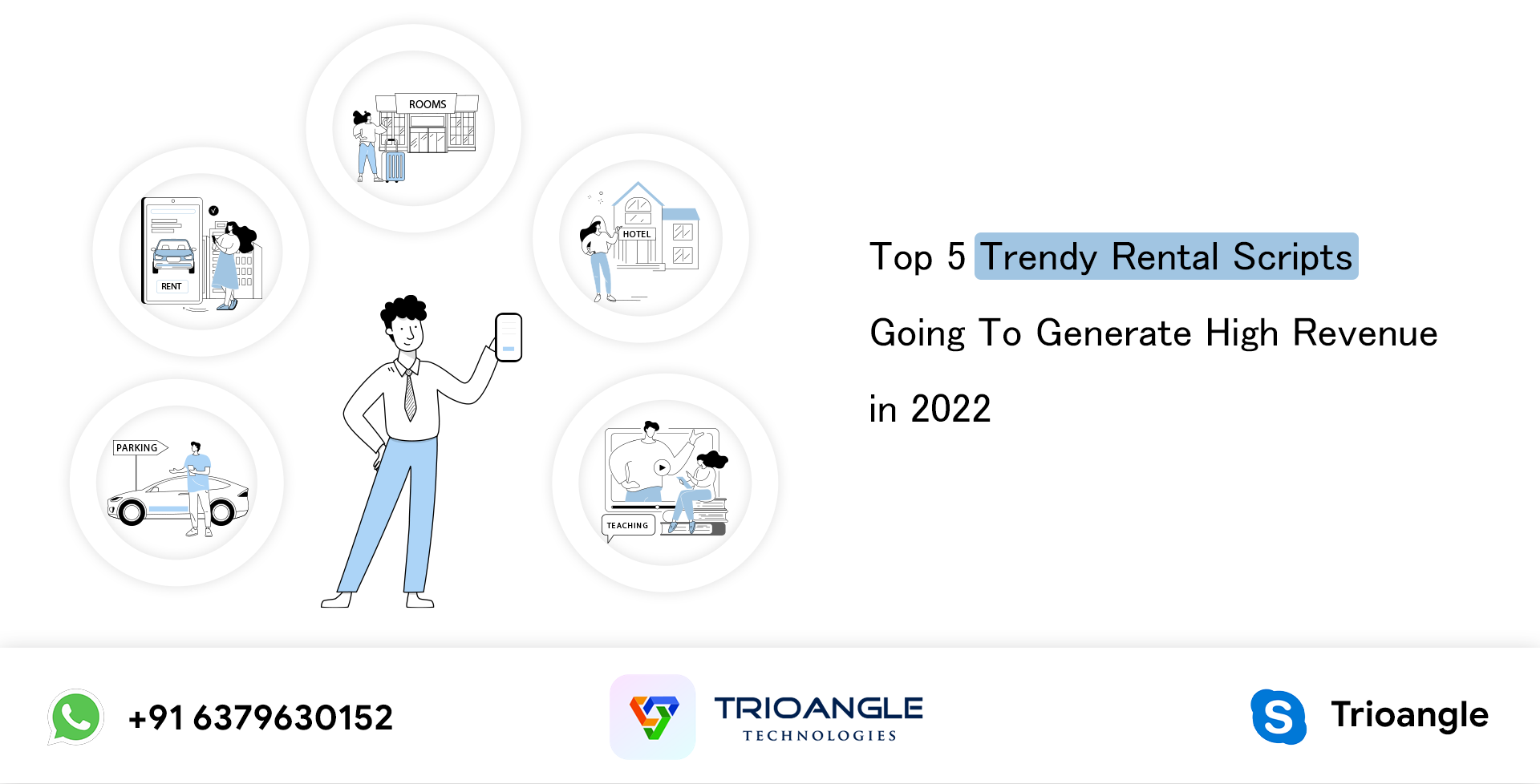 After the crisis, there is a huge demand for Online Rentals. This was a more rapid growth when compared with before the pandemic. To make use of this demand many entrepreneurs started their online Rentals by using Rental Script Concepts.
What Is Rental Script Concept?
If you want to be a Digital Entrepreneur in the online rental marketplace, it takes time, money, technical support, etc to launch a bug-free startup.
But a readymade Tripping.com Clone will help you to launch your startup within 5 days, which could be customized to the maximum extent.
A list of Top 5 Rental Scripts are,
So many UK and Europeans were seeking better online platforms to rent their properties.
The Rental industry enhanced its business smartly by using Airbnb Clone Script to rent their property which would open the doors for many rentees and renters to book and rent properties at any time and anywhere.
It is made very easy to allocate their rental list by showing many multiple amenities on their listing page.
This leads to maintaining good relations with customers while they rent and book their property or rentals. Payments could be done by Credit card, debit card, or online transactions via PayPal, Stripe, etc.
For many advanced and upgraded functionalities, just pick the right Airbnb Clone Script to get the sizzling Hotel or room or home or vacation rental business.
Hopeful Hotel Booking Script
In this digital tech World, many people would like to work smart and instant right away with the help of smartphones and the internet.
Food, eating, travel, and study are attached to the smart solution. It's all because of the hectic lifestyle. We are in the mode of doing the work in a smart way and with simple steps.
Vacation, Travels, and Accommodation brought in from anywhere by Online Booking Business. This is one of the most profitable marketplaces that triggered new entrepreneurs to earn more in a short span by launching their startup by Tripping.com clone.
Customizable Car Rental Script
According to the survey, the revenue of the car rental business across the world is US$59,518M. By 2022, the income will be $124.56 billion dollars.
The number of users in need of Car Rental Business is 197M at present and is also expected to be around 291.5M by 2023.
Due to this survey, it is proved that the car rental business is also one of the most profitable businesses on an online platform. This created a huge demand for Car Rental Script.
Advanced Online Teaching Script
Online Education platforms provide knowledge transfer opportunities for teachers and students from home. This created a huge hype during this pandemic.
And now during this post-pandemic, there is a huge demand for these services among all. This was utilized by many entrepreneurs and started to earn more money in a short period with the help of Online teaching Script.
Students could be provided with numerous courses on one platform. The courses include a mixture of educational and non-educational services. Non-education categories will include dance, art, cooking, language learning, etc.
Perfect Parking Booking Script
Everyone wishes to travel and experience different places. But the major drawback is traffic, and lack of proper parking spaces.
Parking Booking Script is the online solution that allows pre-booking the parking space. The advent of parking booking scripts is to minimize the work to connect Renters and Rentees.
It is easy for them to pre-book and rent the vehicle parking space online. Parking Space renters can list their space and generate huge revenue through the Parking Booking Script.
It is the revenue-worth business for a new budding entrepreneur and provides the standalone features which make you win in this competitive world and get a high ROI.
Benefits Of Rental Scripts
Ease Of Booking
The renters would feel at ease in booking their trips. The passengers could choose their desired properties and the estimated price.
This could help the users to choose what is suitable for them. It enhances the booking experience and leads to more bookings.
Creates Brand Identity
This is the era of millennials who use the internet, and social media excessively. Therefore, creating an online marketplace for your brand specifically can enhance brand visibility.
In turn, the app can extend your brand identity – just like one of the best Rental Booking apps in the market.
Access To User Data
When launching an app to the users (to both the renters and the rentees). It should have access to their data. Which helps to analyze the performance of the platform and the earnings report.
Now that could be more beneficial than running a traditional offline business, With analysis, you can come up with strategies to improve the platform.
Technological Business Advancement
Introducing advanced technology to your business will help visualize the growth road map for a period of time. As the admin can also track the bookings in real-time. This gives you an edge in controlling the marketplace.
Conclusion
Generating high revenue is the ultimate dream for many startup owners. The rental industry is a familiar platform to launch and get high profits.
The top trendy rental scripts listed in this blog add more value to your dream. While launching, a brief review of these scripts and select the opt one. Have a good start.