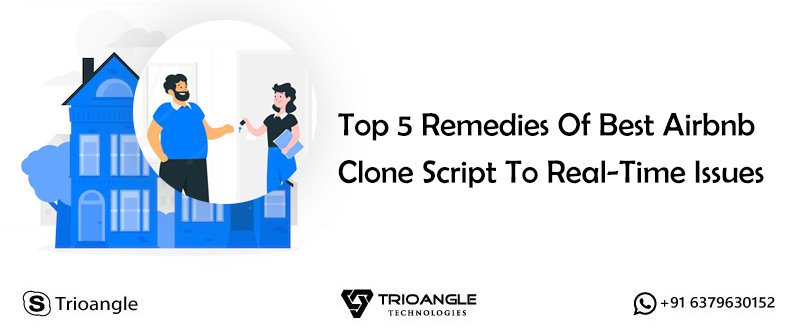 Entrepreneurs and small business owners are still facing numerous challenges to running their Online Rental Businesses. A Best Airbnb Clone Script will not only avoid the challenges but also provides profitable metrics.
This Blog Depicts
As per statistics, the growth rate of the Online Rental Business has been expected to increase 3.4% after the pandemic. Understanding practical pitfalls will help you to avoid major hassles. The factors for the challenges could depend on various reasons such as improper planning, not balancing the supply and demand, technical complexity, security issues, scaling issues, and more. In this blog, I'm going to reveal some practical solutions to overcome the typical challenges faced by Online Rental Business owners.
Challenges faced by Online Rental Business
Major challenges faced by Online Rental Business Owners,
Dispute management
Under optimized customer experience
Availability management
Difficult to manage multiple bookings
Inconvenient payment method
Challenge 1: Dispute Management
It plays a major role in all businesses, especially in Online Rental Business. If rental businesses won't have the option to solve the disputes, then there is a chance to face a chicken-egg problem in progressing business towards success.
Remedy 1: Tip to overcome Disputes
Dispute Button: By enabling a Dispute option, will lead to doing negotiation, compensation, refunds, etc. This will help to resolve the issues immediately and help to avoid the same in the future.
Airbnb clone App is integrated with a Dispute Button which acts as a bridge to connect both guest and host in the presence of admin. This option will be enabled for 14 days once the guest has checked out. This will help to rectify the dispute that improves the quality of service.
Challenge 2: Bad User Experience
The rental business owners should get updated about the metrics that provide a good user experience. It will rapidly increase the growth and value of the Online Rental Business. Bad user experiences will lead to a reduction in profits as well as the customer base.
Let me prove to you some statistics,
According to the report,
More than $62 billion is lost each year due to bad user experience.
Nearly 91% of the users are unhappy and exiting from the product without any complaints.
Remedy 2: To overcome Bad User Experience
Choosing the Best Airbnb Clone App will Meet your user's expectations to provide a better Online Rental Booking experience. Airbnb clone Websites will help you to increase your customer base in all geographical areas. It also helps to know the customer's expectation of your service up to the date.
Challenge 3: Availability Difficulties
Managing the availability in the traditional business can be the challenging part of the Rental Business. It is very difficult to allocate, maintain check-ins, update checkouts which will affect the bookings.
Remedy 3: To Manage Availability Difficulties
To solve the availability management, Choosing the Right Airbnb Clone App will be the perfect solution. There will be a functionality named I calendar sync. It helps to manage your current, and future booking easily.
Airbnb Clone Website avoids booking the same property from different platforms at the same time. It is also capable of instant updates of all bookings. That helps you to prevent availability-related problems.
Challenge 4: Difficulties In Multiple Logins
Providing multiple logins can be big trouble for all Online Property Rental businesses. That will be like closing the doors to guests.
When a customer login to make bookings, it should be easy to get into the websites easily without asking for too many details. The user may get frustrated and exit without getting to the website which is the main reason for the high bounce rate.
Remedy 4: To Overcome Poor Multiple Logins
A perfect Airbnb Clone Website (The rental script) will be integrated with multiple login options from the same basic details. The details etched in the social media are enough to log in. These features can help you to manage all users to log in easily. This will provide a convenient way to increase bookings.
Challenge 5: Inconvenient Payment Method
As per research, around $128 Billion forecasted value of in-store online payments in the US by 2021. If you are the Online Property Rental Business owner and still using an inconvenient payment as cash on delivery only. Then, there will be a high chance that your conversion rate can be decreased, and the new customers' rate can also be very low.
Remedy 5: To overcome Inconvenient payment method
Well-developed Property Rental Script helps you to integrate a multi-payment option in your Online Rental Business. Not only does it provides multiple payment options like a credit card, debit card, e-wallet but also Paypal, Braintree, stripe, etc. This will help rental business owners to increase the sales rate with efficient cash flow, business innovation, global reach and helps to deal with different currencies across the world.
In Other Words
Come to an end! This is not an end. Just a beginning. The launch of the online rental business faced various real-time issues. Getting remedies to real-time issues is an essential thing. A quick review of this blog makes you aware of the top 5 remedies. Make use of this awareness in developing the Airbnb clone app and launch your rental services in a risk-free mode. Begin your startup journey.
To Know More Visit: https://www.trioangle.com/airbnb-clone/
Email: [email protected]
WhatsApp: +916379630152