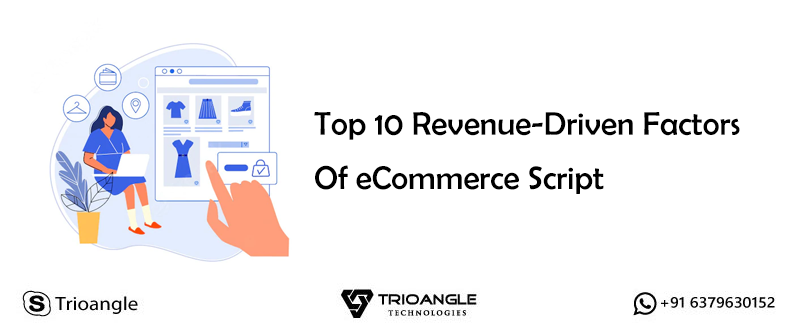 Ecommerce is the currently booming business that has revolutionized everybody's behaviors.
It made people buy products from the place they are at using a digital medium.
People started moving towards this type of shopping that has made the eCommerce scripts the superstar of the hour.
This has resulted in so many economical changes and they contribute a major part to the global economy.
In this blog, let's discuss the top 10 revenue Driven factors of eCommerce scripts.
10 Revenue Driven Factors:
1. Product Page Optimization:
The product page is the main page that will make the customer decide whether to buy the product based on the details in the page.
So make it as attractive and quality as possible. Use very high-quality images of products and provide the product with quality and reliable descriptions.
2. Shipping Setup:
As an eCommerce marketplace script owner, you have to decide on how and where are the locations you have to set up your business and shipping depending on the total value of your project.
It is a very cautious process where you need to find the right delivery partner who will make the delivery in less time and at a low cost. Purely establish this based on your value of the business and also the locations.
3. Payment Gateways:
Payments are the main money-driven factor in an eCommerce script because it is directly going to give you revenue.
So, select suitable payment modes and add them to your business. Make them a perfect system so that there won't be any issues that can stop the customer from hesitating to pay.
A quality payment system gains more trust for the site and business.
4. Analytics:
Use the data from your business and do analytics to know the performance of your company.
This will show you the exact performance level of your business at the granular level. This is going to play a major role in taking decisions at the right time to adapt to the current global situation.
5. Lack of creating trust among customers:
There are many factors that can lead to a lack of creating trust but the main reason is quality.
When the customer finds or experiences any lag in the quality of the service, they tend to lose trust in the business or the product also. Maintain high-quality goods listing, site optimization with high-quality content, and most of all stick to your word if you promise to.
6. High Responsive Design:
Make your site and application very responsive in such a way that it can be accessed from any device and location at any time.
This also requires quality details and content and a very attractive design to appeal to the customer. Make it available on mobile so that you can get more traffic from those users.
7. Easy Navigation:
Keep it simple as possible when it comes to navigation. The easier it is to navigate through your site or app will bring in new customers.
This is the main factor that will generate more revenue for your eCommerce script. Because not all your customers will have the knowledge of finding and using a complex navigation system.
8. Merchant commissions:
As an eCommerce admin, you have to mainly focus on this factor because this is the most important revenue-driving factor.
Through a proper system, you can easily manage these commission fees to easily manage the required payments from the merchants for using your platform.
9. Set the Right Prices:
This factor directly impacts your sales because even though you have a good running business never set up very high prices which are going to reduce your sales.
This is because people tend to compare prices with your competitors which will eventually reduce the sales if yours is high at times. Do market research and set a reasonable price based on your product and market.
10. Focus on customer service and support:
Customer service and support also play a major role in generating revenue.
With the proper customer support and service, customers may tend to use our business, which eventually leads to your drop in sales and revenue.
These are the top 10 Revenue-Driven factors of eCommerce scripts.
This is where we trioangle technologies thrive at developing and supporting you to run your own business with the best multi-vendor eCommerce scripts.
We consider the above-mentioned factors while developing the platform with easy features to do the all-mentioned operations to make you earn millions.
You can contact us for a detailed version of this blog and try our demo at:
Whatsapp: +91 6379630152
Skype: trioangle
Mail: [email protected]
Website: https://www.trioangle.com/ecommerce-app-development/