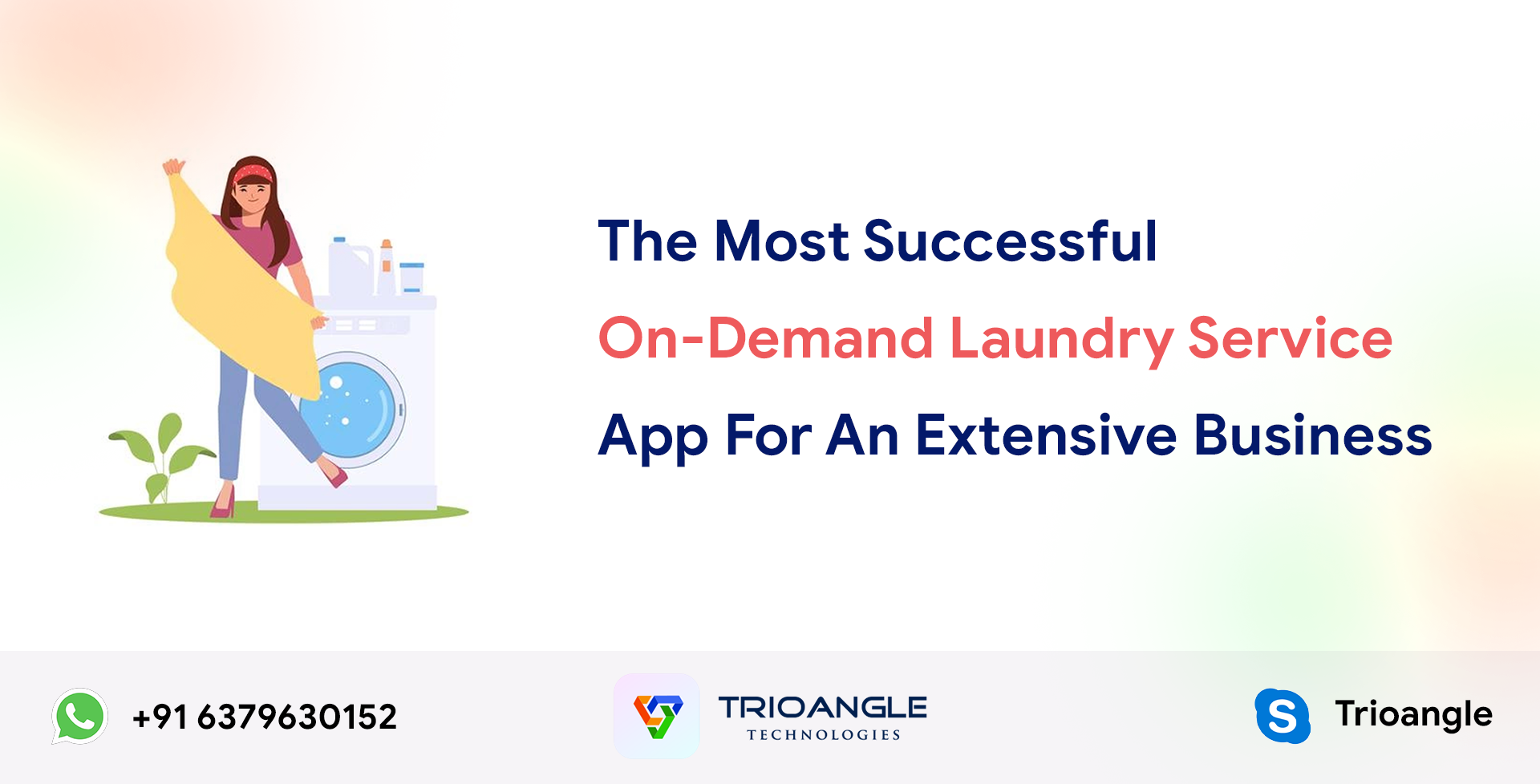 Elaborating on the subject of on-demand services, they are completely everywhere, shaping each aspect of our everyday life. Moreover, surprisingly enough, the field of tasks. Here the laundry service business is now turning into a rapidly growing market, By developing the On-Demand Laundry App which offers an entire chain of washing and dry cleaning services to choose your needed type of cleaning services from easily booking the appointment, doorstep clothes pickup and doorstep laundry delivery. Such an effective and creative app will protect the entrepreneurs from dealing with delayed and unsatisfactory services for their users.
Why Should You Entrepreneurs Need To Invest In On-Demand Laundry App Development?
The on-demand laundry service app has attained enormous profit by taking away the user requirements which need to complete gruelling tasks such as laundry.
Based on the survey, it is implied that the majority of today's population do not need to spend their valuable time in everyday household tasks such as washing their clothes because they have specific important things to attend to. Also, they regard it as boring and repetitive work that takes an extensive amount of time. Here the on-demand laundry app business success is easily clarified without any doubts.
The Worldwide Market Size Of Laundry Service Business
The size of the dry cleaning and laundry service global economy reached the year 2018 with an approximate value of USD $118.9 billion and since 2014 its growth is 8.7 percent (CAGR). By the year 2022, the value of USD $180.0billion will be the laundry service approximate growth at a 10.9 percent CAGR.
In the United States Of America, The market share of the laundry and dry cleaning service business by the year-end of 2025 will rise to USD $13.8 billion report based on statista.com. By the year 2024 expected revenue will hit USD $7,660 million. The global market for online laundry services on demand is suspected to reach USD $96 billion.
Types Of App For Laundry Service Business
Aggregator Laundry App:
When you are building an aggregator app, the laundry service providers in your area necessitate being partnered with. They pay you to display their name on your app and such. The nearby laundry service provider is qualified for washing, delivering, and collecting clothes services. Your app is actually the aggregator, and your chief source of revenue is the fee of the laundry task doer to the businesses you collect. The laundry market profits from this form in such a way that all the users who use your app order to appreciate their service.
Laundry Marketplace App:
The laundry marketplace app model is a bit similar to an aggregator laundry app, the pick-up and delivery progress are managed in this module. Your on-demand laundry service app will place all service providers of nearby laundry services. Once a user books the service, you will receive their full details and arrange the logistics to proceed with the correct services among the users and the laundry service provider.
To Conclude,
If you are new to the on-demand industry, it's the smart move to develop your own Uber For Laundry App for your laundry service business startup. Here We Trioangle Technologies Experts are here to help you in producing a unique and futuristic on-demand app for your requirements. Feel free to contact us right now.
Visit Our Site: https://www.trioangle.com/laundry-service-delivery-script/
Whatsapp: +91 6379630152 or

Email: [email protected]