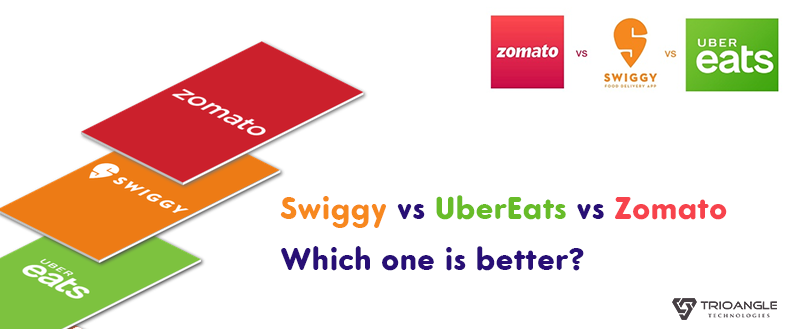 Online food delivery has changed how urban people eat and making its mark all over the world. It works with a simple workflow that food is delivered to your doorstep in a single click in your app. In recent years, most of the startups and entrepreneurs moving towards the food industry. But most of the startups failed due to lack of knowledge, field experience, and funding. Now, everyone realized that the food industry is hard and lots of learning is required.
When people look for food, they use top platforms like Swiggy, Zomato, and Ubereats to order food. It is estimated that more than 80 billion unorganized business in the food industry. The reason is that the problems and difficulties behind food delivery. There is lots of need and demand for food delivery which in turn creates lots of competition. Many apps like Ubereats, Zomato and Swiggy give away huge offers which in turn creates lots of concerns in most of the restaurant. Here are some comparison between top food delivery platforms.
Swiggy
Swiggy is one of the biggest players in food delivery and still maintain its position in the market. The main reason behind Swiggy's success is its reach. Swiggy is the one which covers most of the part in a city. It helps them to reach a wide variety of restaurant and customers. Another major factor is the number of orders delivered by Swiggy. It is no surprise that Swiggy still survived even though there is heavy competition
Zomato
Zomato is a food delivery service provider founded in 2008. It is one of the longest survivors in the food delivery industry and available in 24 countries across the world. The most important feature of Zomato is that it produces a one-stop solution for everything. You can use it table booking, discovering places and for even restaurant lookup. Zomato has built its brand throughout these years and, they are one of the people choices for food delivery.
Ubereats
Ubereats is a food delivery platform launched in 2014. Ubereats was a latecomer in the food delivery industry but they aggressively pushing their limits around the world.  The major advantage of Ubereats that it has a large customer base in Uber. Uber and Ubereats are different but, there are lots of sharing between two of them. So it is not hard for Ubereats to acquire a new customer to its platform. The other main advantage of Ubereats is its unique offers and simple UI. With all has been said Ubereats is still very much in competition and moving to the next level.
Conclusion
The food industry is where most entrepreneurs and startups want to spend. There is still a lot of innovation and creativity left and, there is a lot to improve. If you are interested in building a food delivery script or Ubereats Clone, then you can check out our website.
I hope that I have fed you enough in this article.
Thank a lot.