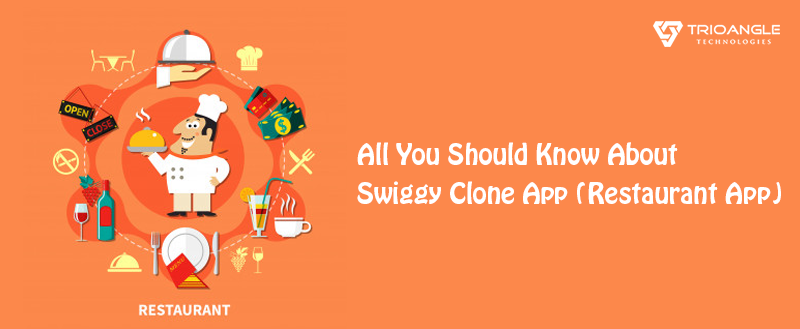 The growth of food delivery is enormous and it is expected to increase in the coming years. This growth is mainly backed by millennials who complete 70% of online orders.
It is clear that the food delivery business is at its peak. Thus, It is the right time for any entrepreneur or small company to launch a food delivery business. That is where Swiggy Clone Script can help you.
Swiggy plays a vital role in food delivery service, particularly in India. They have a partnership with more than 50000 restaurants. They provide with best features and user experience that is why it is important to build an app like Swiggy. Here we are going to discuss the features of Swiggy clone restaurant app and how to get listed in it.
Purpose Of Restaurant App:
The main purpose of Swiggy clone restaurant app is to connect restaurants with the customers. They simplify the process of online orders. The restaurant owner must add himself as a partner with Swiggy Clone to get listed.
Process Of Getting Listed In Swiggy Clone:
Submit The Details:
The restaurant must sign up either through the Postmates clone app or website. The restaurant must provide details like restaurant location, address, cuisines and other required information to register as a partner.
Sign The Service Agreement:
The restaurant must read the terms and conditions which has terms about commission fee, advertising fee and so on. The restaurant must sign terms and condition to further proceed with registration.
Product Listing:
The restaurant has to list their products and category which they can modify in the future. They need to upload photos with apt resolution and background.
Live:
If you complete the product listing then your profile moved to live. Now can start getting orders.
Features of Swiggy Clone Restaurant App:
Customizable Appearance:
The Swiggy clone app must have a customizable layout which helps you to change its theme and appearance any time you want. This helps you manage the appearance of the app.
Live Food Menu:
The food menu is the one which attracts the users and increases the number of orders. The live food menu helps you to manage and change the menu any time you want. With more options like popular, hot dishes also help customers.
POS Integration:
The POS integration helps to manage the transactions with ease. The POS keeps track of mode of payment, Customer details, Order details and transaction amount.
Loyalty Programs:
The loyalty program, coupons, promos help with an increase in sales and revenue. They also help With user engagement and increase the loyalty of the customers.
Business Metrics:
The business metrics help the restaurant to know about how their restaurant performs and what they need to improve. It provides details like order acceptance, number of order, rating & review and so on.
Exposure:
The main goal of any restaurant app is to provide quality user experience and to reach more customers. If the app is accessible in Android, iOS and web app, then it can reach as many customers it can.
These features can help any food delivery system to make its way towards success. If you want to know further about food ordering system then, check these clone scripts Zomato Clone App, UberEats Like Clone and Postmates Clone.
I hope this article is useful to you.
Bye.