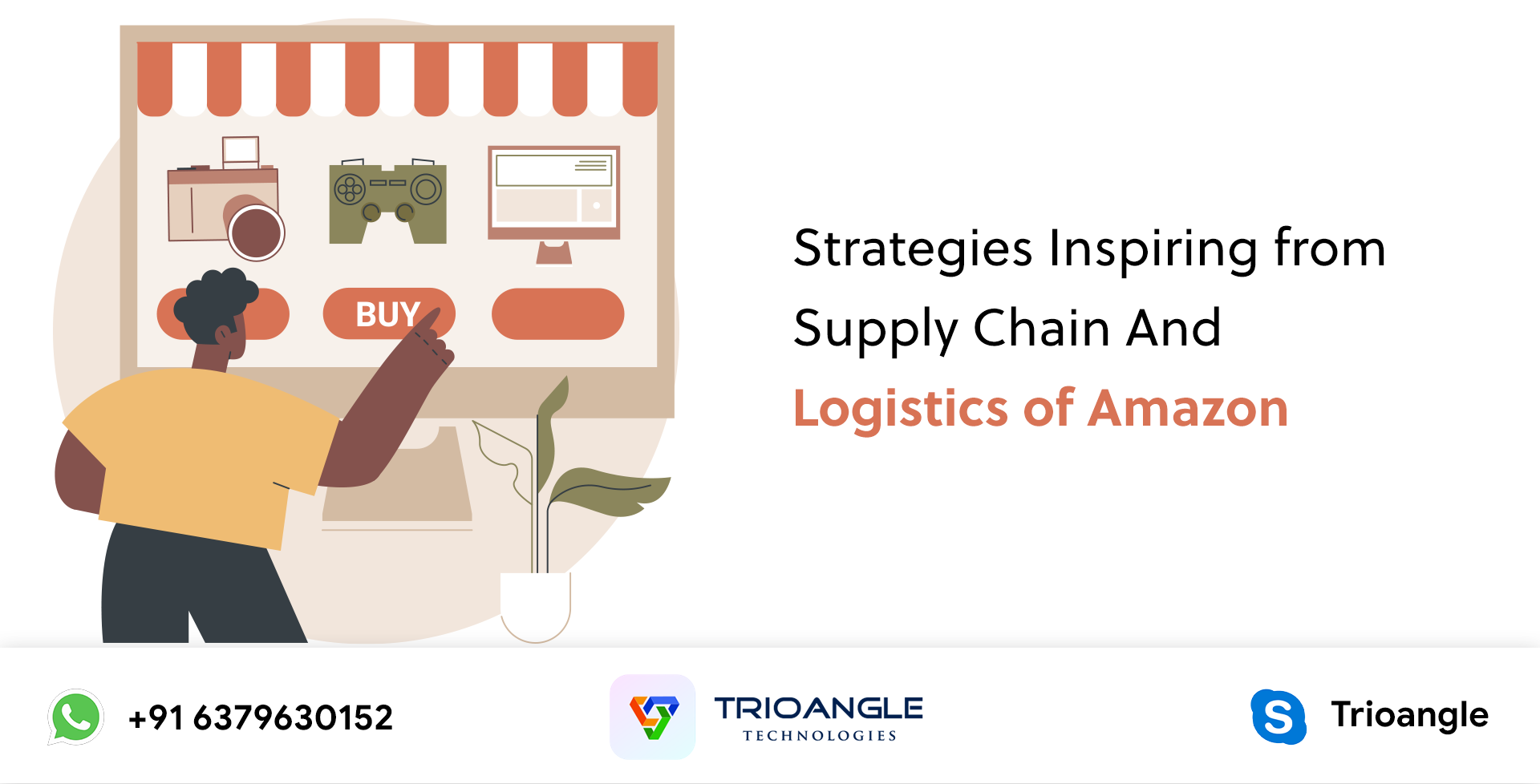 Supply chain and logistics are some of the most important building blocks of an eCommerce business like Amazon. This is because they are the means through which a product completes a whole cycle and reaches the customer at the end. 
Generally, a supply chain is a collection of networks like organizations, manufacturers, suppliers, and other resources until the product reaches the end customer. This also involves creation and distribution.
With a robust and flexible nature, you can easily grow your business to the trillion-dollar stage. So, let's explore Amazon's Supply Chain and Logistics in-depth. Knowing the views you can use for your eCommerce business to take your business to the global level on the online platform.
Amazon has the most robust supply chain in the world and innovates and implements new ideas, technology, and strategies to have consistent growth and revenue generation.
They achieve and bag a  profit of 469.822 billion USD through this versatile and robust supply chain with an operating income of 24.87 billion USD which made them a trillion-dollar company on the global stage.
Amazon's Supply Chain:
Amazon's supply chain is named Amazon Fulfillment Centers which is located as the main hub for the country and has a number of smaller hubs in areas of operation to help distribute actress the area.
Amazon operates several types of distribution centers like fulfillment centers, cross-dock centers, delivery stations, sortation centers, prime air hubs, and prime now hubs. They have this network of hubs spread across the area to easily reach all customers. Every hub has its own operation like sorting, packing, quality assurance, and delivery. 
They mainly have the following tasks that they perform to assure maximum value for their customer. 
Unpacking and inspection of goods that are incoming

Moving goods to inventory and collecting location data

Process individual shipments using the database

Packing and sorting items

Shipping
They mainly achieve these processes and manage data on a global database through the help of a central computer connected to multiple handheld terminal computers to account for that much data. These are the main operations of the above-mentioned hubs and centers. 
They have also automated a part of the process with robotics that completely handles the inventory and moving process from the data received from the main computer and follows unique programmed tracks to reach the specified points to proceed the process further to shipment and delivery. 
They have adopted an AI that processes all this data to generate new ideas for the business.
The core of the whole supply chain is the website that attracts around 2.9 billion visits per day on a global level. They have invested a lot into this website to handle the large pool of visitors. 
So, let's get into the logistics part where we'll discuss the different experiences and options they provide for logistics through which they can reach so many customers and handle so many deliveries on time as promised to complete the FBA process.
Amazon Logistics:
The main feature that provides the virtuous circle with the help of prime offers a whole package of features and benefits bundled together that increases the customer's value and the experience they encounter in the journey. This is achieved through a strategy that has three steps namely;
Selection

Price 

Convenience
This cycle helps them make people more attracted to their business because of the cost structure that offers different products at a lower cost than the traditional market. 
Their main selling point is the categories and spectrum of products that they offer for the most affordable prices and also use deals and offers on particular days to make people make a purchase from their business.
They offer around 5.6 million products across different categories to help people and small sellers to reach people on a global platform to help people choose their expected product for a better price offering than the traditional market.
FBA By Amazon:
Many sellers use this option where they can just send the product to the center where all processes will be done by the center to complete the delivery and reach the customer on time. This also covers the returns of products and helps them throughout the entire process with maximum quality assured with the product. 
FBA By Merchant:
This process is done by the merchant who handles a warehouse, logistics, and distribution systems and takes care of all activities of the center, and reaches the customer on time. 
This is tricked and data is managed with the help of a supply chain management software provided by amazon to their merchant who has their own operations and distribution. 
There are two major functions of logistics namely;
Warehousing:
This is done through different storage units and warehousing spaces in the main hub areas to assure on-time delivery. 
Random Storage:
Small products with low demand are stored in these storage units based on the sales and preferences of the customer data collected over the period of time.
Reserve Storage:
Irregular-shaped and big products with low demand are stored in these units based on customer data.
Pallet Prime Storage:
High-demand products are stored in cartons in these storage units because of their sale and movement of the product.
Case Flow Prime Storage:
Products with high demand from broken cartons that are purchased in single quantities are stored in this storage.
Library Prime Storage:
This storage is specifically stored with books and magazines to move them in specified numbers based on the demand.
With these storage and different inventory models, they offer different delivery options based on different pricing strategies and some for free based on the type of service opted for by the customer from the service.
Logistics And Delivery Options:
The types of logistics and delivery options are;
They own a fleet of aircraft to move products across the globe and reach the customer on the time assured for the delivery of the product.
You can pick up your product at a pickup point within a one-mile radius of your location and collect your product.
The upcoming delivery project through which amazon is planning to use drones to deliver products to customers.
Traditional stores where you can buy any product and the store is completely automated to help people buy products with less interaction and reduce errors.
So, these strategies and ideas used by Amazon can be incorporated into your eCommerce business based on the sales and the investment you have made in your business.
Things Inspired For Your eCommerce Business From Amazon:
Create a unique supply chain and adopt affordable technology into your supply chain.

Network properly and find suitable logistics and delivery partners and establish a good relationship with them to ensure on-time delivery.

Provide offers and services in bundles to attract new customers and to make visitors purchase new products from your platform.

Maintain your inventory and integrate technology to make sure you have an account of all the data and manage it properly to run a successful eCommerce business.

Make sure you provide high-quality products as assured by your business to provide maximum value to your customers.

Provide cheaper buying options to boost sales.
These are the inspirations you can take from Amazon to propel your eCommerce business and generate more revenue and sustain in the competitive market.