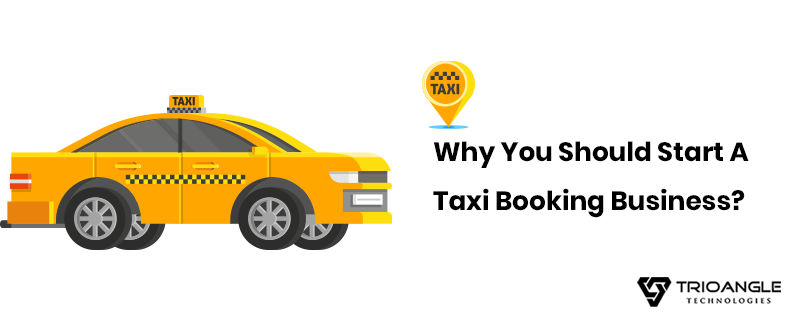 Technology keeps on changing everything around us and moving us towards digital world. People tend to take action on their smartphones whenever they are in need. This behavior paves the way to a lot of companies in the industry to completely outshine the market.
Taxi business is one of the most competitive & toughest business in the market. It is estimated that Uber alone earned about 3.1 billion in the past quarter. Thus, it indicates demand & revenue behind the taxi booking business.
Business Model Behind Taxi/Cab Hailing Service:
Taxi-hailing business works with a simple model of demand to supply. It has three components which are
The rider who needs a cab, book the taxi through his mobile. After booking, the driver is notified of the trip and he will accept it. Finally, the user pays for the trip when it is completed and the driver pays to admin for using their platform.
Revenue Model Of Taxi Venture:
Commission Fee:
Taxi booking apps like Uber Charge around 20-30% of trip amount for every ride booked in their platform. This commission may vary based on the location, demand and various factors around it.
Cancellation Fee:
The cancellation fee is the fee charged by taxi booking companies for canceling the trip. The cancellation fee is calculated based on how much distance a driver traveled to reach the customer. Many companies also impose a penalty for continuous cancelation or even ban from the portal.
Promotional Fee:
You can earn a promotional fee by showing ads on your platform. You can show ads on your web apps as well as on mobile apps.
Surcharge:
The surcharge is an additional amount charged to the customers during peak hours or on rainy days. It is purely based on the demand for the service in the location. It is said that an average of 5% of the trip amount is charged to the customer as the surcharge.
Why You Should Start A Taxi Booking Business?
In my opinion, starting a cab requires a proper vehicle with documents, a driver with a friendly attitude and technology to back him up.
You can start a taxi booking business on both a small or large scale.
There is no need to invest a lot as you can start your own taxi booking business with a single cab of your own.
You can even drive your first cab by yourself and earn a lot.
It is calculated more than 11.5 billion USD is the gross revenue of the taxi industry around the world.
Even though there is competition in the market, there are a lot of potential customers for the newcomers.
You don't need to worry about managing your cabs as there are many software like fleet management systems to help you manage your cabs.
It is easy to hire drivers based on shift and also run your vehicle in multiple shifts.
There are many clone scripts like Uber Clone to help you start a successful taxi booking business.
I hope that this article you to start a successful cab business own.
Thanks