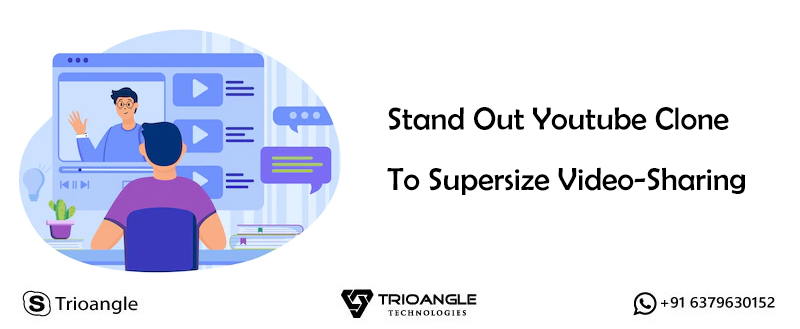 Social media apps will play a vital role in the future. While the social media market provides an opportunity for entrepreneurs to make their dream into real-time success with the help of clone scripts in a fast-growing market.
Youtube is one such application where millions of people are engaged and spend their time with a wide range of activities.
It is a free video-sharing website that makes users watch online videos easily. Now, it is the most popular website worldwide with 6 billion hours of video uploads every month.
This opens up the entrepreneurs to launch their own startups like Youtube in the video-sharing industry. This is a state where the Youtube clone app has a familiar one.
This blog reveals the facts like what is Youtube clone, things that make our Youtube clone stand out, and the features that supersize the video-sharing industry in detail.
What is Youtube Clone Script?
The Youtube clone script has a pre-built function of the original application. It saves the effort of initial development. Also, it reduces the high risk of launching the application.
The cost of developing the Youtube clone application is comparatively less compared to scratch-based development. This makes your investment smart.
Things We Consider for Youtube Clone App Development:
Amount of Content:
Million people are using this video-sharing platform for making the content of their own videos. The platform has become popular and widely accepted.
So, the video-sharing platform from us has the option of large content mixing categories with Sports, News, and Live Shows.
Multi-Language Content:
This is the essential feature we consider to connect the people with this application worldwide. Achieving a higher demographic and enlarging your business beyond the globe are possible with this feature.
Social Media Sharing:
This option helps users to share their content on social media with their groups or specific individuals. It will create brand awareness by leveraging its existing audience.
It provides the user with the freedom of expression and it helps you to achieve the marketing tool. It also increases the reach of visitors.
Storage Settings:
This Youtube Clone App from us is widely used on users' mobile devices and will depend on network accessibility. It very an essential option to make the users gain new experiences while in the data storing function.
It allows the user to download the videos or films they want to watch later. Even when they don't have the proper network.
Revenue System:
Our Youtube clone provides a wide range of options to engage users with content. This helps you with a charge of the money that can lead you to provide and get money through the app.
Superior Features of Our Youtube clone app:
Profile Management:
With this feature, users can able to manage or set their profile based on their interests. Manage their profile like name, age, gender, and other important details.
Payment option:
This Youtube Clone App provides the payment with a secured option gateway to make the user transaction experience more smooth.
Advanced Search option:
This feature helps the user to search for their favorite videos based on their interest. And, it will give the best search results based on the keyword search.
Comments and reaction:
This option helps the user to like or comment on the video about the content and it will give feedback on the particular video. They also give the rating on their favorite video up to five stars.
Multiple Language Support:
This feature helps the user to handle their application with their convenient language for their understanding. Using this feature, connecting people all over the world is easy.
Wrapping Up:
In this blog, you will know the basic features and a key process of developing a Youtube clone App. It is profitable for you to invest in this application to generate revenue during this time.
It makes your application so popular in the social media market.
Are you ready to launch a Youtube Clone App?
Let's Get In Touch:
WhatsApp: +91 6379630152
E-mail: [email protected]