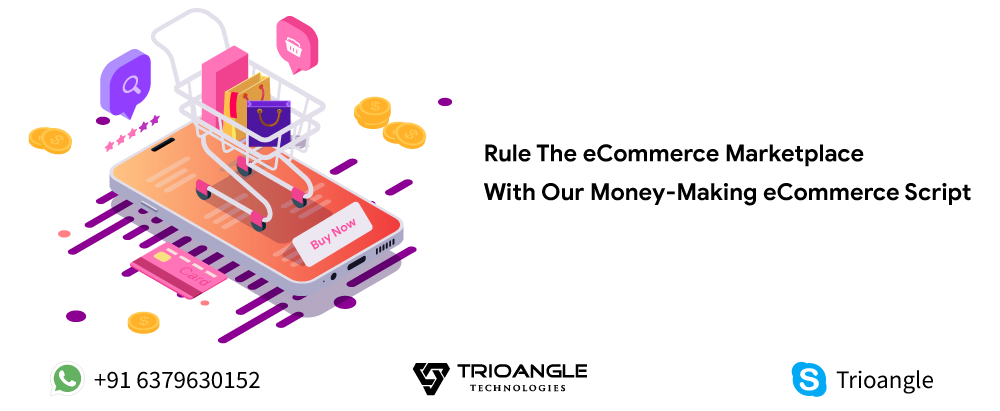 Hey, entrepreneur! Are you looking for the best business idea for your new pursuit!?
Well, there are many opportunities spread across the world, from which you could choose an eCommerce business. You probably would have come across the eCommerce business marketplace so far, like Amazon, Alibaba, etc. They have been acting as a platform for millions of people across the world by letting them buy products in just a few taps.
In an eCommerce marketplace that is built on trust and reliability, the application is utilized for purchasing and selling things in just a few steps. The user-friendly interface and the convenience of the app are the critical aspects of the success.
The app can be used from mobile phones, thereby helping users gain a better digital experience. By launching the app, we are sure that you could win over many hearts of the people to engage in your shopping marketplace in selling and buying the products.
Multi-Vendor eCommerce Script
Create your profitable multi-vendor eCommerce script by integrating multiple sellers on the platform. Our lucrative eCommerce Script connects both the buyers and seller's on the platform seamlessly. The Admin can manage all the operations in real-time in the admin dashboard. The user-friendly merchant panel for sellers makes the hassle-free process in adding the products to the platform.
How Does Our eCommerce Script Work?
It acts as a platform for both buyers and sellers to buy & sell products without any hassle.
Buyers can search products through the list of several product categories, and they can save the ones that they like and can share the products on social media platforms.
Sellers, on the other hand, can add the product description and a picture, video of the product as they wish to sell on the platform.
The products are under similar categories like new, popular, on-sale products are the shop option for the user's clarification about the product.
The users can follow the store/seller/user. It's easy to know about the latest & trending products through our ecommerce script. These details will be shown in the activity option as a notification and so the user can keep track of their favorite users & stores.
The payment can be done online and the default payment gateway is Braintree PayPal payment, so the user buys their products through this payment gateway without any hassles.
Revenue Model
Service Fee: Admin can set a certain amount of fee as a commission from the buyer in percentage-wise while buying products. Once the order was placed successfully by the user, the commission fee will automatically be deducted by the admin.
Merchant Fee: The merchant can sell their products in our script. When the buyer places an order for the product and does the transaction successfully, Admin will receive the amount and deducted the commission fee, then the amount is transferred to the merchant.
Thank you for Spending Your Time With Us
Contact
Site: https://www.trioangle.com/ecommerce-app-development/
Whatsapp: 6379630152
Mail: [email protected]