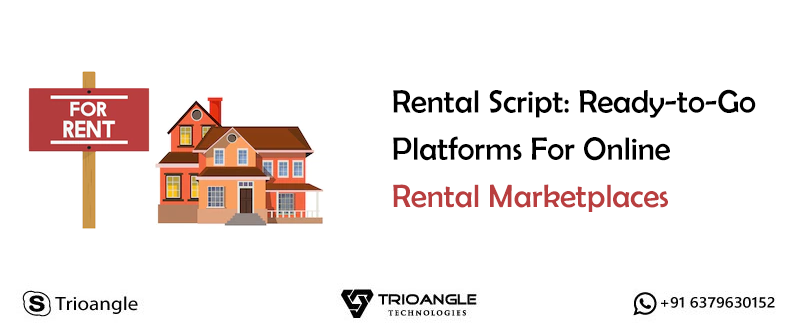 The main intent of today's entrepreneurs is to run a successful on-demand online business. This is mainly due to the wide range of opportunities on online platforms. But, only the strategic appreneurs turn out to be successful businesses in their online ventures using Airbnb Clone Script.
When talking about the online sector, the online rental business is surely a profitable sector during this post-pandemic as there is always a need for rental products among people globally. Also, when people can get desired rental products and services available on online platforms, there will be no need for them to go with traditional brick-and-mortar rental businesses.
Effective Rental Scripts For Rentals
Airbnb Clone Script For Property Rentals
In the past years, people used to rent their properties for additional income with the help of property brokers. But, this scenario completely changed with the advent of the Vrbo Clone Script concept. Some of the most popular online property rental businesses that gained traction in recent years are vacation rental, space rental, venue rental, office space, storage space rental, room rental, and many more. 
Recent statistics also predicted that the global online rental industry will be expected to reach 22 billion USD by the end of this year. Especially the online rental business using the Vrbo Clone Website is growing rapidly and accounted for revenue in millions by the past years. 
Vehicle Rental App For Vehicle rentals
With the increase in expenses these days not everyone can manage to own a vehicle like a car, truck, etc for their transportation needs. For this, the Vehicle Rental App like Car Rental Script came as a solution as it allows people to rent a car based on their particular needs.
Just like eCommerce sites, people can search for vehicles by their preferences for the model, type, color, features, seating capacities, and so on. Some of the well-received online vehicle rental business ideas using Rental Script concepts are car rental script, boat rental, bike rental, party bus rental, helicopter rental, and so on. This sector is also expected to have an increase in revenue growth rate with a market volume of US $30,686m by 2023.
Equipment Rental Script For Equipment Rentals
On online equipment rental platforms, people could get their desired equipment easily without any hassles. Many big brands are offering equipment online for rent to help people who want to use those products for rent instead of don't want to own them.
This created a huge demand for Online Equipment Rental Script in the rental industry. Some of those products include mechanical tools, medical equipment, indoor and outdoor equipment, sports equipment, home appliances, construction equipment, and many more.
Choose an apt Rental Business Marketplace
As mentioned above, there are a lot of equipment types, services, and locations that are in high demand for rentals. But, picking the right category with the perfect Rental Script will make a big difference in your online rental business profit.
Therefore, you need to understand the products and services that people are searching for in your nearby location to use them for a short duration but can't afford to buy them. After finding the on-demand rental services, you can then take a firm decision on your online rental business idea.
Form A Robust Business Plan
You need to understand that if you want to run a profitable online rental business from 2022 using Best Airbnb Clone App, then you should come up with solid business strategies. Do enough research and analysis on the online property rental demands, decide on the services and products that are going to peak currently, define your target users both Renters and Rentees.
Choose a unique Rental Script
Once you have made a strong decision on what kind of rental services you are going to offer, you need to build a complete online rental platform for your business. But, building a bug-free Online Rental App from scratch would surely be a challenging task, will cost you more, and will take all of your time and resources.
So, the smart way would be to approach a well-known app development company for getting a pre-built software solution for a popular rental application like Airbnb Clone App.
Feedbacks With Airbnb Clone App
As an aspiring appreneur, you need to keep in mind that the reliability of your rental services is directly related to the success and revenue of your business. Transparent ratings and feedback from your customers on your online rental service are essential to gaining trust among your users for to best user-friendly service. The best Airbnb Clone App with this feature will improve the quality of the products and customer service as these will boost the reliability of your rental platform.
Final Thoughts
Now, you might have understood some key concepts and benefits of the Airbnb Clone Website for your online rental business from 2022. As said above, it will be the best option to go for a reliable Airbnb Clone Mobile App named Makent from Trioangle Technologies that is ideal and customizable to reach your entrepreneurial goals.
To Know More: https://www.trioangle.com/airbnb-clone/
Mail: [email protected]
WhatsApp: +916379630152