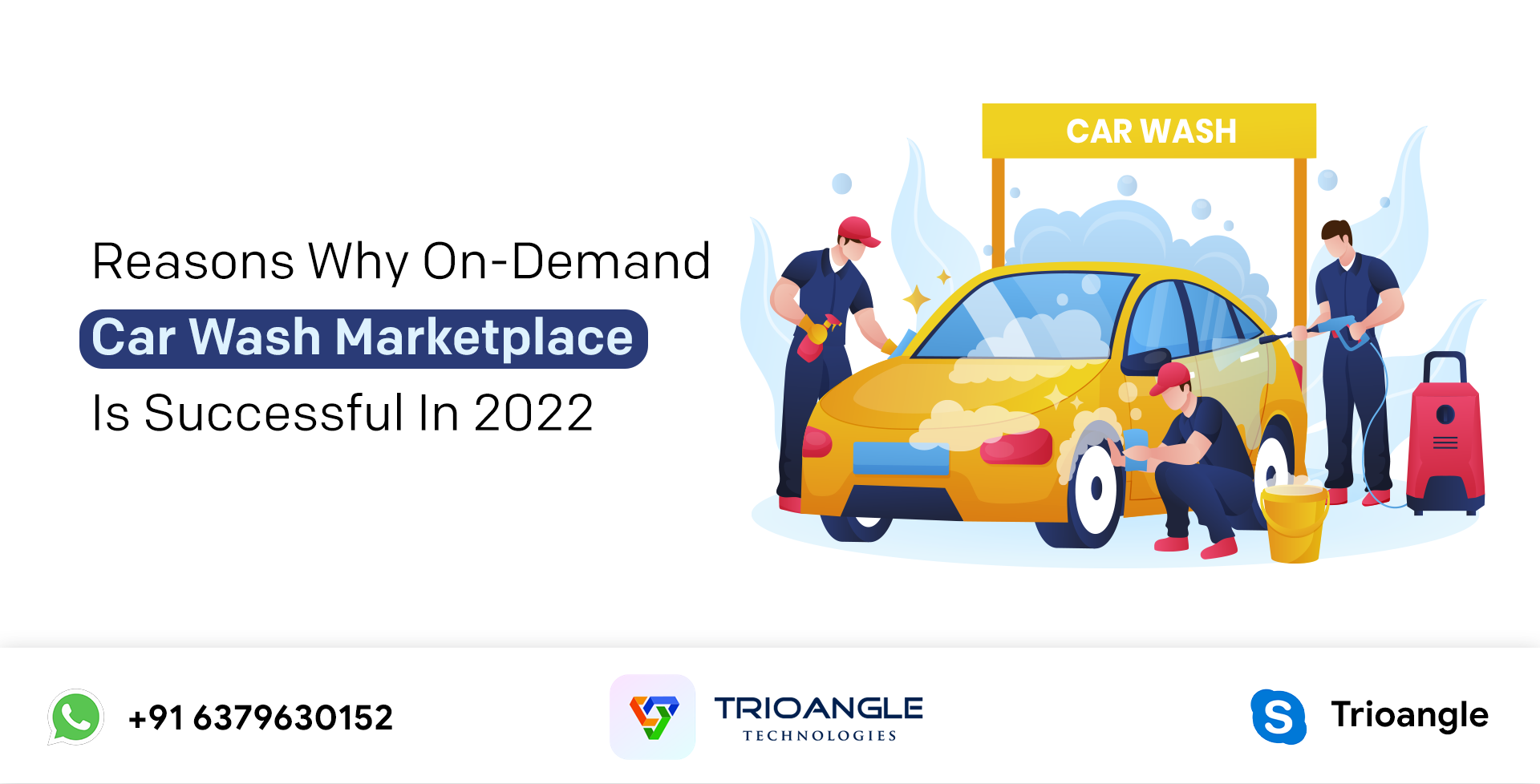 In this 21st century, we are encountering changes unimaginable before. We never expected smartphones are life changers. It makes our lives better by supplying anything virtually.
Virtuality played a key role in every business sector. We can even get handyman services through handyman apps. The car wash services too included in this virtual service. Uber For Car Wash is the best app to add shine to cars within a matter of minutes.
It is a matter of fact that acquiring a car wash isn't a cakewalk. It takes our bones out until the car gets washed. But it's not a scenario of people using the car wash app. They book, get appointments, pay online, and take their cars out polished.
In this virtual world, we can save much time and energy in getting out services. App owners are enjoying their lives by developing apps like Uber For Car Wash. They just get commissions which are enough to make them millionaires.
Want to rank top in the millionaires' list? Give this blog a read. You'll come to know about the potential of the car wash business and get ideas for developing an app for that.
Let's dive in!!!
Market Statistics Of Car Wash Service
In the year 2021, the global market value of the On-Demand Car Wash is $29.3 billion.
The market is expected to expand between 2022 to 2028 and is forecasted to attain a compound annual growth rate of 3.8%.
With the predictable steady surge of this car washing business, market analysts noted a good future is awaiting the industry.
The market value is evolving due to the client's interest in maintaining the car regularly.
While there is a rapid increase occurring in the smartphone market, many startup ideas have been initiated with the trending mobile applications.
The car cleaning service is accelerated by the demand for comfort and an extended range of affordability.
Based on the verified report from the International Car Wash Association, car owners are preferring professional car cleaners to scrub their cars.
What Is On-Demand Mobile Car Wash App?
An instant car wash service booking and scheduling are done via the mobile car wash app within a few taps. No manual bookings are needed when the car owners have the right on-demand Car Cleaning App.  
As an entrepreneur, you can run your business remotely with your smartphone, instead of running the business in a commercial work location.
The on-demand car wash marketplace requires a dedicated admin access board to assist and manage your business on a day-to-day schedule. All the ongoing and completed tasks are recorded in the app.
It can be verified at any time on maintaining the business revenue growth and improvisation. As the user expects instant service accessibility, your app should sound simple to access. They have to meet the core services without upset.
Why An On-Demand Mobile Car Wash App Is The Most Booming Business?
Our lives are magnified by technology. Today our lifestyle is transformed into a different mode and can achieve a lot of tasks faster with less effort using apps.
Cars play a very important role in travel. But in the early stage, cleaning the car is a chore, which needed a lot of time to complete. It's a big deal to get your car washed by car cleaning services. It sucks a lot of time and money to be done.
With the addition of on-demand apps, everything is prevalent currently, car wash is done in a few minutes when compared to orthodoxy. The car wash is accomplished by professional car washers to provide long-lasting detailing in the car and this maintenance will improve the life of the car from rust.
Top Reasons That Make An On-Demand Car Cleaning App An Absolute Success
Offers Convenience
User convenience is the major reason to invest in car cleaning app development. The solution is helpful for the user to contact the car washing experts and have their car washed in their location by scheduling the appointment.
Business With Endless Demand:-
The rate of car purchasing is surging. The demand for the car to be washed also increases. That's why it is a never-ending business process. Every car around the world is needed a cleaning service at some point.
If you expect to find out the real opportunity of your business, you can complete some research that can indicate how many cars are there in your area and the type of frequency people look for to clean their cars. This will give you an idea of kick-starting the business.
Service Standardization:-
Few people prefer to wash their car regular basis, however, the car cleaning service offered by the professionals will be looked after. With the demand for car detailing services, you must deliver a quality car wash service to your clients at an affordable cost.
Brand Establishment And Profit Growth:-
The journey from transforming a business you own into a remarkable brand can be a quick one if you own a respectable kind of app. Investing and launching an on-demand app for car cleaning services will be the face of your business.
It does not just alert your clients that you offer a unique car wash service, but also brings a good reputation in no time. To establish a profitable on-demand app you need to know about The Trends & Perks Of Developing A Mobile Car Washing App
Additional Services Related To Car Wash Service:-
On the point of car detailing or car cleaning services, it should not just alone be a car wash service. By using the on-demand solution, you can start offering additional car detailing services which can be an upgrade service to the establishment.
Wrapping Up,
On-demand car wash App is recently getting attracted car washers and car owners. The launch of the new marketplace is a dreamy idea for new-age professionals. Several reasons are supporting for feasible launch. Looking at this blog, you might be aware of the reasons behind the success of the car wash service marketplace.
Let's begin your marketplace by reaching us now!
Whatsapp: +916379630152
Mail: [email protected]