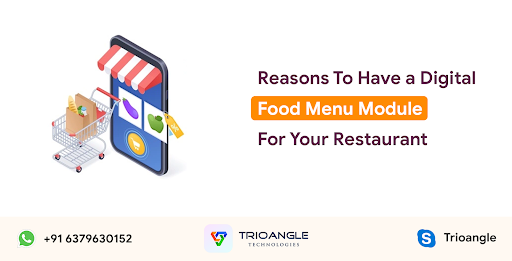 There are a lot of newly evolving technologies that have entered the restaurant business in recent years. These developments are helping the business owners with extraordinary performance. In this list, one of them is the digital food menu module. Having a Food delivery app with a digital food menu for restaurants helps to grab customers and helps to update the availability of food items. Digital menus are acting as self-ordering systems and reducing the employees for restaurants.
What is a Digital Food Menu?
The digital food menu is a window that displays all food items available in restaurants with a search option to browse easily. It works as an automatic ordering system and helps customers to place an order directly to kitchen staff.
Let us see some of the most benefits of the digital menu module
Having a digital food menu for a restaurant can reduce a lot of expenses and increase customer loyalty.
Reasons To Have a Digital Food Menu
Cost-cutting – Reducing unwanted expenses:
Implementing a Digital food menu for restaurants can reduce the expenses of printing the cost of paper. You can deliver your food for remote customers with the help of delivery drivers just showing your menu to a wide range of customers. 
Live and updated food menu:
You can update your menu based on the availability of the food at any time. Adding a new dish Deleting the out-of-the-stock dish can be done within a minute without any cost. Customers won't get disappointed they only find the available food items list.
Less investment more profit:
Developing a digital food menu won't cost much at the same time its increase your revenue gradually. Investing a smaller amount can help you to get revenue in a new trend.
Increase average food order size:
Compared with direct ordering, digital food menu ordering makes the customer order more. Customers feel tempted if they see food images it makes customers order more in the digital food ordering menu.
Increasing the average food ordering size for the table.
No Human-based errors:
Digital menu reduces human errors like delivering wrong products, skipping food preparation instructions. So it's reducing the wastage cost and improves customer service.
Conclusion:
As you all know customer satisfaction is the ultimate aim for any business.
To achieve the greatest revenue investing in a food delivery app with a digital food menu module can help. Beat your competitors and be a leading marketer by adopting new technologies and trends. A food delivery script with a digital food menu module can help to boost your sales. Trioangle offers the best UberEats clone script with an advanced digital food menu module. Contact us for a free live demo.
Website:https://www.trioangle.com/ubereats-clone/
Mail: [email protected]
Skype: Trioangle
WhatsApp: +91 6379630152