The need for on-demand services is growing as the market increases and everyone will face home issues in their daily routine. Innovation steps up as everyone needs a professional to fix the problems and it requires experience in handling a set of tools. Many Entrepreneurs are started investing in On-Demand Handyman App. A lot of home services app customizations are there like electrical services, plumbing services, beauty services and so plan accordingly and work.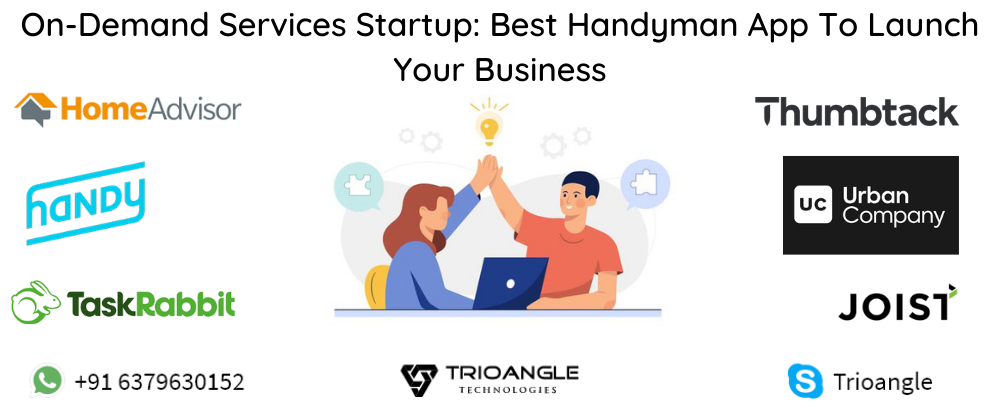 Entrepreneurs should provide the solution to the people. Earlier to find a handyman for the home services it is challenging to find out the right person for the job and needs to call for the availability check. The people should find it easy to book the services and get the home services easily. The platform should be provided with all the necessary functionalities
The best home services started their business. You, be the next successful Entrprepreneur to provide home services to the people in need.
Urban Company
Urban clap is an Indian marketplace that offers various services like home installation, maintenance, repair services. The company was founded in 2014 with the name of Urban Clap and now its officially declared as Urban Company. In 202 the home maintenance and repair services contributed 45% of total revenue and for the beauty services a total of 55% total revenue. On a monthly basis Urban company servicing 22 locations with a network of 25,000 professionals, with 800,000 service tasks.
Handy
Handy is a two-sided online marketplace for cleaning and other home services. It is a new york-based company that provides services to United States, United Kingdom, and Canada. Handy operates in 28 cities in the United States, and several cities in Canada, and the United Kingdom As of July 2015, it employs a full-time staff of at least 160 and has engaged about 10,000 cleaners to work on platform According to Handy, about 80% of its bookings come from repeated customers.
Joist
Joist is for contractors that allow estimating, invoice, record payments, and manage projects from your iPhone/iPad and the web.
Features:
Build a list of commonly used items to quickly create estimates and invoices
Calculate estimations fast
Print email estimates and invoices on the spot
Convert estimates into invoices
Record payments right then and there
Manage and store your client information
Export everything into your accounting program
With Joist, you can calculate and send estimates on the spot to your client. Issue invoices and record payments. And export all of the information to your preferred accounting system.
Thumbtack
Thumbtack is an online service provided to customers. There are a total of 1100 service category types are included. Founded in 2008 and headquartered in San Francisco, Thumbtack has raised more than $275 million from SequoiaCapital, Tiger Global Management, Javelin Investment Partners, Baillie Gifford, and Google Capital.
TaskRabbit
TaskRabbit is the easiest way to solve your daily to-do list. It connects people with talented service providers to handle the problems faced in house services handy work.
Sign up to be a tasker and get started in minutes. Search for jobs, choose and build a schedule that fits you. It's that simple.
Home Advisor
The home advisor concept is to connect the homeowner to professionals to improve the home services. Signing up is free. However, you will have to pay a slight fee for leads. Once you're on, you can list your services, bid on projects, and instantly connect with customers.
Features
Instant Connect, a service where homeowners are contacted by a HomeAdvisor specialist via phone quickly.
Same Day Service allows homeowners to instantly schedule an appointment to complete their home project the same day.
Homeowners can also make appointments using HomeAdvisor Page on Facebook.
HomeAdvisor also integrates smart devices like Apple Watch and Amazon Echo.
Be the one among them and start the best handyman app to reach high in business. Start your own business with the best handyman app like Uber or visit the website to know more about the features and pricing details.