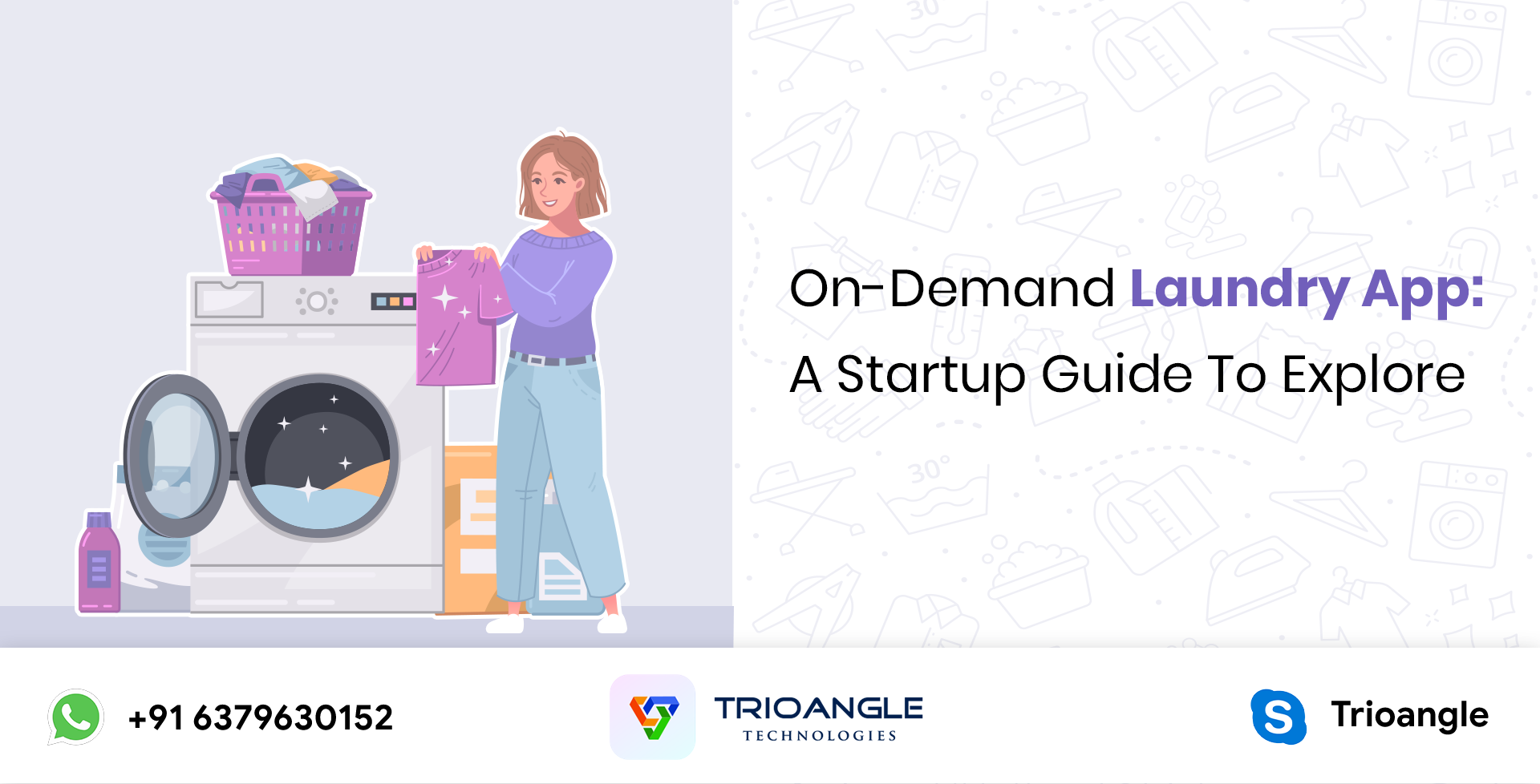 Introduction
Home services on-demand are rising rapidly and there will be exponential growth in the upcoming years. The desire for people is affordability, comfort, instant solution, and convenience to their problems is the compelling reason to contribute to this sector.
Today to care for essential requirements no one is free to take care of them, thus, to bypass hampering the flow of their everyday life, they have begun turning to on-demand services and on-demand service marketplace.
Dirty clothes, torn dresses, and crinkled make us look negligent and the person who does not accept things quietly. Thus, to avoid impacting people's minds against us, people have begun using On-Demand Laundry App to tackle their clothing tasks.
Therefore, with the advantage of a laundry service on-demand, we can smoothly endure care of clients' clothes, and get them washed, ironed, and delivered to clients' doorsteps.
You do not actually need to bother about the time taken; clients can intercommunicate and collect their washed clothes at their fortunate time.
What Is The Purpose Of The On-Demand Laundry App?
On-Demand Laundry Apps are a means to join people with professional laundry service providers. People can quickly book such laundry service providers and schedule the date and time when they can pick up dirt clothing from their location.
On-Demand Laundry App connects clients to professionals, but also it helps the clients to find the launderer available in the nearby location for quick service. On-demand laundry apps are absolutely dedicated to the client's purpose, as is reflected by the following part of market statistics:
As per verified global market statistics, the predicted market growth is to reach around 96 billion USD globally.
So, if you are curious about investing or owning a startup in on-demand app development, this is the proper time to craft an on-demand laundry app.
And, if you wish to launch your own on-demand app Uber For Laundry delivers business, you should surely go for it.
Reason To Go For The On-Demand Laundry App Sector?
If you entrepreneur is interested in crafting an app for your laundry service on-demand business or planning for a startup business, you can go for it without any second thoughts or fear of not getting a clients base the following are the primary reasons for people to get magnified into an on-demand laundry app service.
Location-Specific Service:-
Professional Laundry Service providers on demand can be benefited by using these apps. Also, these apps give notifications.s alert people of on-demand laundry services in their nearest areas, which ultimately creates more business for them.
In notifying clients of the nearly available professional launderer, they also inform the professionals of the clients they should target. Therefore, on-demand laundry service apps with location-based features connect the interval between the clients and available launderers in the nearby location to publicize a full-fledged service.
Secure Service Over The Pandemic:-
While the social distancing standard has taken over due to the crisis of the pandemic, people want services enabling safety. People are no longer conveniently moving out and arriving in communication with others due to the virus spread scares.
These apps deliver them with zero contact service and quick services. Also, these apps help with safety measures to ensure high-end protection without service compromising.
Effortless Management Of Clothing:-
Professional laundry service providers can efficiently benefit by using the app. Because the app has a dedicated dashboard that allows you to manage your service processes, clients, revenues, bookings, and payments.
On-Demand App Uber For Laundry also enable business owners to efficiently manage their service booking and track ongoing laundry business processes.
A Promising Platform
Both users and owners of On-Demand App Uber For Laundry can yield revenues by benefiting from features like referrals or rewards. The business owners gain money with the charge commissions from their experience service providers.
Also, you can deliver discounts, and referrals, and offer coupons and rewards with live tracking to your clients, thus supporting their choice for you.
How To Make Money Via On-Demand Laundry Service App?
You might witness that an online uber clone for laundry is developed by either launderers or enterprises (who develop business by connecting clients and professional launderers).
Thus, you can make money by launching a laundry service business on-demand or getting an on-demand app uber for laundry service to promote your business. Also, you can make benefit from the aggregator model by linking people with such launderers.
Also, both users and business owners can generate earnings by availing of features like referral points or bonuses. With the commission amount for the order, the app owners can earn money on the service payments received by the service providers from the clients for the completion of the service. Operating an aggregation model indicates you can make profits by posting relevant ads on your on-demand app.
What Are The Important Features People Look For In On-Demand Laundry App?
Filter and Search Professionals:-
Mostly every people wishes to avail of services accessible in a nearby location. Likewise, clients desire to give their dirty clothes for laundry to the professional laundry service provider available closest.
Also, service providers on demand would choose to target those who live nearby as they have a more heightened chance of turning into loyal and frequent clients.
Therefore, your app Uber For Laundry should have the ability to filter and search professionals based on the service cost, location, etc.
Order & Schedule:-
While booking a service the clients can easily schedule the date and time of the service to be attended (Picking the dirty clothes). This feature helps the clients to feel comfortable and schedule the service conveniently as per their availability in their residences.
Hassle-free Payment:-
clients like it when they have multiple options to complete payments. You should offer different payment modes to ensure no means of their selection is missing.
Such requirements make sure that clients can checkout with the availability of secured payment ways like Paypal, e-wallets, Credit/Debit cards, Stripe, COD, and other payment alternatives.
Key Takeaway,
At last, this blog ends here. Reasons, how to generate money, and the important features that make laundry services the frontline in the market are presented in this blog. Being a profitable laundry service owner in the market surely depends on the features included in the business process.
Taking consideration of features listed in this blog while developing the On-Demand Laundry Service App will definitely make you a profitable owner in the market. Let's get them.