Most awaiting Makent Boats v1.1 released with great features. Please read on to find out what is included in this version.
We are very happy & really excited to release the feature-rich version of Makent Boats.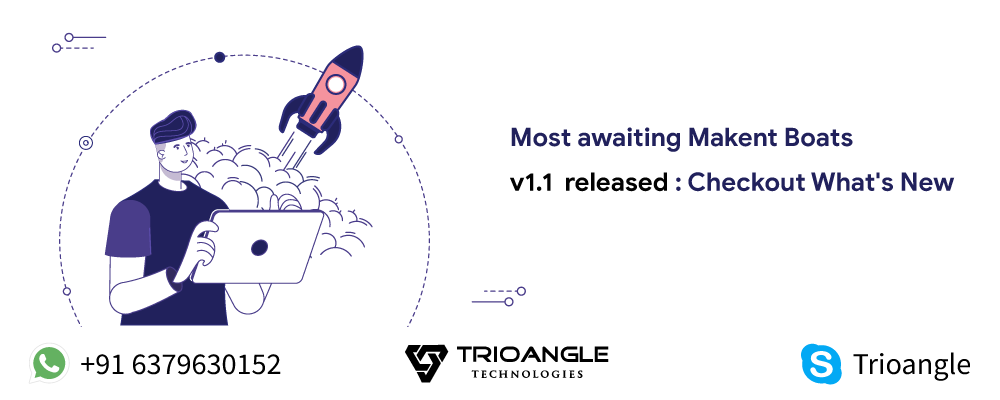 What Makent Boats is all about?
Makent Boats is a 100% customizable on-demand platform that helps entrepreneurs to launch their on-demand boat rental business instantly into the market without any hassle.
Let's see what this version brings,
Features enriched in Makent Boats v1.1:
Covid Protection features 
Covid Protection features are mandatory in all boats nowadays. In our latest release, Boat Owners can mention the Covid Protection Amenities like Mask, Sanitizer, and Thermometer in their boats. It will attract more customers, so we give more chances to get high profit.
Hourly Booking
In our Boat rental software, An hourly booking option is available for the Renters, so they can rent the boat for the particular hour and it will be charged based on the price indicated by the boat owners. If one customer rents for the no. of days, they need to mention the start hour/end hour of the trip start/end date.
It will be very useful for Boat owners, so they can know the perfect timing of the trip's start and end timing. 
Boat owners can set the Hourly pricing / Day pricing, so they can charge the renters accordingly.
Availability
Availability of boats, added as a mandatory one while creating a Listing of Boats. This option is more usable for the Boat Renters and Owners, to avoid mismatch of booking dates.
Using this option, Boat owners can mention the available days and set the particular hours for the specific days. 
New Home Page Integration
Home Page is designed with eye-catching colors and designs. Home Page is the welcome page for the clients, so it will attract more customers. 
Thanks for sparing your valuable time in reading this post. 
Kindly check out our latest update on the below-mentioned links:
User Login Details
 Email: [email protected]
 Password: trioangle
Link: http://makentboats.trioangle.com
Admin Login Details
 Username: admin
 Password: makentboats
Link: http://makentboats.trioangle.com/admin/login
Your feedback is Boost for us!  Drop us a message at [email protected] or Talk to us via Whatsapp.
Stay tuned, the new version is coming sooner than you think!