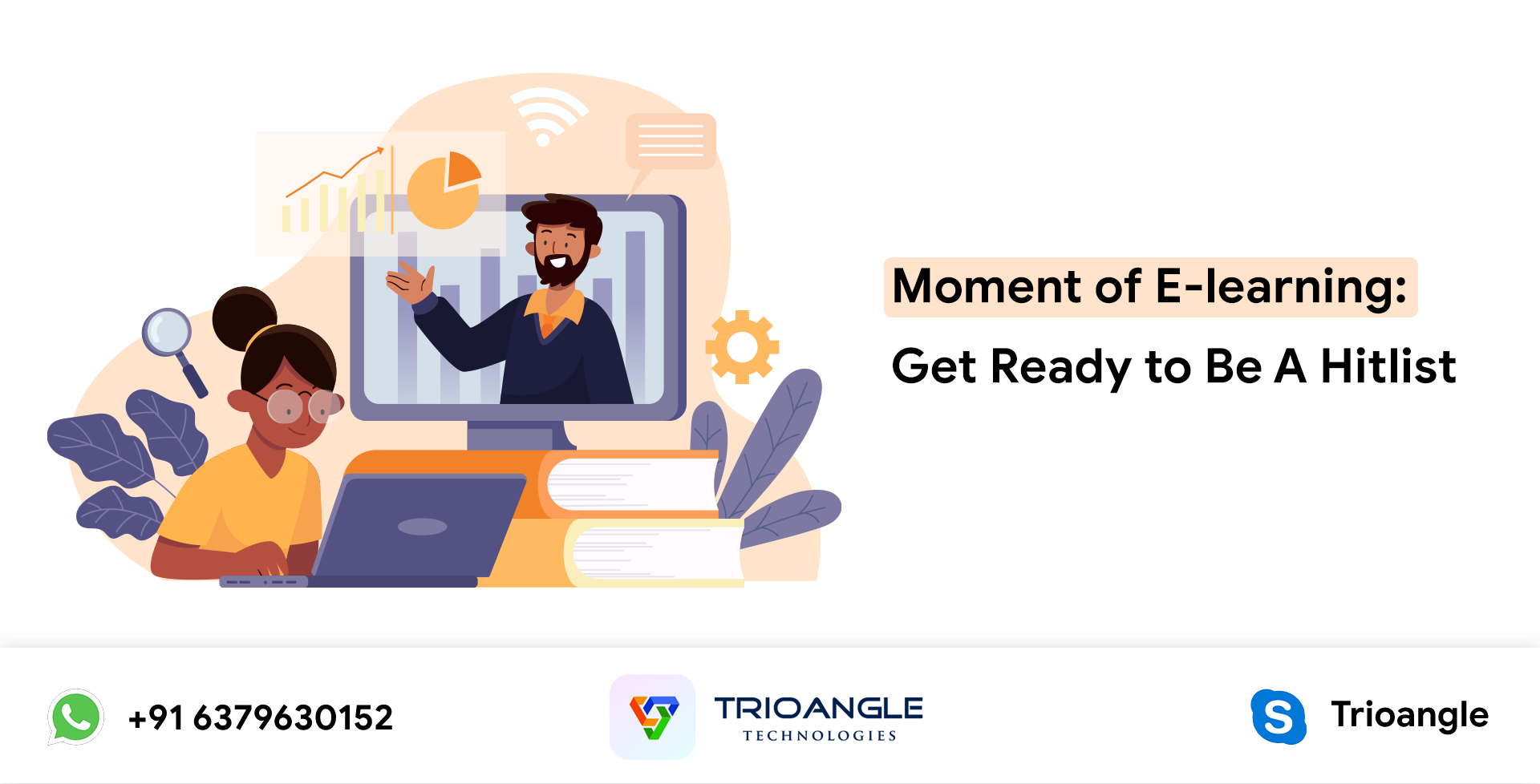 The world is changing rapidly, and the pandemic situation has only fueled the change in every way possible. With remote working, teleconference, and e-commerce booming with the pandemic, another sector has now reached new heights-eLearning.
As the world closed its doors for lockdown, the e-learning industry boomed due to millions of children moving towards mobile phones to continue their studies.
Online learning is not just for the students that want to learn concepts or catch up on their syllabus. Mobile learning is playing an important role in higher education and even corporate training. Pandemic created a way for students to learn in e-learning technology.
Which comes with a lot of effective features centralized content, flexibility, and convenience, e-learning has tremendously. This growth is also charged by the ease of smartphone use by the young generation to learn everything.
Reasons Behind the E-learning App for Institutions:
In the initial stage of apps, there is an advantage of increasing learner engagement and providing modern and flexible learning solutions. Here are the some of the key reasons making us go for e-learning app development 
To Engage More Learners:
Learners have specific learning needs with unique preferences. The fact is, the education industry continuously booms the learner to engage. E-learning is considered one of the best in the world. That is the main reason why institutions make education cost-effective and easily accessible.
Curating self-directed learning ways where learners stay in control of the learning experience.

Making training more relevant with personalized learning with the latest e-learning tools, it is possible to make customized solutions.

The micro-learning system is introduced for adult learners and offers bite-sized learning.

Another path to adopt various learning formats, includes video lectures, podcasts, infographics, question and answer sessions, webinars, and more.
Cost-Efficient:
Online activity systems reduce costs. Take a point to think of established training. There are prices associated with venues, travel, classroom activity, catering, or extensive knowledge materials. 
The continuing costs can add up to large doses of money. With e-learning, such constant upkeep value can be curtailed. The delivery revolutions are quicker in comparison to conventional learning.
In fact, institutions can benefit from reduced overall training time by almost 40% to 60%. The online strategy can help to improve productivity, which in turn grows profitability.

Learners can also get a benefit from accessing all the courses quickly with a saving time.
Productivity Enhancement:
E-learning services are the modern form of learning services. They will take up more time in comparison to new online training. At the time, learners find revisiting the learning modules challenging with the conventional model.
Another think point with a global pandemic, academicians and learners in the fast-growing cities like Raleigh, NC, have started valuing time more than ever. 
Another impressive aspect is the exploration to learn more during this period. 

E-Learning offers feasible solutions, as learners can utilize time more efficiently. 

Learners can do more studies and also manage their balance time for other exercises.

To top it off, they also have the option to revisit the knowledge whenever they want to.
Turnup The Learning As Fun:
Education must be fun to engage learners. E-learning apps can seamlessly make content, keeping learners thoroughly engaged and motivated.
Social learning facilitates knowledge sharing. and it deepens the impact of learned content on the learners. It is an excellent strategy to incorporate this facet where learners can interact with each and learn from peers.
An example is to have a leaderboard, where learners can gain from a competitive streak while learning
Skill Based Learning:
Skill-based E-learning makes a difference to learn from a simulated real-time system. With the incorporation of e-learning applications. 
Now, learning can be a realistic experience and you can think that simulating learning can sharpen the skills in a critical environment. And that such e-learning experiences motivate learners and quickly hone their skills which are indispensable for the workplace.
Scalable E-learning :
Scalability is a massive advantage with e-learning. It is effortless to add more learners to asynchronous online courses.  The plan can be a critical strategic differentiator as we advance. 
When assessing scalable understanding it is good to note that the design is not just about discovering methods to roll out more scope to more learners.  And it also involves rethinking the role of learning and development.
Standard Learning Experiences:
When you hire an instructor to teach in a conventional learning system, the session can be interactive and impactful. What happens when the instructor changes? Yes. you've guessed it. The quality of the teaching methods may vary.
Now learners can help from even and standardized activities with online knowledge. The study method is made consistently and all the resources incorporated are standardized.
Overall one can profit from the exceptional grade in teaching and learning. That is where one can benefit from a high-quality e-learning app. that can seamlessly blend all resources to prompt the learner's growth.
Wrapping up,
Education institutions that serve millions of students continuously wish to make content. And education is increasingly aware of the trend. While school systems must be investable in technology. It is prudent they have the right inventions and tools that are safe, cost-effective, and equitable for all students.
It helps to partner with a technology solution provider that uses research drive technology and walks you through the making process of winning E-learning apps. Such complete apps can permit you to save time, cut expenses and increase results. You will feel more empowered as you find that you have the right product to ensure that your e-learning is safe and affordable.